The other night I went to a Robert Sorby Tools demonstration at our local Busy Bee Tools store where Sorby sales representative Chris Pouncy, from Sheffield, England, demonstrated several tools from the Sorby product line. It was one of the most entertaining presentations that I have ever went to. Seriously.
Chris kept a patter going throughout the whole demo that should be the envy of a lot of stand-up comics on the circuit today. From his use of 'tongue oil' to the graphic story of his Irish Wolfhound with it's head caught in a cat door he peppered his presentation with humorous stories about his travels and his life. He also exchanged quips and jokes with the audience members that kept us 'rolling in the aisles'. All that was missing as the ba-da-bump of a drum. 🙂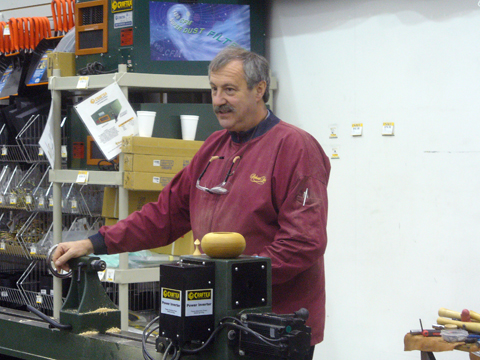 This is not to say that with all this fun going on Chris didn't get down to business and tell us about the Sorby tools and show us what they could do. No, in fact, this is where he really shone for he not only entertained us but he did his 'routine' all while he turned and taught.
And boy, did he turn! To demo the different attributes and features of the various Sorby tools by Chris turned an enclosed bowl, a spiral example and an off-center piece.
Here's a few photos showing the enclosed bowl with texture that was created by the Sorby Texturing Tool: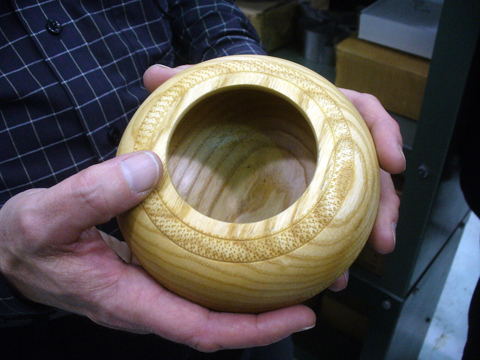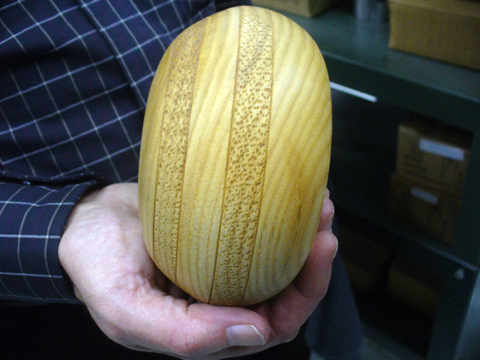 This tool uses a double beveled texturing cutter that can be used to create unique effects to your project. These effects can be subtle or pronounced depending on the angle of the cutter as it makes contact with your work and the pressure applied.
Here is a photo showing several examples of what effect can be achieved with the Sorby Spiraling System: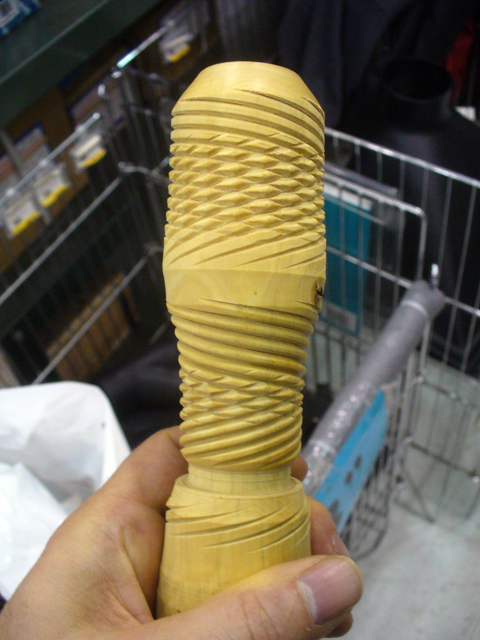 Similar in looks to the Texturing Tool the Spiral Tool is used to create both left and right handed spirals. With it's indexed reference positions it enables easy replication of the spirals. Differing pitch and twist profiles are made possible by altering the presentation angle of the cutter or by changing the cutter to a different one.
We were also treated to a showing of one of Sorby's newest products, the Wobble Chuck which offers easy off-centre or eccentric turning. Here's a photo (though not a great one!) of a small turning that Chris did within a few minutes that shows what is possible with this chuck: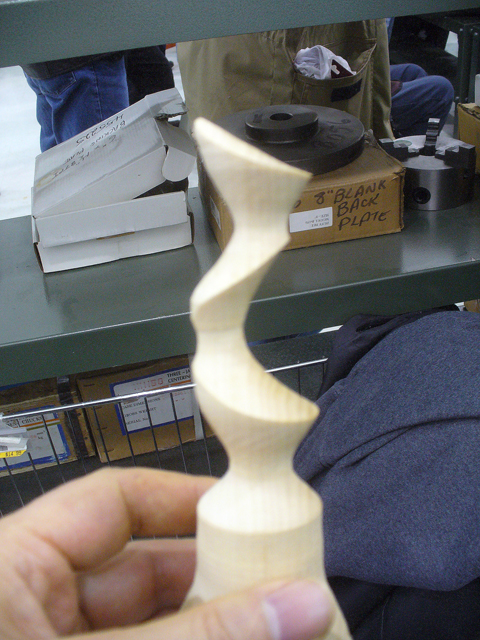 Other products that were introduced were the new Patriot Chuck, the Micro Tool System, Sandmaster and the ProEdge Sharpening System as well as their popular HollowMaster hollowing tool.
Chris is obviously an accomplished turner but the thing I liked most (besides the humor and wit) was how he made it look so @#$% easy! 🙂
The presentation was almost three hours long with a short break about halfway through where there was Tim Horton's coffee, tea and Timbits available.
The break gave us a chance to look over the Sorby tools and make our tool purchases. With a discount of up to 25% on all in-stock and ordered Sorby tools everyone went home with a great deal!
This was an open presentation with over 50 people attending with a large percentage of members from the Nova Woodturners Guild and Atlantic Woodworkers Association.
Sometimes these types of presentations can be tedious, especially when we are subject to a dry sales presentation or simply watching someone turn. However, because of Chris's light-hearted approach the time quickly flew by and it made for a great evening.
Thanks to Robert Sorby Tools and Busy Bee Tools for sponsoring this event.
Special thanks to Chris Pouncy, for an exceptional presentation.
Back to the shop…