A couple of years ago I ordered a Dust Bee Gone dust mask with little expectations. Sure, I read the hype that it was guaranteed not to fog my glasses but I had been down this road before. Still, I had to try it.
Over the years I had tried practically every type of dust mask out there but each of them fell by the wayside for one reason or another. They fogged up my glasses, they didn't give a good seal, they were hard to breathe through or they were so cheaply made they simply fell apart. The bottom line is that they just didn't work. Consequently, I seldom wore them, exposing myself to the risks of toxic wood dust.
Within minutes of the Dust Bee Gone mask arriving I tried it on and tried it out. I quickly realized that it was a winner – my glasses didn't fog up and it was very comfortable to wear. It fit perfectly to the shape of my face, even over my beard and moustache.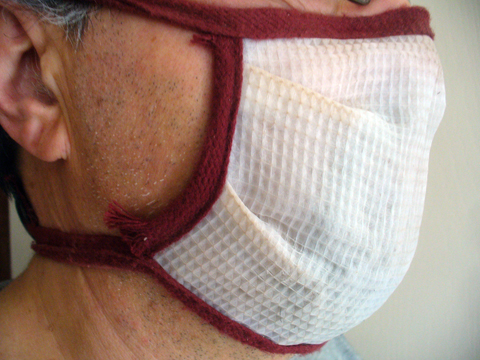 The Dust Bee Gone dust mask is made with a patented interlaced monofilament polyester structure that's effective against non-toxic dusts (it is not NIOSH or OSHA approved) down to 3 microns in size. This unique material allows the exhaled hot air to pass through the filter material so your glasses don't fog. That's right, your glasses don't fog up! Guaranteed.

This in itself is enough reason to be happy with Dust Bee Gone but there's more. It makes sense from an economical point of view too. The Dust Bee Gone initially costs around a hefty $40.00 but the company says that it will last three to five years with wearing it six to eight hours a day. Some of the last paper type masks I was buying were costing me 2-3 dollars each and were lasting me less than a week! After two years of use my Dust Bee Gone still looks like the day I bought it. I'm actually going to be in money with this dust mask!
To keep it in it's pristine shape I regularly clean the mask. It's easily cleaned by swishing it around a bit in some soapy water, rinsing and then swirling it around so that the centrifugal force forces the water out. Simply patting it down with a dry towel works too. At this time it's ready to wear again but I usually just wash mine when I'm done working and so it dries overnight. By the way, if you work in a hot environment the mask can be worn wet making it that much cooler to wear.
Wet or dry it is definitely a cool tool! I honestly do not know how well this dust mask works from a scientific point of view. I don't know the difference in size between a 3 micron particle and a truck, other than I know that it is smaller, much smaller. What I do know is that I feel a whole lot better since I started wearing the Dust Bee Gone dust mask… and that is the key point, I DO wear it. In fact, because it is so comfortable to wear and to breathe and talk through I often forget that I even have it on!
Gone are the days of attempting to wear a traditional dust mask and then getting frustrated to the point of ripping it off and then worrying about the safety consequences.
For someone that wears either glasses or a beard, or both like me, this tool is a shop necessity. Get yourself one. You'll wear it.
You can buy the Dust Bee Gone dust mask directly from Dust Bee Gone or from a variety of their worldwide retailers such as Woodcraft.
Back to the shop…