Now here's some expert finishing advice! Last night's meeting of the Atlantic Woodworkers Association was an absolute blast! We were entertained, yes, thoroughly entertained, by paint and finish master, Jim White.
Jim is the owner/operator of Lake City Paint here in Dartmouth, NS and well known for his frequent guest appearances on CBC's Maritime Noon call-in talk show. Jim's vast knowledge about painting and finishing comes from having spent 30 years working with James F. Lahey Ltd., one of the oldest and trusted painting companies in Nova Scotia, as well as working for himself.
Jim's presentation was on the art of 'wood graining'. Wood graining, also known as "faux bois" (false wood), became very popular in the 19th century where, because of economic reasons, the natural look of rare woods were replicated in cheaper woods. Because of low labor costs in those days this was far less expensive than using the rare woods.
Over time those that did this work became artisans in their own right. Their fine work made it impossible to tell the difference between a piece of faux bois and real wood. Jim brought in an assortment of antique tools they would have used. Some of them are around a hundred years old! You can see them in this photo here: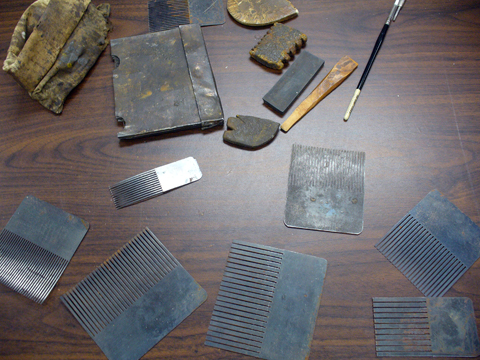 The process for faux bois, or making grain patterns on your piece, is to start with a lighter background color and then applying the grain with a darker color.
We were able to have a bit of fun with this and experiment with different types of finishes and to use a more modern type graining tool than those shown above. Here you can see one such attempt and the tool in the bottom left corner: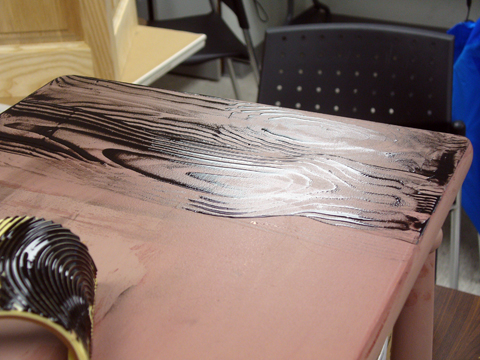 Jim's presentation ended with a question and answer period that again showed his in-depth knowledge of finishes. We eagerly bombarded him with a multitude of questions on all sorts of finishing problems which he happily, and concisely answered. One member even brought in a piece of furniture to show the problem he was having!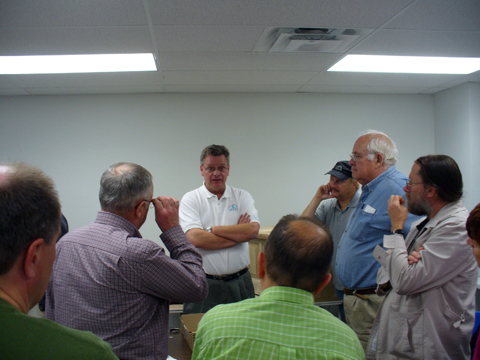 In addition to Jim's great presentation there were also some new tools on display. As well, AWA member Graham McCulloch was offering signed copies of his latest book, The Woodworker's Illustrated Encyclopedia
, for sale. If you haven't already, check it out. It's a pretty good book!
This was another great meeting. Special thanks to Jim White for an excellent presentation. I hope that he returns again soon. He has a wealth of knowledge that he so willingly shared and one meeting was just not enough!
Back to the shop…