I finally had enough and took the time yesterday to do a much needed bandsaw upgrade. Every time that I changed a blade I would curse (just a little!) when I had to release and re-tension the blade. For some unknown reason older (and perhaps newer) bandsaws have this short rod on the tension wheel that is a real pain (literally) to turn. It's a knucklebuster!
This was a rather quick fix, just one that kept being put off because I only remembered it when it was time to change the blade (I know, I know…). Anyway, last time I was smart enough to make a note on my shopping list and picked up the pieces.
All that was needed was a threaded rod, in my case 3/8″, a couple of nuts and washers and a knob. My total cost was under $3.00 and I have almost 2 feet of threaded rod left over for something else.
Here is what the old tension rod looked like: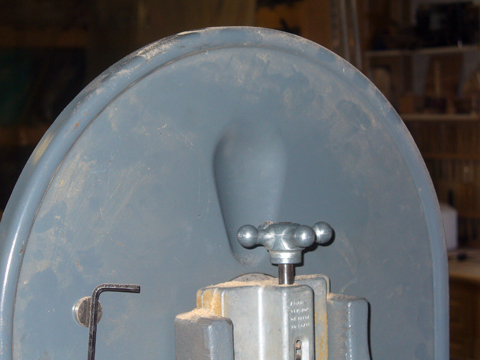 As you can see that although there was an attempt to give more room to fit your hand with the indent in the cowling you still can't get a good, clear turn. Plus the knob, with it's four protrusions, would dig in your palm as you tried to get a strong grip on it.
Here is the new and improved tensioner: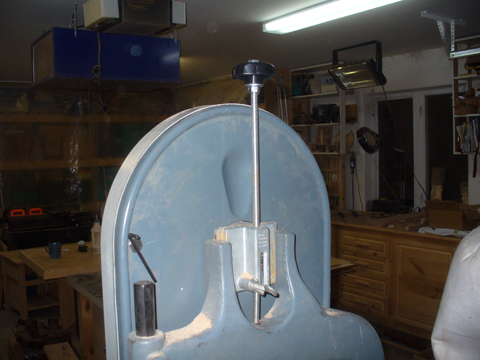 Not only is the knob easier to grip but by having it above the cowling you can easily make full, unobstructed turns.
Here is a comparison of both of the tensioners:
The added benefit of this change is that it is a lot easier, and more likely, to slack off on the tension when the saw is not in use… then again, I could just make the tension release jig that I have plans for… mmmm… perhaps during the next blade change… 🙂
Back to the shop…