This month's Atlantic Woodworkers Association meeting, the last one for the season, was a mix of reports, questions and answers, show and tell, a draw and an excellent presentation on Wood Toxicity called 'Wood – Friend or Foe'.
The presentation on wood toxicity was given by AWA member Dr. Gene Nurse. Yep, that's right, Doctor Nurse. 🙂 Gene is a long time woodworker, a past president of the club and is now retired from the medical field.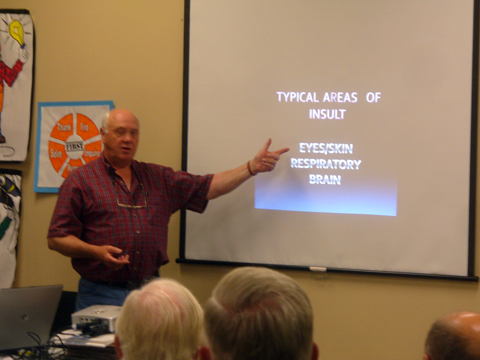 Together with his nine year old granddaughter he put together a fabulous slideshow for us that included graphic anatomy shots and cartoon dancing dogs (mmmm… we're still not sure who did what 🙂 ). Using the anatomy shots Gene clearly explained irritants and sensitivity issues with working with wood.
Several points of note were how dust particles, because of their small size, can easily clog the smaller bronchi and bronchioles and the even smaller alveoli where the gas exchange of carbon dioxide and oxygen takes place. Also, the fact that not only do irritants enter the body through breathing but through our skin and eyes (yes, our eyes!) too.
Of course, what made this presentation not only entertaining and informative was the fact that Gene spoke from experience as both a woodworker and a doctor. So not only was he able to relate medical mumbo-jumbo to us on our terms he also focused on what cautions were specific to us as woodworkers. These were emphasized through personal stories and vivid analogies, like when speaking about working with spalted woods and cautioning us about the fungus he said, "Once inhaled it will grow inside of you. It will be like having athletes foot in your lungs." This image certainly drove the point home!

Referencing a wood toxicity list he categorized a variety of woods as Real Bad, Bad, Reasonable and Little Effect. He stressed the fact that while some woods fall into the Reasonable and Little Effect categories this only meant that fewer people have reactions to them. Those that do have reactions to them will find them as severe as those in the Real Bad category.
His presentation also included concerns with glues such as cyanoacrylate which bonds immediately with oxygen. Toxic wood preservatives were also another section included that led to much discussion.
He finished the presentation with a comparisons of a variety of protection options, from the cheap, useless paper type to the filtered type respirators.
As woodworkers we can never be reminded enough of safety in the workshop, especially regarding the major concerns of wood dust. Gene's presentation, with its vivid images and imagery, made this one of, nay, the best on this subject. (Sorry, Doug, but you missed a great one! 😉 )
So wood, friend or foe? Obviously wood is our friend. However, we must be aware and cautious of the safety issues when working with wood. They say, 'better the devil you know'. Well, today, I believe that we now know a lot more!
The meeting began with an update on our 'Bunk Bed Build' project that we took on a few months ago. Actual production began only a couple of weeks ago and apparently we are on track though there is still a lot (a lot!) of work to be done before the end of June deadline. To remind you, we were approached at our April meeting by members of Bayside Camp, a non-profit ministry of the Baptist Churches, to build 60 sets of bunk bed for their new boys and girls camp.
We also had a short Show and Tell with Phil Carter bringing in a beautiful bench that he recently finished. It is made out of Jatoba and features some fantastic scroll work:
Phil related the trials and tribulations that he had working with Jatoba and his workarounds.
Club chairman Tom Patterson told us about his latest yard sale find, a mitersaw workcenter!
Following the Show and Tell was a Question and Answer period hosted by vice-chairman Don Shubaly. Carrying on from Phil speaking about working with Jatoba there were several questions and suggestions related to this. There were also questions raised about working with Butternut and the planing and sanding properties of such as well as questions regarding dowels versus biscuits and the drying properties of tung oil.
The evening finished with the winner for the Rigid workshop radio being drawn. This was a fundraiser that had been running for the past several months and $238.00 had been collected. The winner was one of our own members, none other than Phil Carter! He's one lucky dude. 🙂 It'll be a great addition to his shop.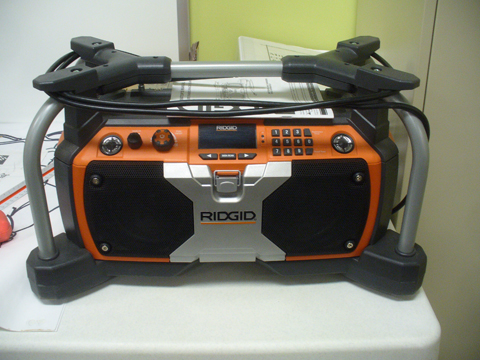 So another successful season of the Atlantic Woodworkers comes to an end. It has been a great year. 🙂
Back to the shop…