This month's meeting of the Atlantic Woodworkers Association took on a different spin. A spin, indeed!
We were treated to a woodturning demo by our past chairman, Cecil Canam, who showed us how he turns a variety of Christmas ornaments. After all, it is the season!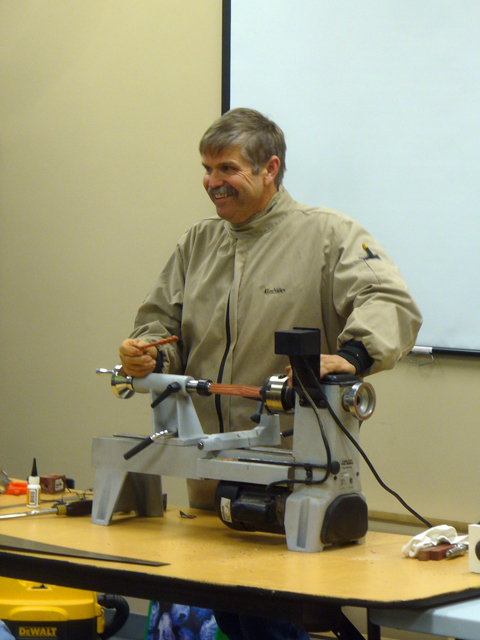 Cecil focused on two varieties of ornaments, one using a pen blank and the other using a Christmas ornament kit.
Using a Tulipwood pen blank he turned an ornament in a style that is referred to as an 'icicle'. While there are no specific rules for the design the goal is to make the ornament long and slender with decorative turning. Since it is turned similar to a finial the same cautions apply. Because of its small diameter special care has to be taken not to break it while turning.
Here you can see that all that's left to do is add of a screw eye and ribbon to the top and the Christmas icicle will be ready for the tree: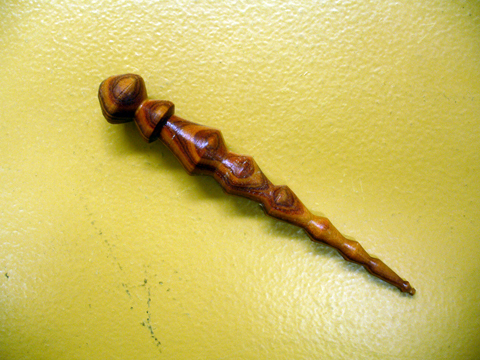 Next, Cecil used a miniature Christmas ornament kit to turn a shorter, more robust style ornament that is adorned with 24K gold plated embellishments: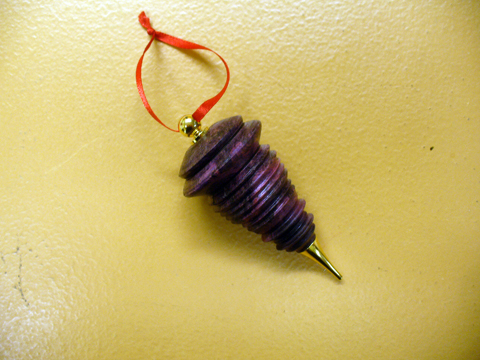 The finished ornament is about 2 1/2″ long and the wood that he used was a stabilized dyed Maple burl. Stabilization enhances the wood's beauty by adding contrast to grain and figuring, and makes soft, spalted or burl woods easier to work with by strengthening them.
The ornament kit includes all of the 24K gold parts and it is similar in construction and turning procedure to a pen kit. The kits are available for purchase from a variety of suppliers of woodturning supplies including here.
Here are some photos of several other ornaments that Cecil had on display: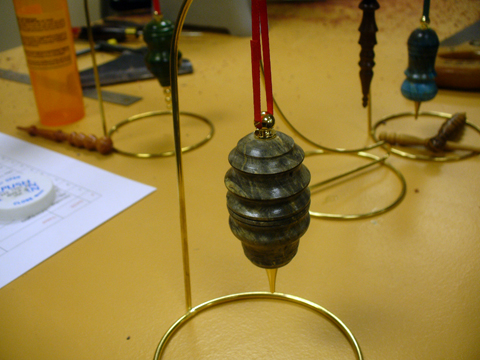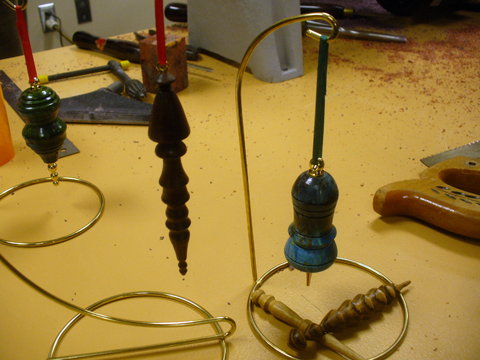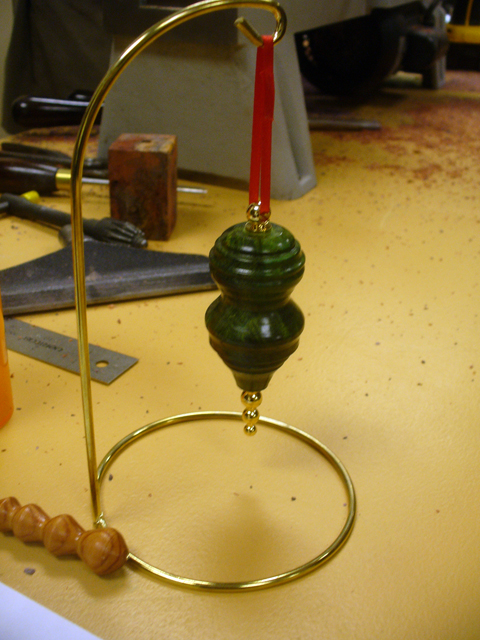 And a couple of more photos of the turning and finishing process: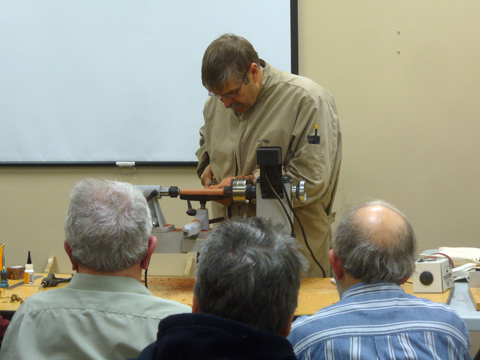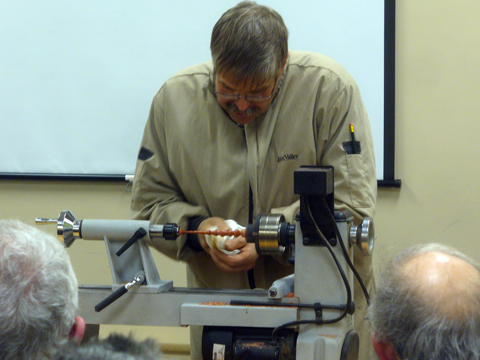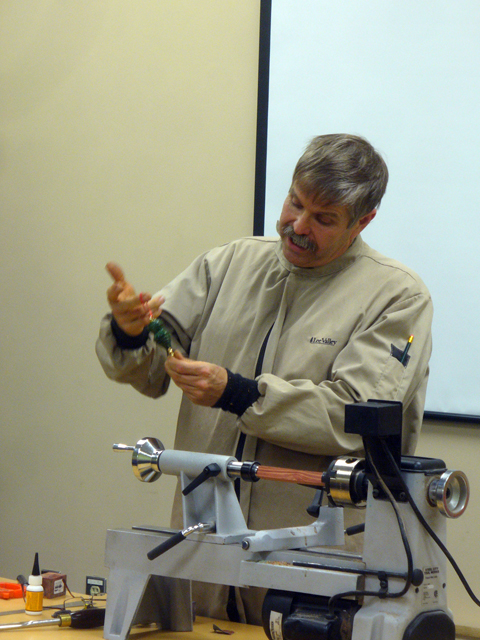 Like his pen turning demonstration in the Spring, Cecil's presentation tonight was very interesting, highly informative and well received.
We also had a Show and Tell session with several members bringing in recently finished projects.
Here's a beautiful cutting board made of Maple, Walnut and Cherry with a routered edge: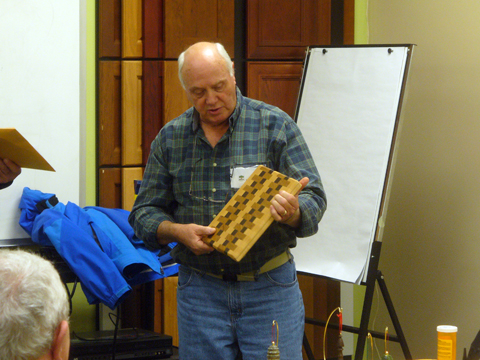 An Oak shadow box that sports some brass dowel accents: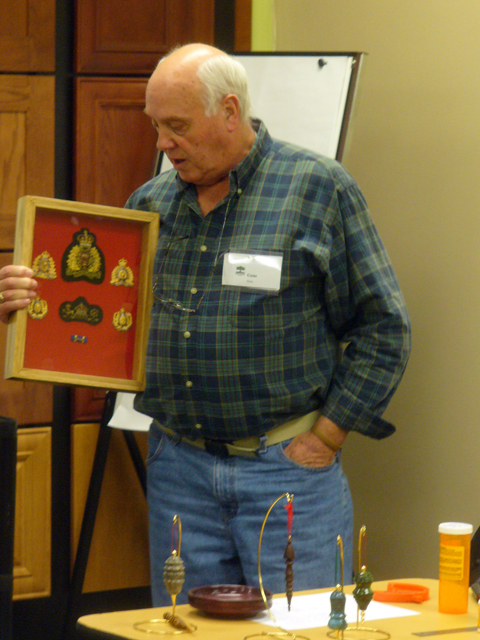 A couple of finely turned bowls like this one made of Catalpa: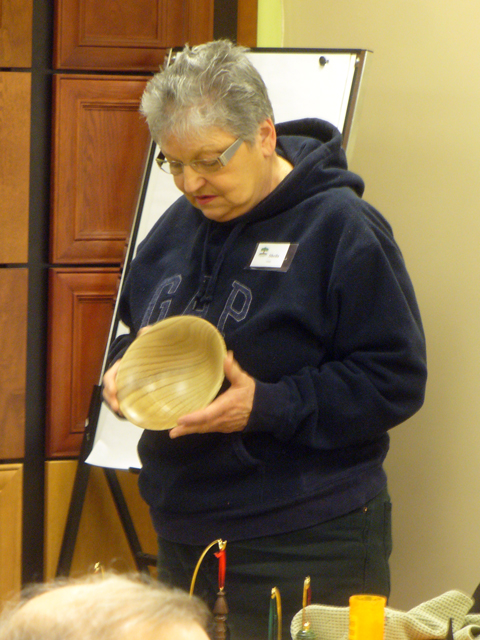 And a Whale Shelf made of Butternut and constructed using pocket hole joinery: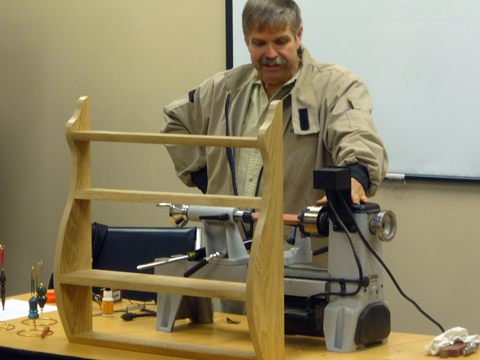 Did you know that whale shelves, or whale-end shelves, is a style from the late eighteenth century and are so called because the sides look like the silhouettes of surfacing whales? 🙂
Show and tell was followed by an extensive question and answer period with many great questions being asked and many, even greater answers given. There were also a few 'stumpers'. 😉
There were several items for sale at this meeting that included great deals on a Wagner Steamer, a Wagner Paint Sprayer and a DeWalt Hammer Drill. There was also a super fantastic deal on a Delta Cabinet Saw with Unisaw fence.
The evening ended with a club fund raising draw for the 24K gold accented ornament with one lucky member (guess who 🙂 ) going home with a "Cecil Original".
It was great to spend the evening with the other 21 members that were in attendance. From the enthusiasm displayed it was obvious that we all enjoyed ourselves. Special thanks to Cecil for making the evening such a success!
Back to the shop…