I made a trip to Moncton, New Brunswick this past weekend to attend the 8th Annual Moncton Woodworking Show. Since the cancellation of the Halifax show a couple of years ago this has become an annual trip for me… and always a rewarding one too. Of course, by that I mean that I always find a way to reward myself with a little something (or two) when I get there! 🙂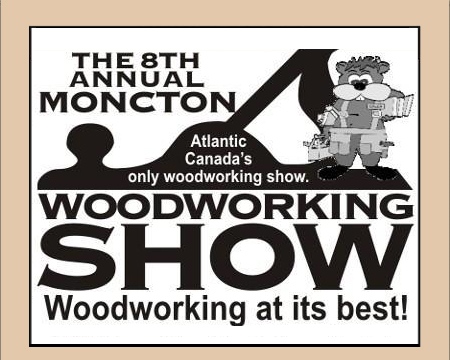 I arrived just as Vic Tesolin, editor of Canadian Woodworking magazine, was beginning his seminar on 'Tuning a Smoothing Plane'. He gave us a short and sweet version of the key adjustments that need to be made before using a smoothing plane. He also covered the set-up of a smoother and the proper planing technique for effective hand planing, including the proper stance.
Vic also had a booth here at the show where he was willing to answer any woodworking questions that you might have and to give more in depth explanation of the plane.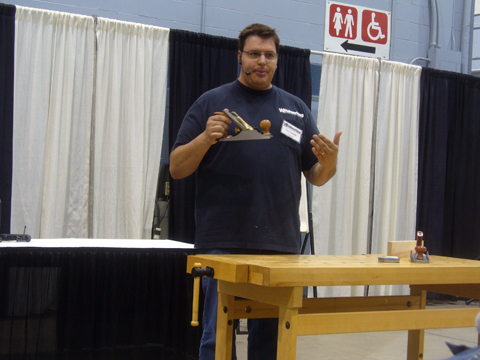 Wood finish expert, Ralph Swan from Minwax, was also there presenting a special series of informational seminars. Ralph has been working in the Do-It-Yourself industry for over 25 years and possesses a broad knowledge of wood finishing tips on projects from deck care to antique furniture.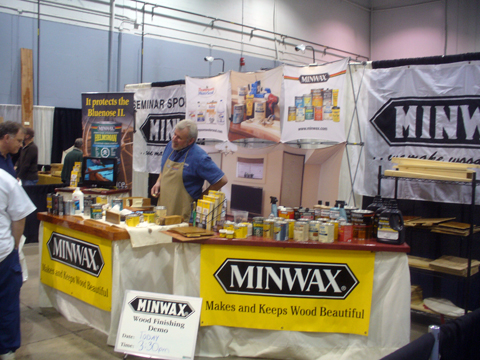 One of the most interesting exhibitors to see was 'Out Of A Log' which featured Monty MacMillan's chainsaw sculptures. Monty is a self taught sculptor and his carvings are made of pine. The ones shown here range in size from 3 to 6 feet: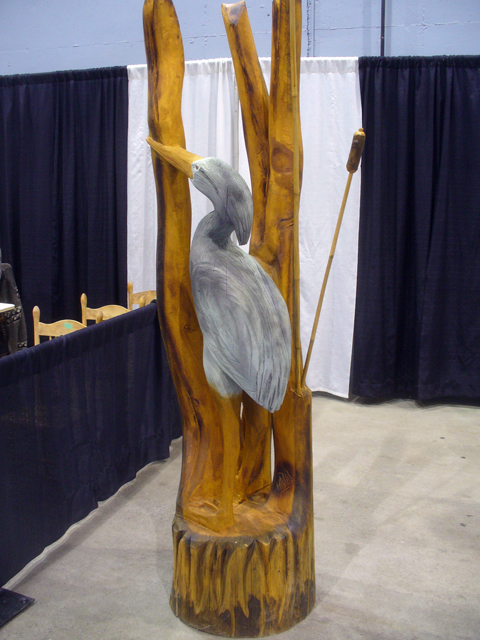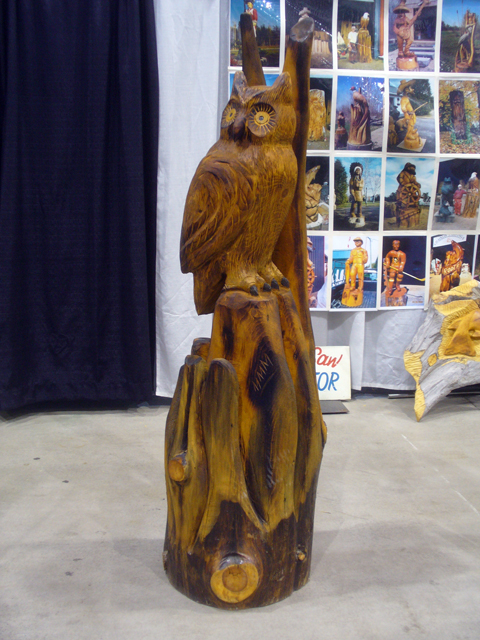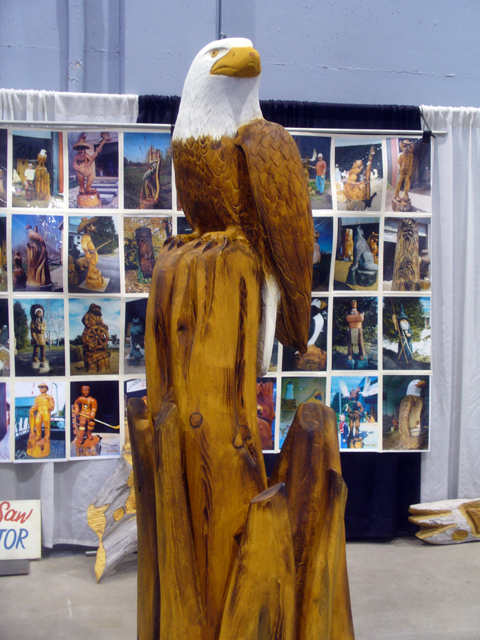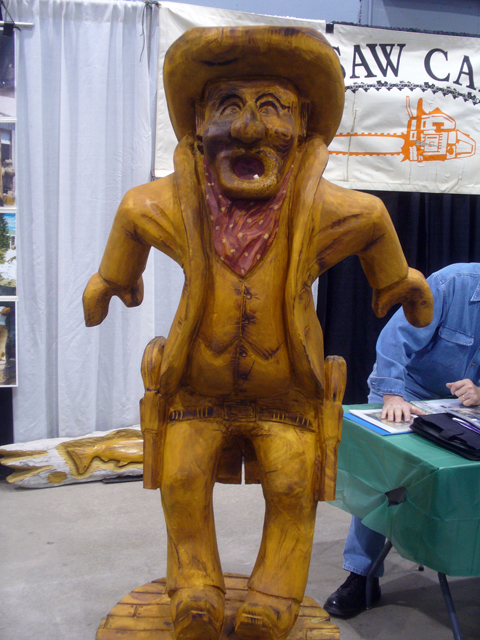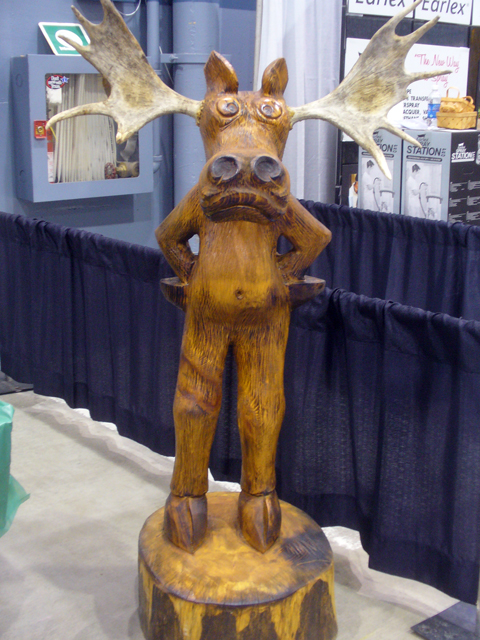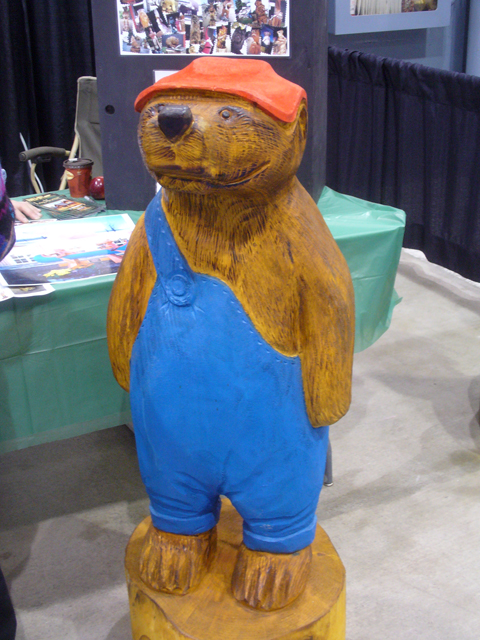 The Atlantic Tool Collectors Association was there with their great display of antique woodworking tools: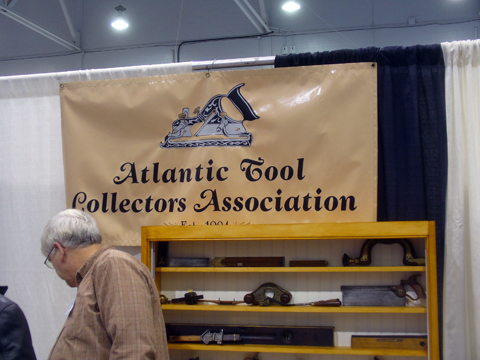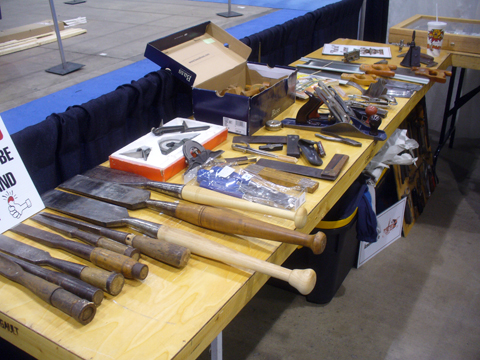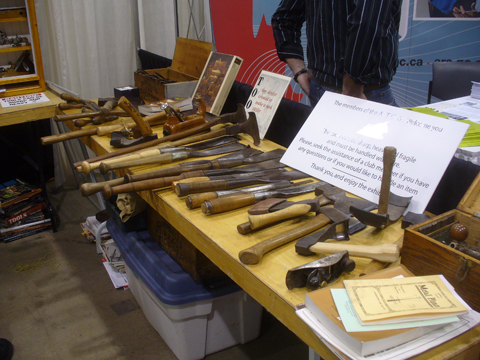 Festool was well represented with a demonstration of their plunge cut circular saws: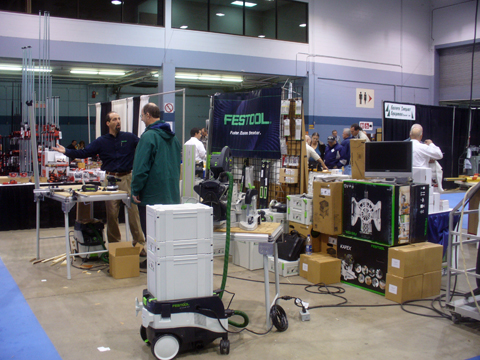 And if you were looking for clamps, Bessey was there with an extensive line-up: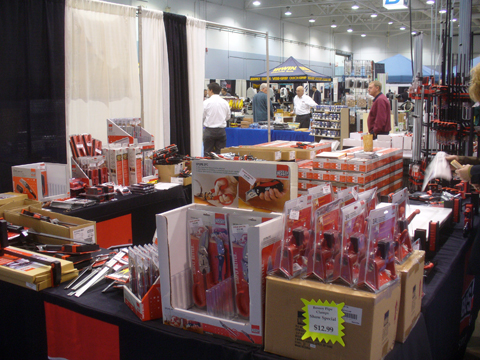 Something that really caught my eye was the Lumberlite 24 sawmill from Norwood Industries. With this bandsaw mill you can cut boards as wide as 17″ and as thin as 1/16 of an inch!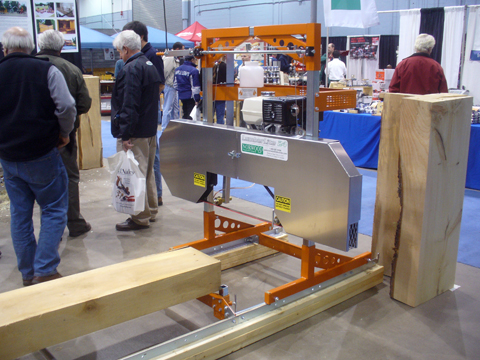 There were also a couple of 'novelty' type displays there too. One was a pair of Milwaukee Dragsters owned by Rodney and Janice Freeman. The dragsters are driven by Jill Freeman (age 19) and her brother, Jason Freeman (age 16) who were both available for questions, photos and signatures.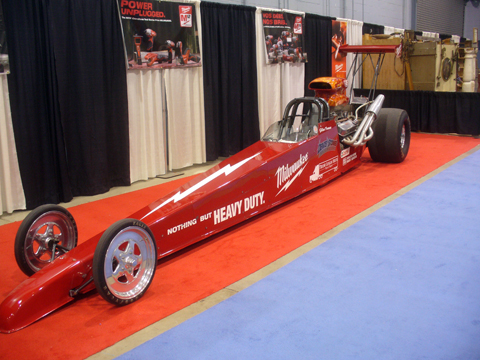 The other was a 1976 Chev pickup truck with its body made entirely of wood that is owned by Pierre and Collette LaCroix from Bouctouche, NB.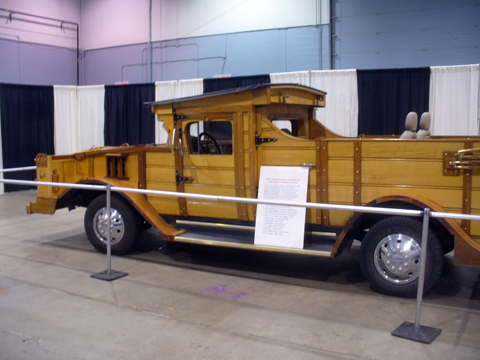 Here are a few random photos of some of the other exhibitors that were here at the Moncton show: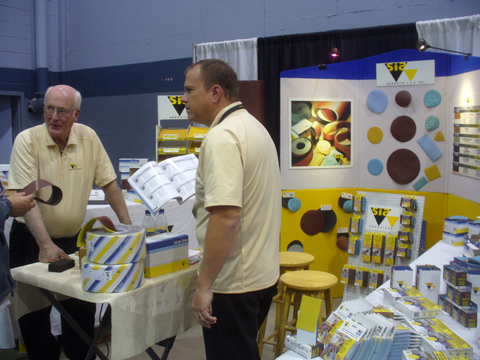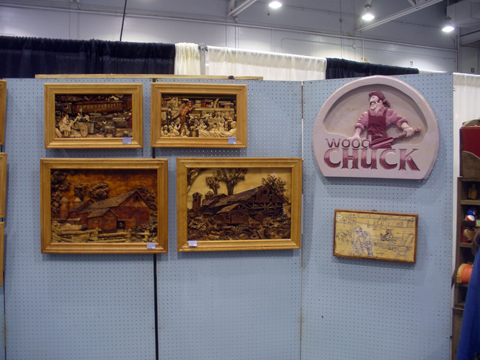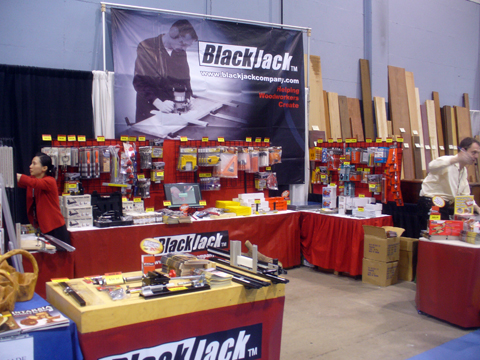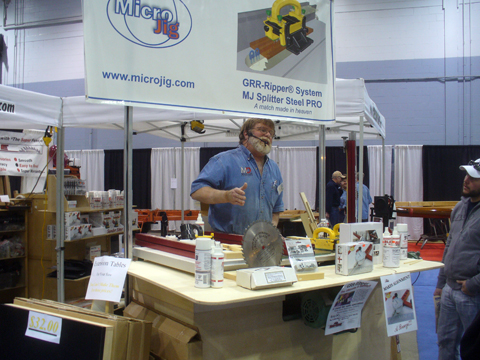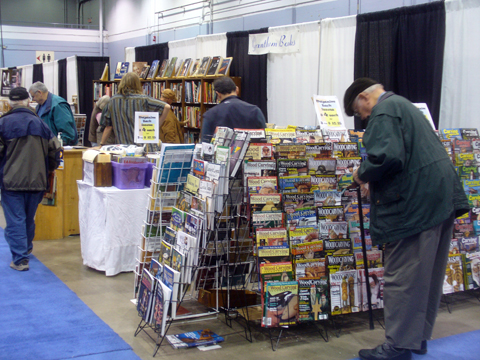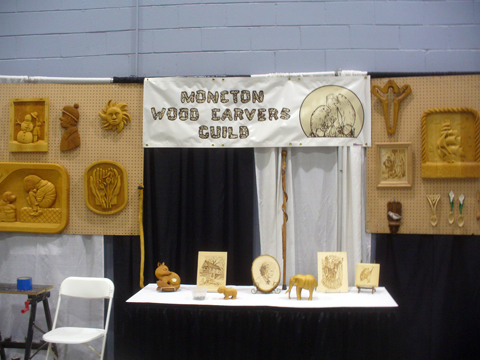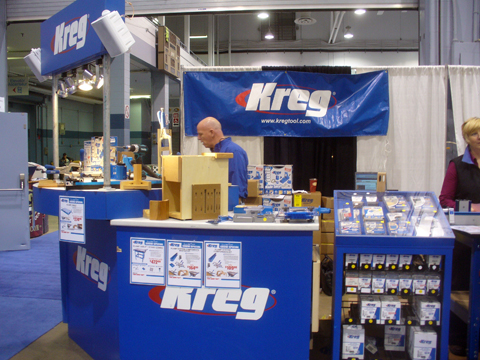 And finally, a couple of overhead shots of the exhibitors in Building 'A':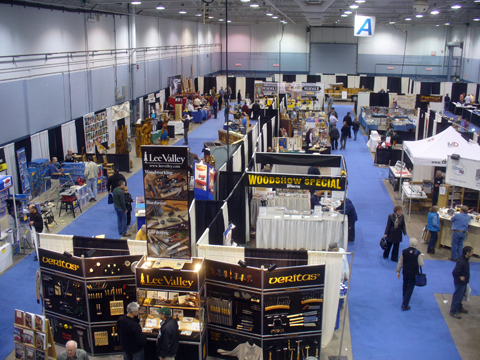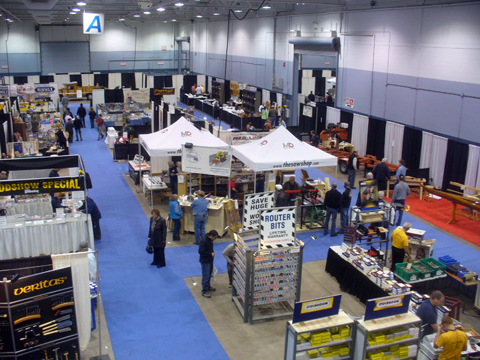 I found that the amount of exhibitors this year was noticeably less as was the amount of attendees, at least on the Friday afternoon that I was there. However, there were several new exhibitors like Sia, Festool, Out Of A Log, Norwood and Earlex. There was also plenty of space to comfortably walk around which made it quite enjoyable for a change (though the exhibitors would likely disagree).
I felt that I had to do my part to support the show so I grabbed a few great deals that included a selection of exotic woods from London Lumber, several magazine fills from Grantham Books and an Incra miter gauge upgrade for my table saw from Elite Tools.
Seriously, it is important that we support these shows through visits and our purchases because if we don't they will quickly disappear, as we have already seen some have. This would be a terrible loss for our industry and/or hobby.
In addition to the great time that I always have at the Moncton Woodshow the five hour drive to and from the event venue is an enjoyable one always spent with a good friend. The trip always gives us a chance to catch up on things, share a couple of meals, talk shop as well as cure a lot of the world's problems along the way.
It was quite the day. Who could ask for more? Support your local woodshow! 😉
Back to the shop…