We made a few Faerie Doors for some family and friends as Christmas gifts last year.
As the story goes, if Faeries, sometimes spelled 'fairies', build a door into or in your home it will be filled with love and happiness. We guess we were like the old cobbler's Elves and just helped the Faeries along a bit. 😉
Here is the Southwestern style door that we made for D's sister. We also made one of these ones for ourselves.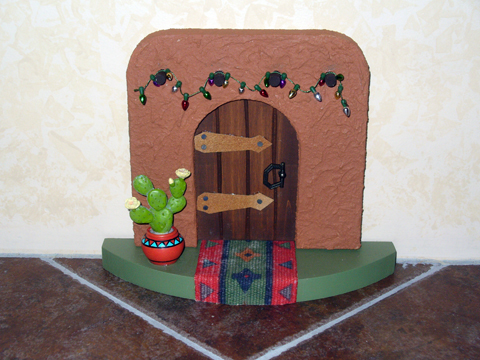 The doors are small (why would they need to be big?!) at about 8″ high and 7″ wide.
This one is finished in adobe and has leather hinges, a cool rug, cantina lights and cactus.
For easy access in and out of your home the Faeries usually 'build' their doors at the base of a wall like seen here: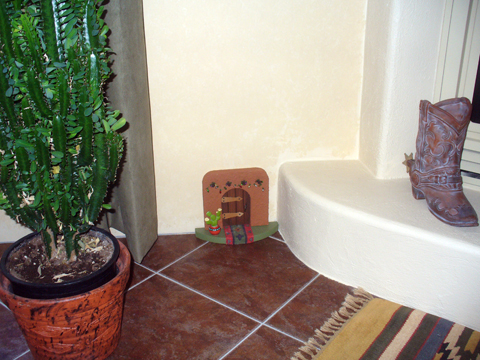 We also made a couple of Asian style Faerie doors that feature a decorative door frame, gold hinges and door knob, a bamboo mat and a gold 'window' frame.
We made a couple of 'hobbit' style Faerie doors too. These ones feature a carved door, cool rug and a globe glass window!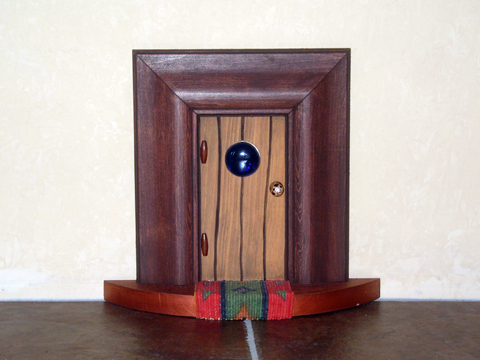 These were a lot of fun to make and we will be making more of them… er', I mean, the Faeries will be making more of them… 🙂
Oh, btw, if you make or put one of these doors in your home be prepared for a bit of Faerie fun. Soon after building these our tape measure went missing and our shop scissors were moved. It seems that they like pencils too because since making them a half dozen of our pencils have gone missing. The strangest thing though is that several times when we went into the shop we found the radio on a different station than when we left. Seems the faeries like Hip Hop… go figure. 😉
Back to the shop…