Here's a Zebrawood and Nogal jewelry box! When my daughter first saw the
Zebrawood And Ebony Box
that I made a few months ago she asked if I would make her one too. She had never shown interest in any of my other woodworking projects so I happily said, "Yes!". She then asked if I could make it with 'brown wood instead of the black wood' I again said, "Yes". She then asked if I could make it larger, like a jewelry box. Once again I said, "Yes". Finally she asked if she could also have a drawer in it. Well, by now you know my answer – "Yes!". As any father knows, when 'the princess' asks for something she always gets it. 🙂
The box is made of Zebrawood and Nogal. Zebrawood is from West Africa, mostly from around Gabon and Cameroon. Nogal, also known as Peruvian Walnut, is from South America.
The box is approximately 11″ wide, 7″ deep and 5″ high with a hinged, segmented lid, a sliding drawer and a removal tray. It is finished with a wipe-on poly.
This project was definitely a labor of love and it offered a bonus of several new challenges. They incuded making the drawer appear seamless in the grain of the Zebawood, having the lid match accurately when the hinges were put on, making both the tray and the inner compartment. And of course there was the 'secret'. 🙂
Here are some more photos of the jewelry box:
Here is a photo showing the lid with the Zebrawood stripping: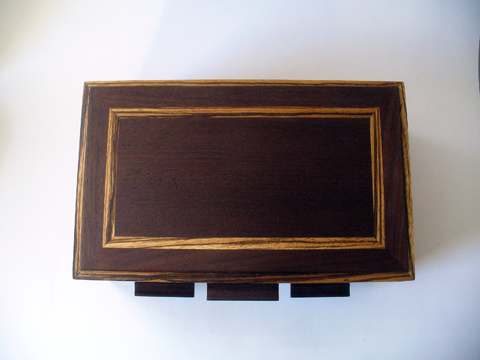 Here is a view of the front of the box with it's three hand carved handles: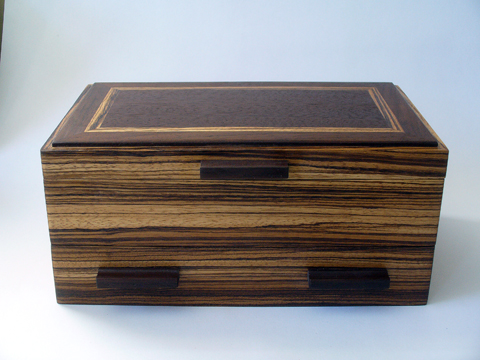 Here is a view of the back of the box showing the solid brass hinges: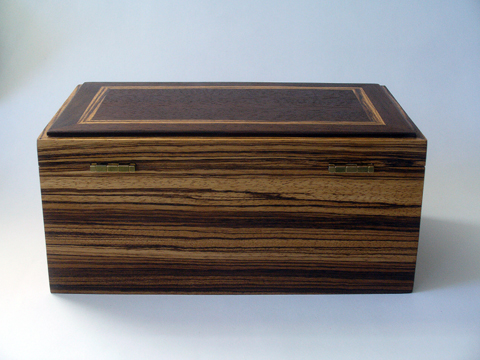 This is a view of the box opened showing the five compartment tray and the three compartment drawer: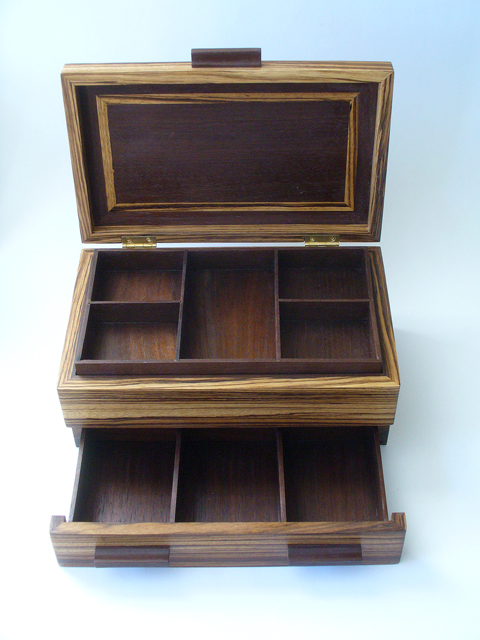 With the tray removed you can see the underlying 3 compartment area: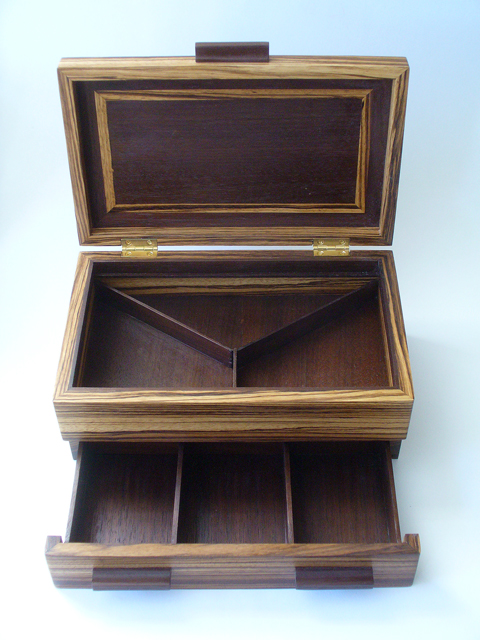 With normal use one has a tendency to only pull the drawer out enough to access the contents. As well, once the back side of the drawer is seen pulling is stopped, like the above photos. Also, making the drawer compartments full depth leads one to pull them out completely, requiring the drawer to be fitted back in the box each time. Therefore, the compartments are made about an inch shorter in depth of the box. Pulling the drawer out completely shows: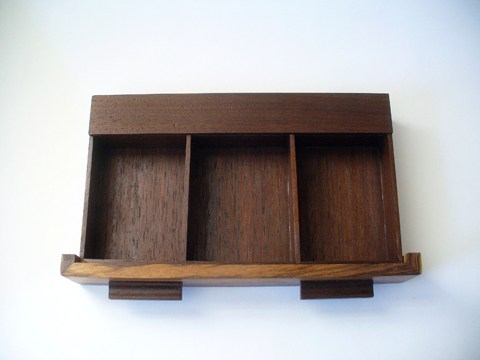 The top of the 'extension' is friction fitted and with a tug and a pull a hidden compartment is found: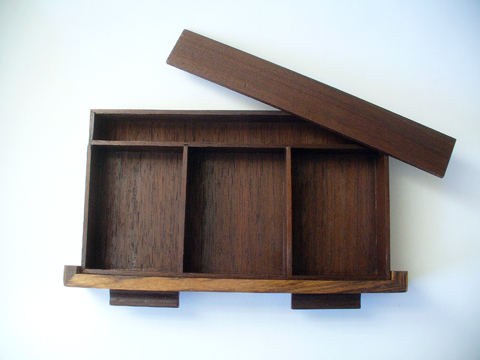 Obviously it is no longer a secret compartment since I told you about it so I have to now refer to it as a hidden compartment. Out of sight, out of mind! 🙂
For the drawer I first cut the four sides of the box to size and then mitered them to 45 degrees. Then, after ensuring all the sides fit together correctly, I cut the drawer face from the box face. Then I cut the drawer ends from the box sides using the tablesaw sled and stops. Then just glued the three pieces together.
This still left a kerf sized gap between the top of the drawer and the sides of the box. I was able to find, no, sorry, I was really, really lucky to find, a strip of Zebrawood with matching grain. I sliced this to thickness, mitered and glued this to the top of the drawer front. The grain of Zebrawood is actually quite forgiving so this is pretty much undetectable as you can see (or not) here: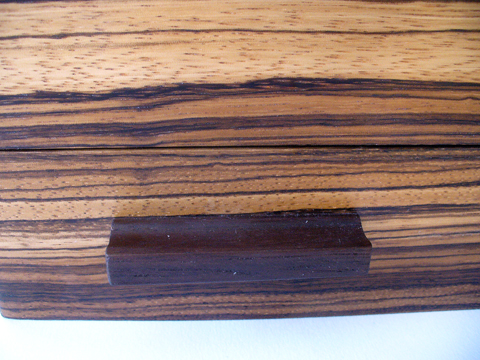 Working with the small, thin pieces of wood for the trays and drawer reminded me a lot like being a kid and building a model. 🙂
Today is my daughter's birthday. I hope she enjoys her jewelry box as much as I did making it for her. 🙂
Update 02/02/09 – Within a few minutes of giving her the box here is what it looked like. She loved it! 🙂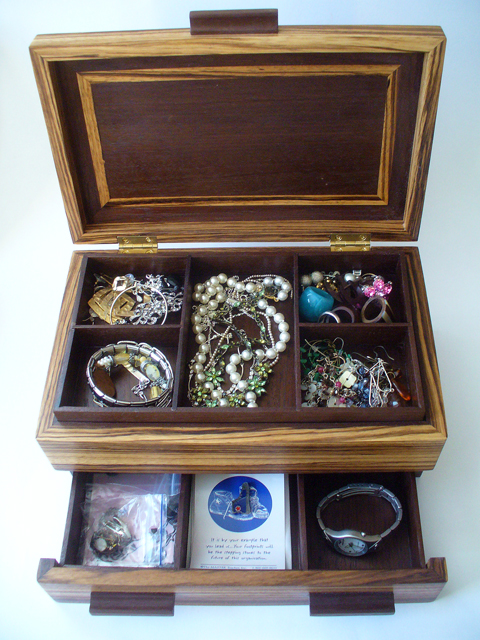 Back to the shop…