Here's a Maple and Cherry cutting board that I just recently finished. It is approximately 10″ long X 7″ wide and 1″ thick.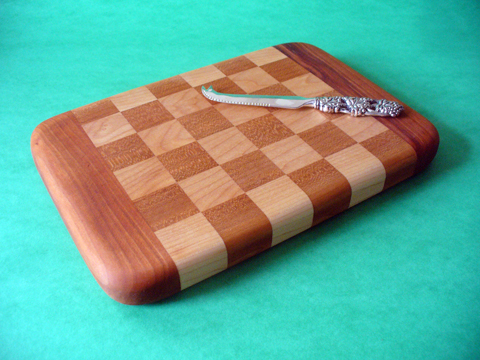 It is finished with a liberal coating of mineral oil to protect it. Of course, regular applications will be required for maintenance. The edges were rounded, giving it a completely different, and a much preferred, look than a previous Maple and Cherry Cutting Board that I did.
Cutting boards are something that I do on an ongoing basis. I seldom stop to specifically make one. I tend to throw appropriate sized pieces of scrap in an area on one of my benches and once they collect into enough pieces they move to the next step, which in this case would be to be cut to size. Then each step, like the gluing, planing, finishing, etc., that is to follow is done piecemeal, at the end of a day or when I'm stumped with another project, or just need a break from another project. Over time they are completed, like this one. As with books, I usually have several boards in various stages on the go at any one time.
Here are a couple of more photos of this one: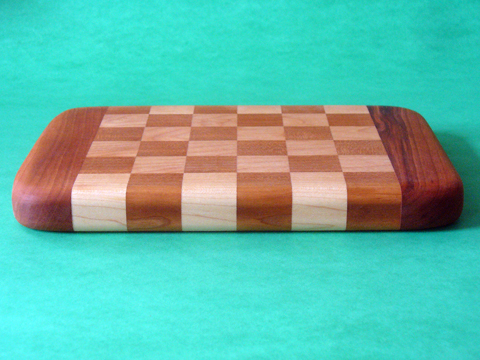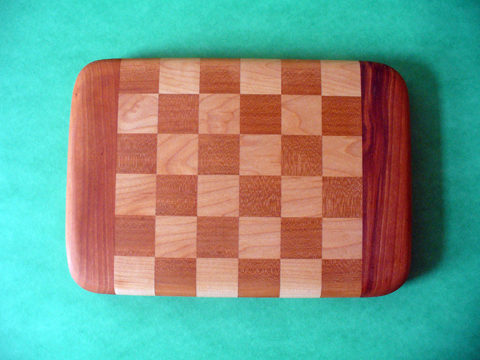 Back to the shop…