Wow, what a day! We just spent the past seven hours watching a woodturning demonstration by world renowned woodturner Michael Hosaluk at Lee Valley and boy, our heads are just a spinnin'! He showed us so many neat and cool tricks that we were caught between wanting it to end so that we could get home and try some of them and wanting it to last forever!
Michael Hosaluk is an internationally respected woodturner from Saskatoon who creates "functional vessels, furniture and sculptural pieces that are recognized for their humor, inventive spirit and technical mastery". He is an original member of the American Association of Woodturners, a founding member of The Furniture Society and the Saskatchewan Woodworkers Guild, he has won countless awards, has exhibited throughout the world and his work can be found in the permanent collection at Buckingham Palace.
This was a great opportunity to learn some new techniques and tricks from one of the true masters of woodturning and to expand on his seminars that we attended at the AAW Symposium in St. Paul last summer.
Today Michael demonstrated a slew of woodturning techniques by turning several small spindle production items that showed design and clean cutting techniques, some offset turnings and faceplate items which focused on form and design.
He started with a talk about woodturning safety, a topic that never grows old. He uses cup centers in both his head and tail stock to give him equal pressure on the piece. This not only allows him to quickly change pieces when he's in production but also minimizes the ravages of a catch. Although he was serious in his talk on safety it didn't stop him from throwing in a bit of humor, "Yes, today I will demonstrate a catch, I just don't know when".
From there he 'got down to it' starting with some spindle work, which he says teaches good form. The first thing he turned was a spin top, the type that uses the string. This was a warm up and took him all of five minutes.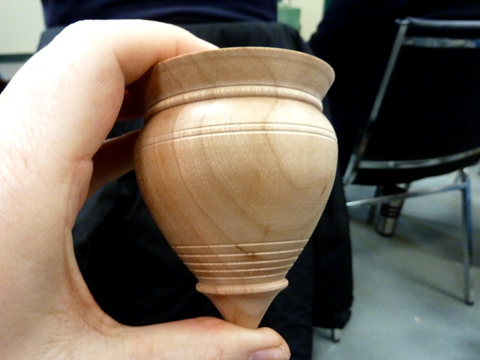 Michael said that at the end of the day he will give it a spin and try to turn another one and get it spinning before the first one stops. Hotdog! 🙂
Next, he did a pair of door-stoppers. These were simply made from a rectangle piece of wood turned with the ends turned between centers and then cut diagonally on the bandsaw: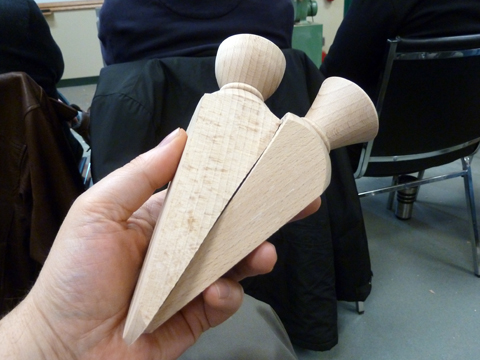 For the next piece he treated us to tip, tricks and techniques on turning his signature off-center candle sticks. It's simple when you know how! 🙂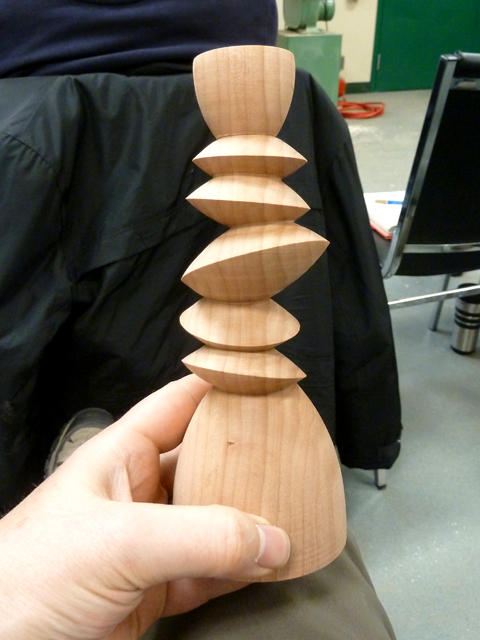 Next, he turned a spatula and then curved the end by wrapping it in a damp paper towel and then steaming it for a couple of minutes in a microwave: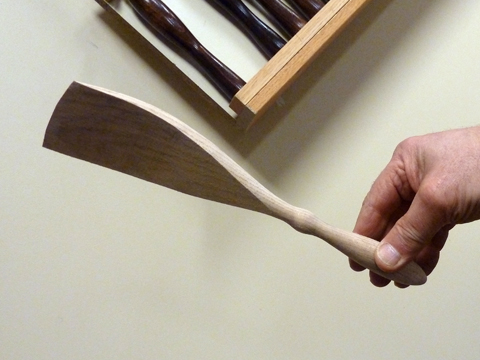 As a suggested practice piece he turned a ball next. This, he said, teaches great tool skill and an eye for good form :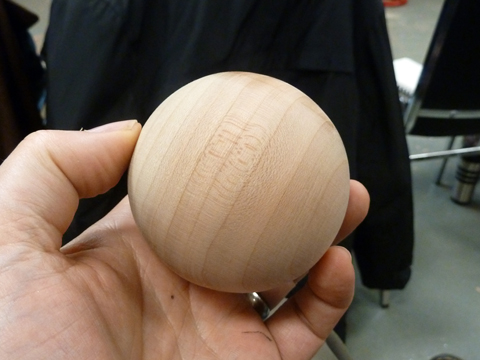 Next, starting with a piece of piece of wood roughed to shape, he turned a ladle. Once he had the handle and the shape of the bowl turned he inserted the bowl in a large jam chuck and hollowed the bowl. With the handle whipping around it showed the obvious need for a remote on/off switch on the right side of a lathe. As an early warning device Michael stuck a tape 'flag' on the end of the handle.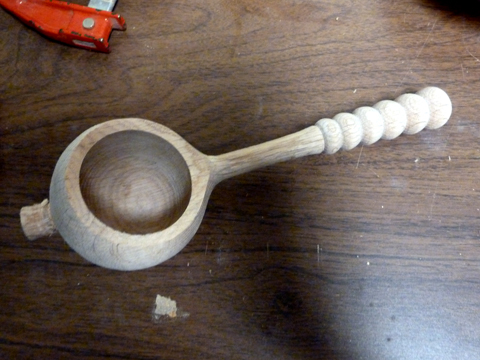 This was followed by another of his signature items, a 3 legged bowl: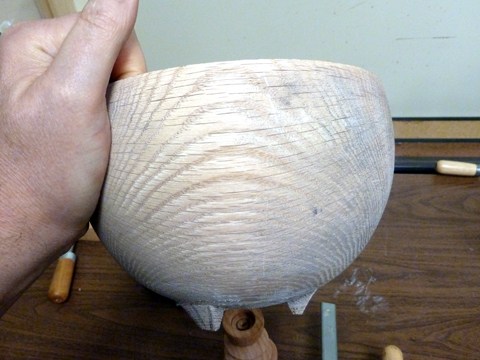 Followed by a small hollow form: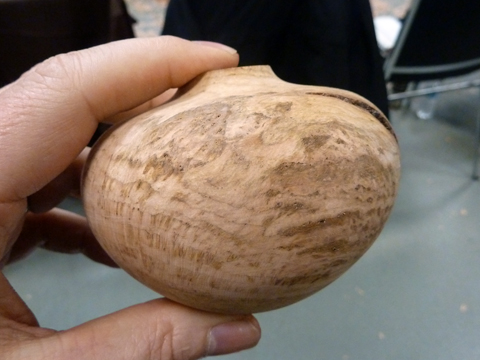 And then a super thin bowl that was turned while keeping it wet: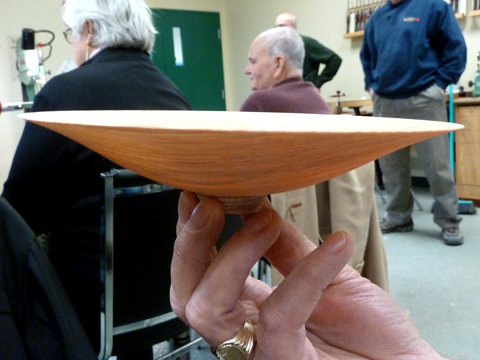 Finally, it was time for the much anticipated Spin Top Challenge where Michel planned on setting the spin top that he turned at the first of the day spinning and then not only turn another but to get this one spinning while the first one was still spinning.
Yes, there was a little bit of hot doggin' here but like we always say, "If you can do it, do it!" and he certainly did it.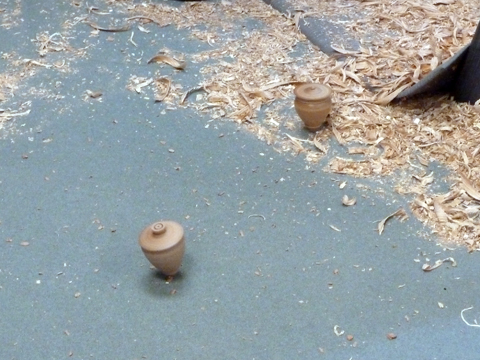 This was the perfect close to a fantastic day of woodturning, and a full day it was!
We began at 10am and ran until shortly after 5pm with a couple of breaks and a lunch in between. Within this short amount of time Michael turned more than we usually do in a week, sometimes a month. However, the amount of items that he turned, the type of items, with their artistic flair, that he turned was nothing in comparison to the way that it was all presented. Michael's 'your buddy next-door' presentation style created a friendly, relaxed atmosphere that lent itself to a greater educational experience. It was more of a workshop, albeit hands off, than a demonstration. We came home with the knowledge, the confidence and above all, inspired, to attempt even the most challenging of the pieces that he showed us.
At the outset Michael humorously stated that he creates in a "system of random disorder". Though it garners a few laughs this is simply not the case. Every move that he makes, every thrust of a gouge and every outcome is calculated and based on years of experience. Michael is a true professional in every way.
Very inspiring, indeed. Thanks, Michael.
Here's a photo of some of his pieces that he had on display and passed around for reference throughout the presentation: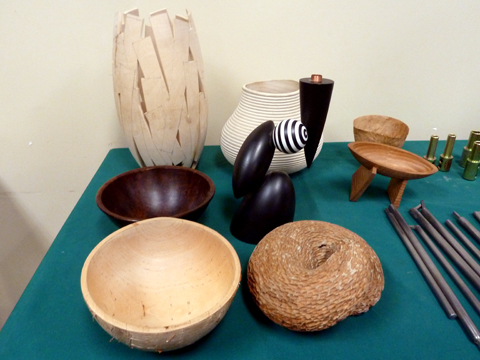 Here's a photo of some of the tools and accessories that he brought along for sale at discounted pricing and no shipping costs.: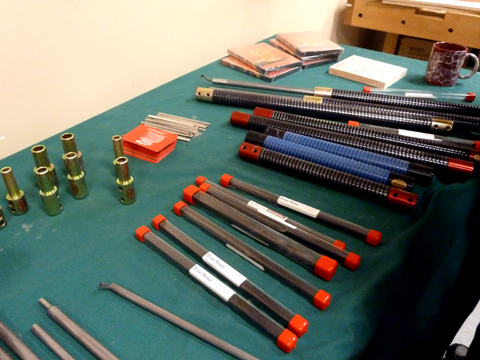 You can find out more about Michael Hosaluk here:
http://www.delmano.com/artists/wood/mHosaluk/biography.htm
Back to the shop…