Here's a couple of pens I turned recently. The one on the left is made of Olivewood and the one on the right is made of Tigerwood.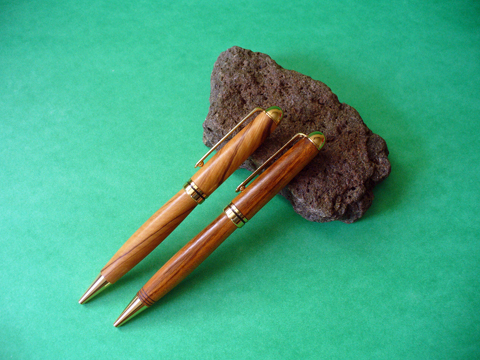 The Olivewood was given to me from a friend of mine from the AWA. Apparently the tree came from his father's property in Ottawa, where at one time there were lots of these trees growing in the neighborhood.
I was speaking with a couple of other woodturners the other day about Tigerwood which led me to find out a bit more about it. Apparently it comes from Brazil, Bolivia, Peru and Guatemala and that 'Tigerwood' is the commercial name for 'Muiracatiara'. I like to give these pens to my golfing buddies. Tiger Wood, get it?! 🙂
Here are a couple of more photos:
The Olivewood pen: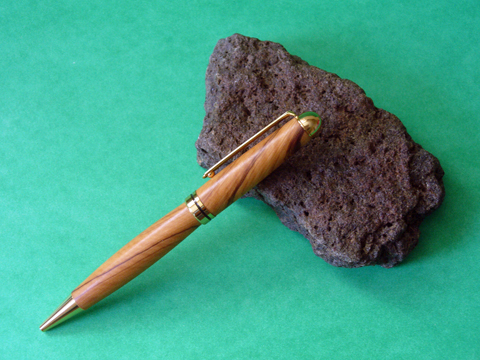 The Tigerwood pen: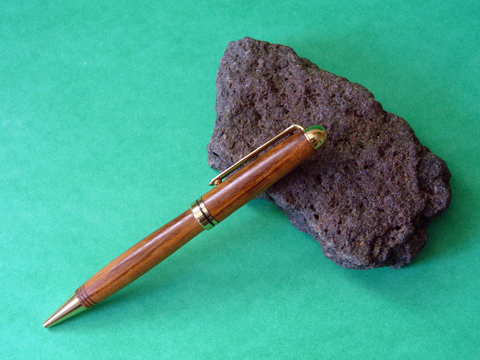 The Tigerwood pen has a couple of wire-burned accents near the bottom and both pens use the European Round Top style of pen kit.
Back to the shop…