You know that old saying that you can never get too much of a good thing? Well, it's true! Last night's meeting of the Atlantic Woodworkers Association featured Kevin Hurst from Lee Valley with his presentation on finishing your project and the variety of products available. Although I caught his 'show' at
last month's Nova Woodturners Guild meeting
this one was appropriately adapted to woodworkers and their differing needs.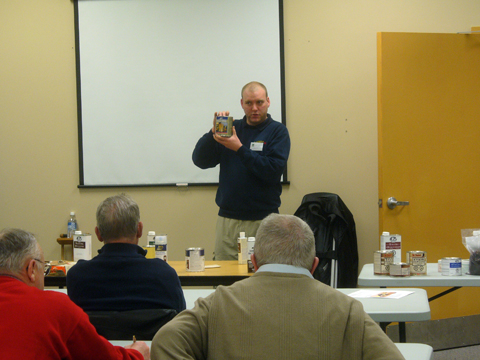 Kevin, in addition to being the Assistant Manager at Lee Valley and a home woodworker, was once a professional cabinet maker so the information that he imparts is based on his wide experience. His career as a cabinet maker allowed him the opportunity of working with finishing products on a commercial level, using equipment and products not readily available to the home woodworker. His employment with LV keeps him abreast of changing trends, new products and techniques, both from a corporate perspective and interacting with customers. Kevin says that real life results are the true test of a product and that by listening to woodworkers about their trials, tribulations and successes gives him an abundance of information beyond his own personal experiences. He, in turn, is freely able to share this information whether at the store or in presentations like this.
Kevin began his presentation with a short talk on safety (move over, Norm!) and the available safety products. This was a great beginning. We often overlook this important part of woodworking, especially with finishes and we can never be reminded enough. From here he continued through the Lee Valley product line, interjecting with recommendations and application suggestions.
He presented about 50 different products including preps like sandpaper, pumice and rottenstone, strippers, aniline dyes, waxes, stains and oils. All were dealt with concisely, offering what they are best used for, how they are used and, more importantly, the results that can be expected.
I believe that interest in a presentation is best indicated by the questions asked. It was obvious that we were all quite interested because the questions abounded! They ranged from simple ones like, what is best type of brush to use with a particular product to the more complex issues of remedies for stain 'blotching' on different types of wood. Answers were confidently given either by Kevin or a member experienced with the individual situation. Often these questions went into group discussion mode with a variety of solutions and work-arounds offered.
Thanks, Kevin, for a great presentation. It was refreshing to be led through the maze of finishes available and to have some of the mystery removed. We're all looking forward to the next one!
This was followed with a short Show and Tell with one member bringing in a couple of handscrew clamps that he built and a picture frame that he finished using 'ammonia fuming' the traditional finishing method used on Mission style furniture.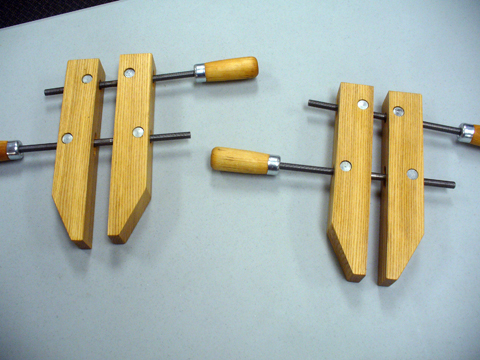 There were 27 members in attendance (including 2 new members that joined tonight) and 1 guest.
I'm always amazed at how much collective woodworking knowledge that there is in these rooms. The members run the gamut from newbie to old-timer, from young(er) to 'matured' (in fact, one member celebrated his 80th birthday yesterday!) as well as from all facets and types of woodworking. There can easily be hundreds of years of experience here at any one time! What an asset, what a treasure trove! And here I thought I knew it all! 🙂
As always, it was a fantastic meeting and a great time.
Back to the shop…