We had a real treat at this month's meeting of the
Atlantic Woodworkers Association
when we visited John Mcnab`s studio. To be totally immersed within the inner sanctum of John's genius and to be surrounded by dozens of examples of his work was a definite thrill.
John, who recently won the Lieutenant Governor's Master Arts Award for his piece entitled CSDC 3-8 (Compound Spiral Double Cone No. 3, 8 Sided), happily took us on an exciting journey through his creative process, carrying us from concept to creation, pausing only to reflect. Here, in his studio, we were witness to the artist in his environment.
John's studio for the past ten years features a combination of antique tools that have been collected over time and quite a few tools that were designed and built by himself, each with their own story, like the bandsaw and horizontal lathe that he picked up from a Canadian Navy selloff. (There's even a canoe that was once owned by painter Alex Coleville!)
Then there's the jewel of the studio, his 30 foot vertical lathe that he built specifically for creating his signature helical shapes and conical forms. Being vertical the lathe removes the constraints, like gravity and length, that a traditional horizontal lathe are prone to with long pieces. Since some of his pieces are almost 30 feet long the space needed to do this horizontally would be restrictive. As well, turning something this length, especially something spiral, would pose another whole set of problems with bowing and whipping.
The lathe was made from a variety of found parts. For example, the ways of the lathe are made from elevator rails, the screw mechanism had to be shipped in from the US at a cost of more than the screw itself and the 'saw' is a buffer polisher with attachments made to hold a circular saw blade.
Although he had done a few art pieces in bronze and iron in the past his medium today is wood, in particular, Red Spruce. He prefers Red Spruce because it is fairly stable, straight with no knots and it holds detail well. It is also very light. The 30 ft. long piece suspended from the ceiling of his studio weighs only 75 lbs! This is aided also by the fact that, like his other pieces, it is hollow.
This particular piece was the first one to be pointed at both ends and meant to be suspended, unlike his others up to that time that were built to stand on the floor. It took about 3 months to make it with an estimated 750,000 movements, or arcs, of the 'saw' to make the series of feature grooves.
Though he was once studied parametric math his self-described 'Seussian' pieces are more geometrical than mathematical. He once co-authored and published a paper on geometrical symmetry which you can easily see reflected in his work.
Examples of how his work evolved over time with fabric over form and styrofoam test pieces fill several high shelves and ceiling joists of his studio. Through these John 'learned what he didn't like', mostly defined as what he found tedious, lacking in both interest and challenge. However, these led to his investigations into what is a compound form and the complexity of curves on curves which become more difficult as you add more curves.
Here are some photos from the evening: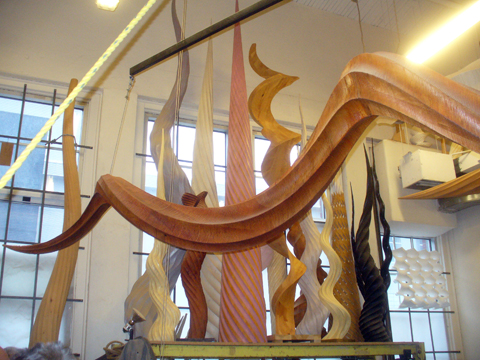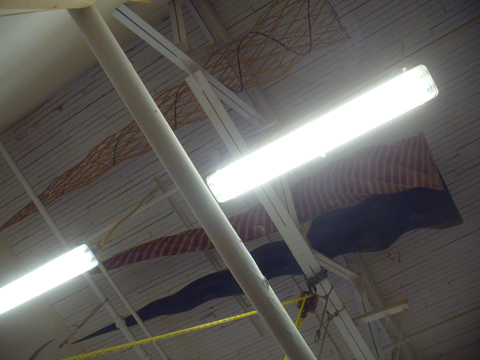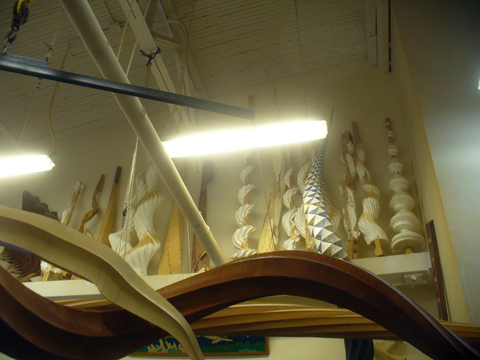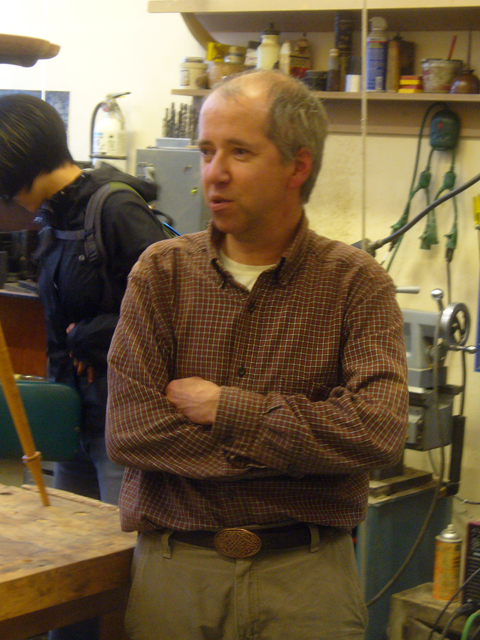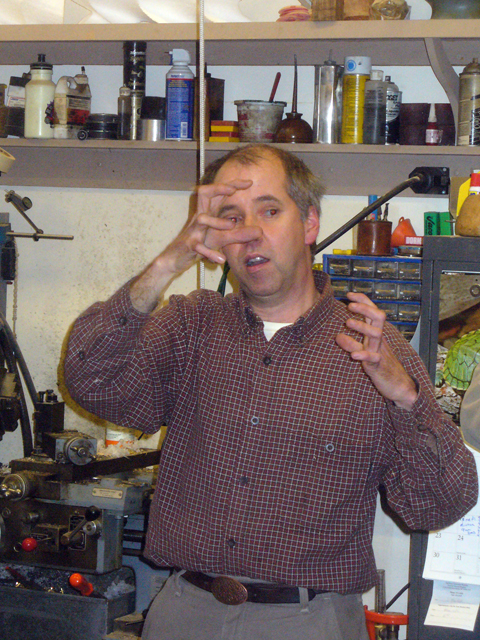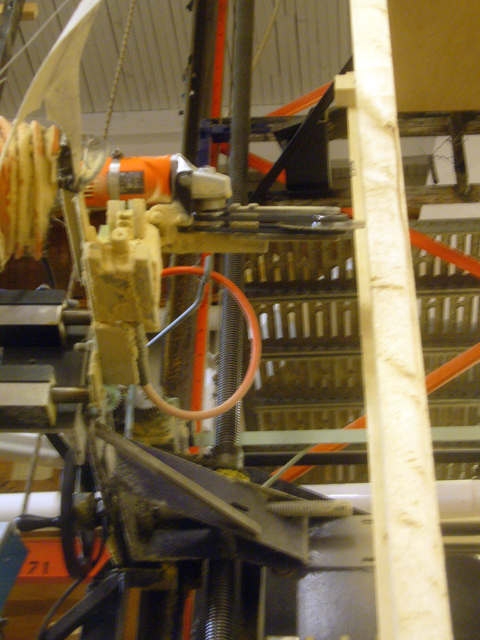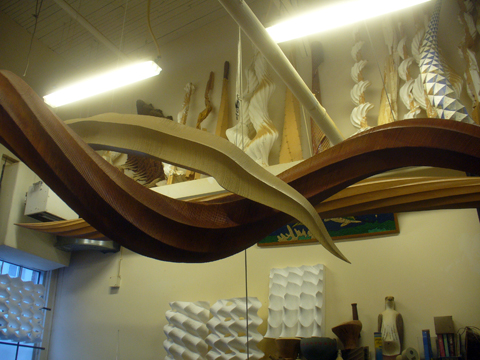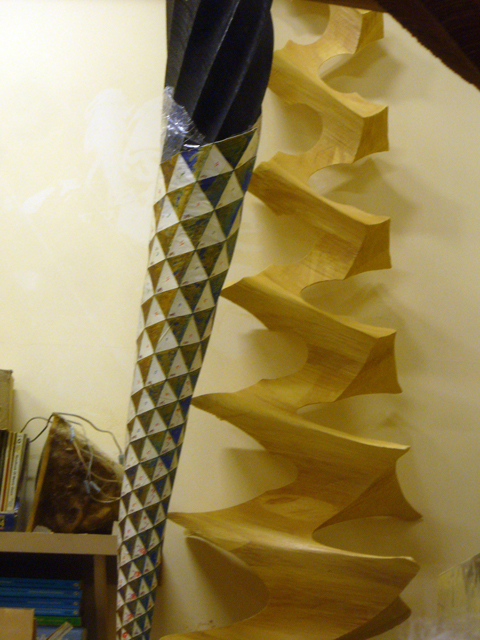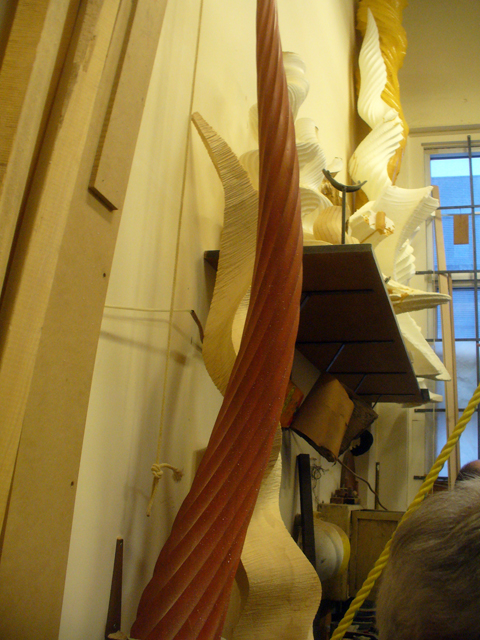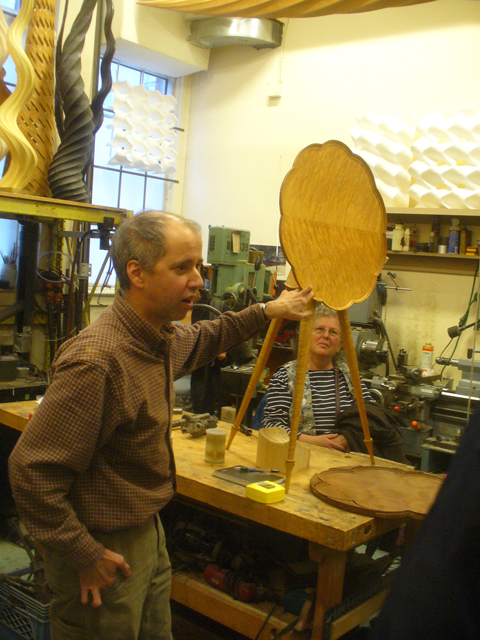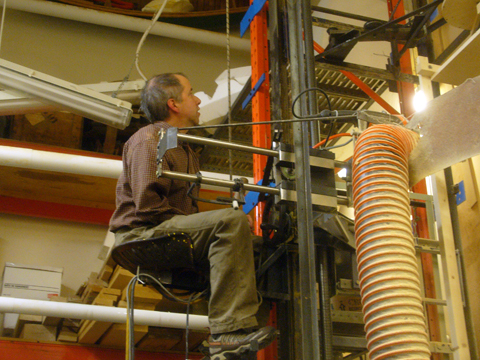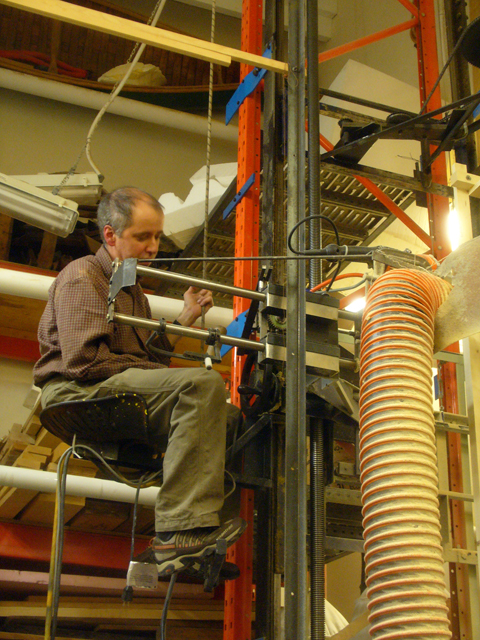 John's presentation concluded with a little peek into the future when he showed us a small part of a much larger wall hanging that he is working on. Can't wait to see this one when it's finished!
For more information on John, examples of his work and to see his vertical lathe in action visit his website located here – http://www.johnmacnab.ca.
Thanks for a great evening, John!
Back to the shop…