This month's meeting of the Atlantic Woodworkers Association was held at Home Depot, our home away from home. The feature of the evening was a presentation by member Jay Perry, who demonstrated the Veritas Mk.II Power Sharpening System.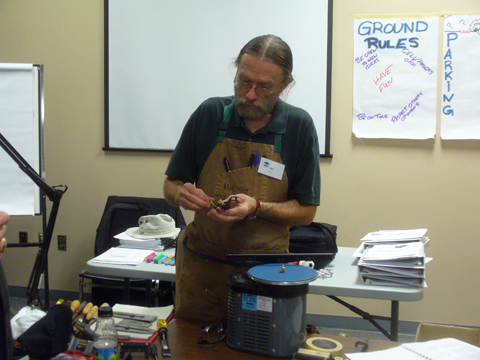 Jay, as you may remember from the Seminar On Sharpening Plane Blades that I attended last year, has taught at the Nova Scotia College of Art and Design for over 20 years, works for Lee Valley and has a strong passion for planes and for keeping them very sharp.
He demonstrated the sharpening capabilities of the Veritas Mk.II Power Sharpening System beginning with an old plough plane blade that was in a pretty rough state. However, after only a few seconds with the 80 grit sanding disk the rust and pits were removed, as you can see here: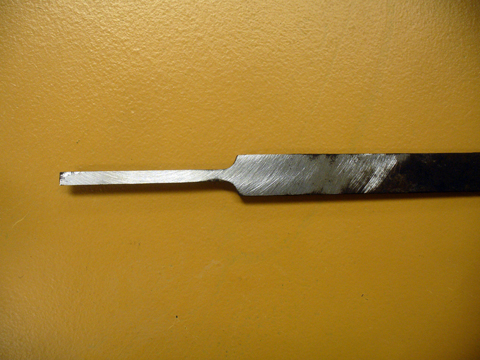 Moving on to a plane blade Jay started by lapping the back of the blade and then on to sharpening the edge. He began with the 150 grit disk, then to the 350 grit disk and finished off with the 1200 grit disk. Again, in a relatively short time the blade was ready for use: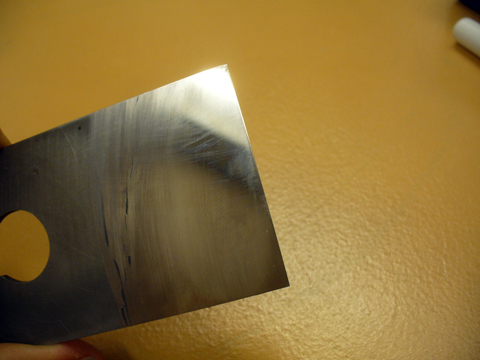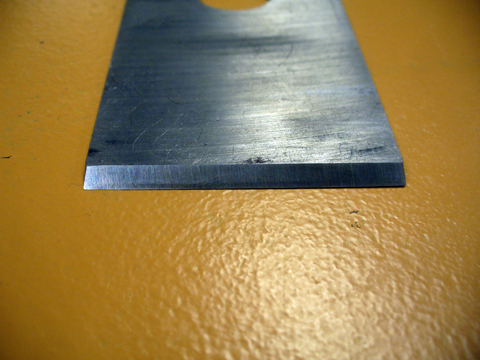 Continuing on, Jay sharpened a series of chisels that were sharp enough to shave with. This was verified by the several members who went home with hairless arms! 🙂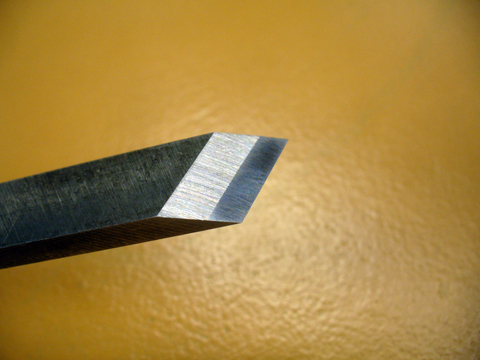 Jay suggested that to further hone these blades one could make a disk for the system from good quality cotton.
Another tip that he shared with us was when a blade heats up from sharpening lay it on cool metal like a table saw or jointer table. This allows the metal to cool at a better rate than the flash cold of immersing it in water, which will help to minimize or even eliminate micro cracks in the blade tips.
It was great to see the Veritas Mk.II Power Sharpening System in action, to see its ease of use, versatility and time savings, and more so to be demonstrated by Jay, who's long-time stand on manual sharpening gave credence to this 'new way' of doing things.
Our meeting concluded with a quick auction of a couple of table saw blades and a draw for several cans of wood filler. There was also a free quart of stain for all 22 attending members.
It was another great, and very informative, meeting. Special thanks to Jay for the excellent presentation and to the organizers for giving us this meeting.
Back to the shop…