Well, once again we kicked off a new season of the Atlantic Woodworkers Association the other night at Halifax Specialty Hardwoods. This has become a welcomed annual event which is always enjoyed by the AWA members and the shop owners alike.
The meeting began with the members catching up on what each other did over the summer and what project plans they have in mind for this winter, all while perusing the more than forty species of exotic and domestic stock on hand.
A short business meeting was held with updates given regarding the club's by-laws, a call-out for the website member bios and project photos and a member was appointed to update and clarify our business discount opportunities. There was also an update on the bunk building project that we did over the summer.
At this point, Darryl Vallis, the owner/operator of Halifax Specialty Hardwoods, took over the meeting and started with an auction of two large, great looking pieces of Curly Maple which, like most of our auctions, led to a bit of a hot and heavy bidding war. 🙂
He followed this with the introduction of two new species of exotic hardwoods; Indian Rosewood and Shedua, a rich, dark, yellowish-brown colored wood with black stripes that comes from West Africa. From then it was on to one of the highlights of the shop tour, the introduction of their latest addition, a six head wood moulder: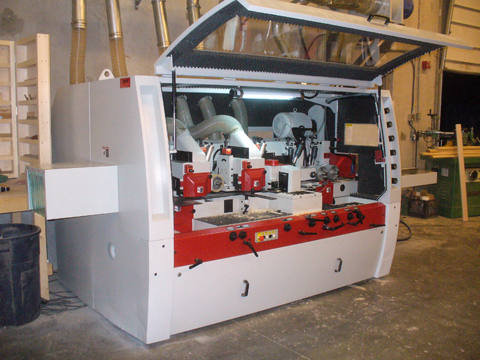 This is a large machine, weighing 9000 pounds (4100 kgs) and about 15ft (5m) long. It aggressively moulds wood at 100 feet (30m) per minute! Each of the heads has a 20 horsepower motor attached to it.
Because it was just installed and setup and testing were still being done we didn't get a physical demonstration but there were several fascinating examples of the fine work that this machine can do. What once took 8 to 10 passes on a traditional moulder with it's expected inaccuracies now takes only one pass with exacting duplication! (I was lucky enough to see it in action the following day when I dropped by to pick up my purchases that I made at the meeting the night before and boy, oh boy, what a tool! 🙂 )
Darryl explained in depth how each of heads work in tandem to give a multitude of moulding profiles, how the cutters work, how the machine will enhance their business and he answered the dozens of questions that a roomful of woodworkers ask when shown a new tool, especially a big one like this! 😉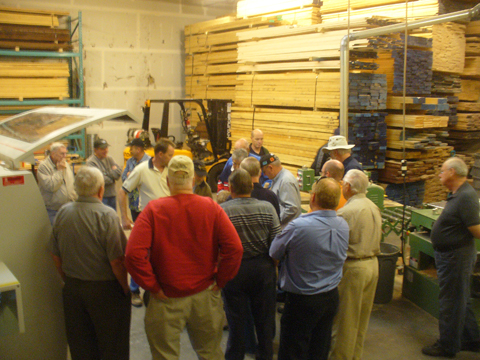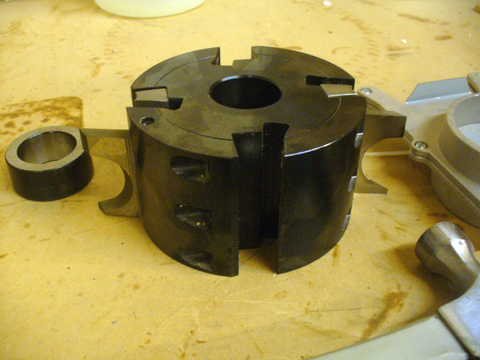 It is so nice to see a company that offers quality products, excellent service and that embraces the local woodworking community show growth such as this. It proves once again that proper business practices are often rewarded with success. Kudos!
Speaking of embracing the woodworking community, in addition to hosting tonight's meeting, Halifax Hardwood Specialty gave us a very generous discount on purchases made tonight. I took the plunge and picked up two beautiful pieces of Cherry that look a lot like a Hal Taylor Rocking Chair to me. 😉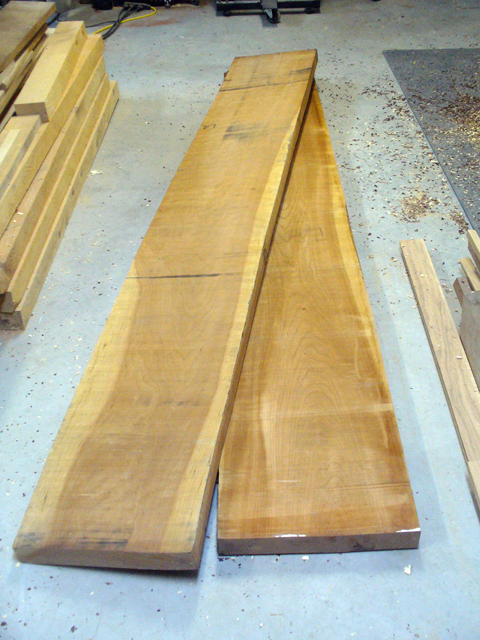 I wasn't the only one going out the door happily smiling with some great looking project pieces under their wings. 🙂
There were also some great deals on other products; stain, sandpaper, Porter Cable saws and a paint sprayer that was supplied by some members of the AWA.
Here are a few more photos of the event: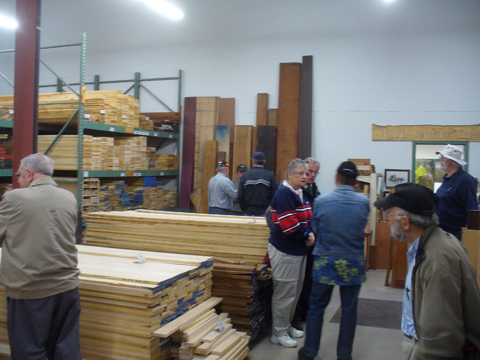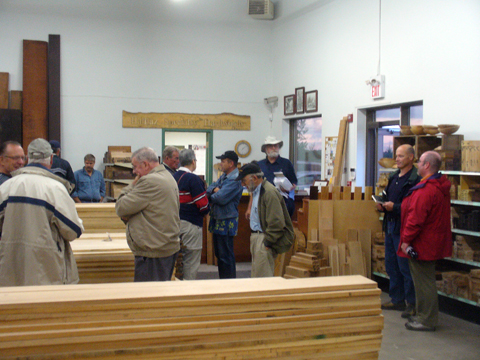 The evening finished with more chatting but this time it was fueled by coffee, tea and a variety of fruit, cheeses and sweets graciously served by Cheryl of Halifax Hardwood Specialties. 😉
Once again this was a great kickoff to what looks to be another fantastic season of the Atlantic Woodworker's Association! Thanks again to Darryl and Cheryl for hosting the meeting tonight and for welcoming us into your shop. It was truly appreciated! See you again soon!
For more info on the Atlantic Woodworkers Association please click here.
Back to the shop…