This month's meeting of the Atlantic Woodworkers Association really sucked! Yep, it really did! It was dust collection time at the Bee!
Twenty members of the AWA met at our local Busy Bee Tools for an excellent presentation by store Manager, Bill Luther, on the ins and outs, whys and wherefores of dust collection. (Get it?, sucked – dust collection… LOL! Groaner! We know, we kill it! )
Bill gave us a relaxed and down to earth presentation that took a lot of the mystery out of purchasing, installing and using dust collection and filtering systems. He began with the necessary safety considerations of airborne dust and its possible health consequences. He then gave an overview of the available solutions for this problem including dust collectors, dust filters, dust masks, downdraft tables and more.
In order to help us determine which system we would require for our individual use he explained the minimum cfm's (cubic feet per minute) required for different size shops. He also made suggestions for permanent installations and the need for 4″ piping for unrestricted airflow.
Bill also explained the need for properly grounding the dust collection system. Although this is another one of those often debated issues within the woodworking community the solution is so simple that it is better to be safe than sorry. The problem is that the motion of dust and air through the pipes can cause electrical charges to build up, and this is turn can cause the fine dust particles to literally explode! The solution is to provide a low-resistance path for the static electricity to travel to ground and the easy and simplest way to do this is to install bare-wire grounding from the tools that you are collecting the dust from, like your table saw, through the inside of the dust collection hose or piping and to the grounded chassis of your dust collector.
A few other tips that Bill offered included:
– Replace old 30 filter micron bags with the newer 1 micron bags.
– The dust collector and dust filter work hand in hand. If you can only buy one get the dust collector as it can take the debris and dust directly from a tool as a first step in minimizing airborne dust.
– Wash the dust collector filter bag with warm water. Do not wring it out or put it in a dryer.
– Shake bag to remove fine silt that clogs free airflow.
Bill finished this great presentation with a quick run through of Busy Bee's available dust collection related product line, from flanges and adapters to their largest DC with a 5 horsepower motor that offers 5000 cfm's. He also introduced their new Flexhose that is so flexible it can be tied in a knot and their new dust collector that can double as a mobile vacuum cleaner!
Here are a few photos: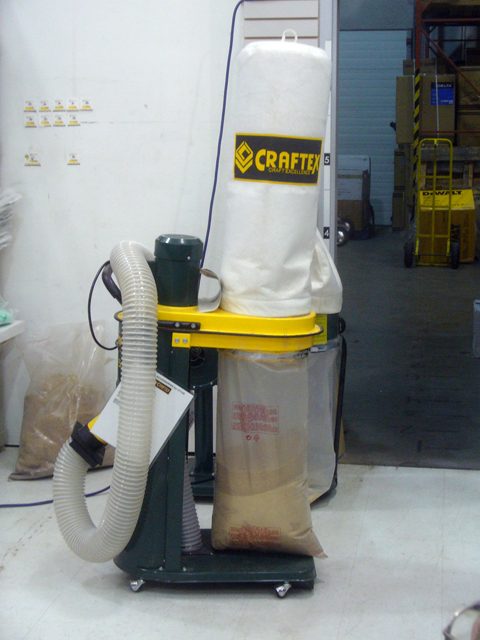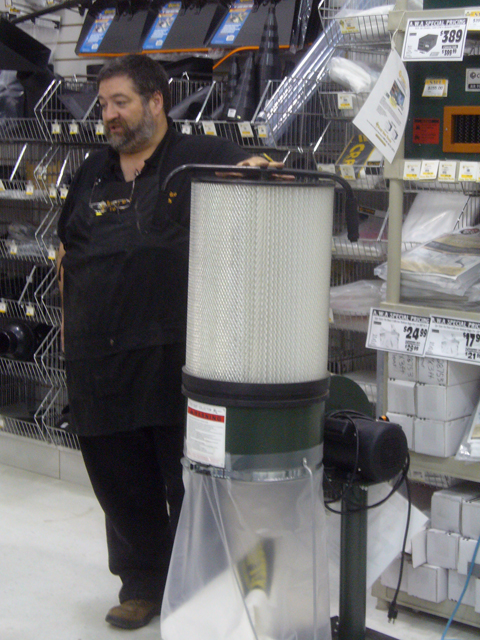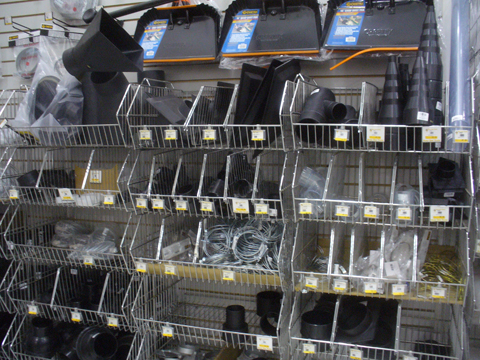 Bill's presentation was a great primer into this necessary 'tool' for all woodworker's workshops. He gave us the information required to make a purchase for our individual needs. For those of us that already have our own systems he gave us the information that we need to make them work better and safer. We all went home a whole lot smarter. Thanks, Bill, for a great evening!
The meeting started with an award given to the club by Woody Woods of the Nova Scotia Federation of Anglers and Hunters. The award is the Gilbert Knickle Memorial Trophy and it is given to non-members that make contributions to the efforts of the NSFAH. The AWA received this because of our participation in the Nest Box Project, which it was confirmed that 200 boxes will be adopted by June!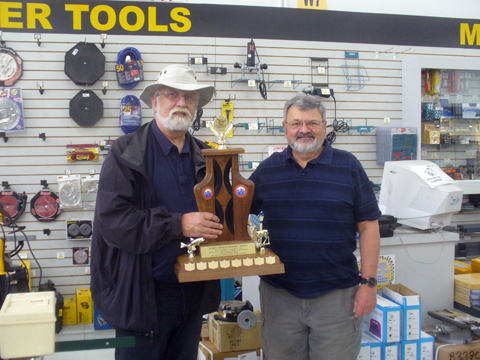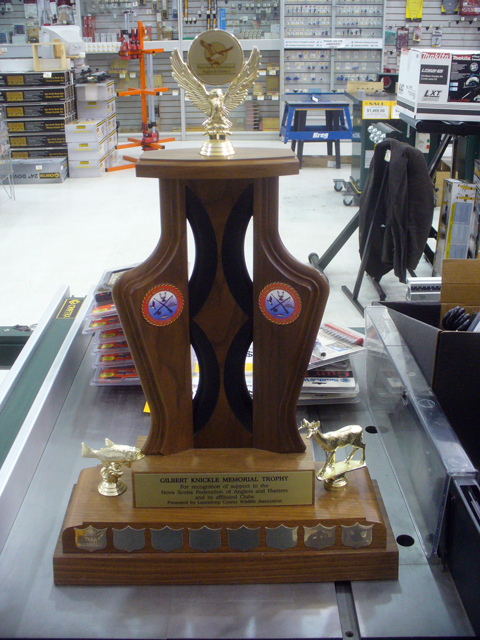 The evening finished with some lively chatting, enjoying some supplied coffee and donuts and taking advantage of the special pricing offered by Busy Bee to the AWA members on a variety of dust collection products for this evening only.
Once again, thanks to Bill Luther and Busy Bee Tools for hosting our meeting tonight. For more info on their available dust collection systems you can check them out here.
This was another great meeting of the Atlantic Woodworkers Association!
Back to the shop…