This evening I visited Halifax Specialty Hardwoods with the Atlantic Woodworkers Association for a shop tour and a demonstration on their milling process. The evening was hosted by owner Darrell Vallis and his sister Cheryl Borden.
The shop was opened in early 2006 and has since then has grown from a stock of 16 species to over 40 plus a large supply of plywoods including Baltic birch. They specialize in crown moulding, baseboards, wall trim and mantle mouldings and also stock burls, pen blanks, and preturned bowl blanks.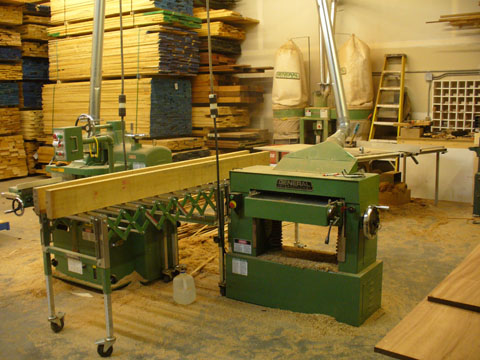 During the tour of the retail area we were introduced to 'Walnut Birch', a roasted hardwood. This wood is made by taking yellow birch and heating it to very high temperatures in a vacuum condition. Then it is re-humidified. This creates a uniformly dark brown colored product, similar to that of Black Walnut, but the price is less expensive.
From there we went 'out into the shop' and Darrell demonstrated how he creates molding. From the planing to the shaper the process was very slick, yielding a quality, professional product. Oh, to have these tools!
The evening finished up with coffee and snacks, topping off a great evening. A hearty thanks to Darrell and Cheryl for allowing us to visit!
You can visit and check them out yourselves here!
Back to the shop…