Here is a Cocobolo and Ebony lidded box that I recently completed. It is called 'Vase On Vase'.
It stands 7 1/2″ tall from the base to the top of the finial and is about 3″ in diameter at its widest. The base is 3 1/4″ tall and the finial and lid is 4 1/14″ tall.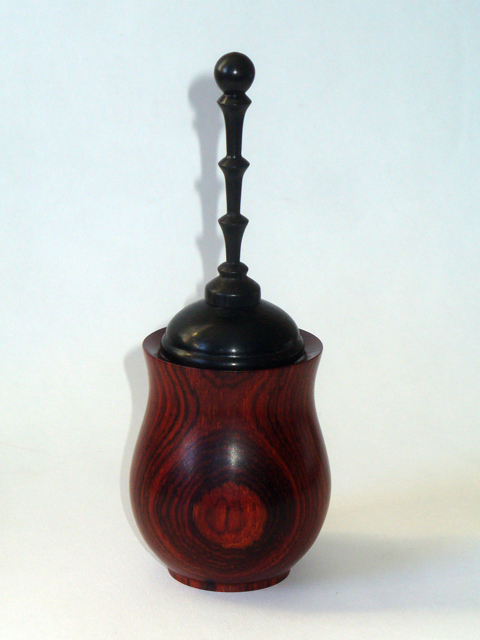 The shape of the Cocobolo base follows the form of the 'vase' that was created by the grain. This was one of those discoveries that, though it changed my original design, I was happy to explore.
The Ebony domed lid sits inside the undercut rim of the base and has a concave bottom. The finial, also made of Ebony, was turned separate and of 'medium weight'.
You can see other views of these features here in these photos: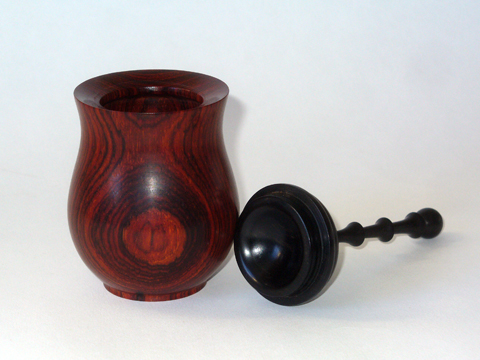 Because of the undercut rim and the shape of the box this became a great beginning exercise in hollow end-turning. As well, fitting the lid and turning the finial offered an enjoyable challenge.
I believe that the combination of Cocobolo and Ebony gives any piece the air of elegance and I attempted to achieve that with this piece. Either way, it looks great on the fireplace mantle!
Back to the shop…