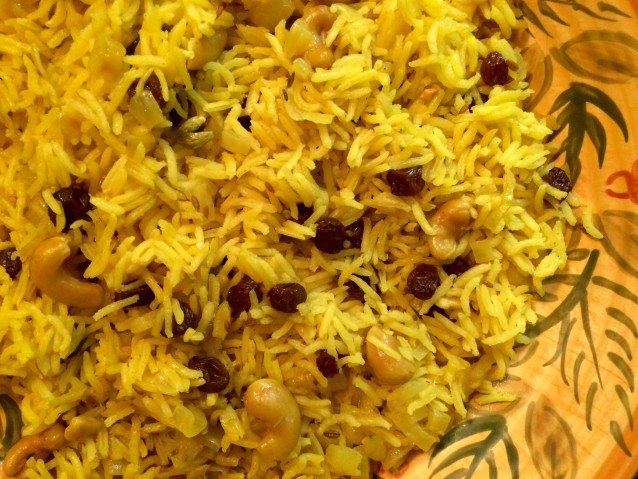 We were looking for a rice dish that could stand along side a piece of grilled fish adding something to the dish but not overpowering it.  I believe we succeeded….move over Uncle Ben.
Ingredients
2 cups basmati rice

3/4 cup cashews

3/4 cup raisins

3 teas olive oil

6 cloves

3 cardamom pods


2 inch cinnamon stick

2 teas cumin seeds

3 bay leaves

1 teas turmeric powder

3/4 teas saffron threads

1 teas salt

1 medium onion, finely chopped


4 cups water
Directions
In a bowl soak rice in warm water for about 30 minutes. In a fine mesh strainer rinse the rice under running water to remove excess starch.

In a saucepan boil 4 cups of water. Turn off heat and sprinkle saffron threads over the water.

Place a second larger saucepan over high heat and heat oil adding the cloves, cardamom, cinnamon stick, bay leaves and cumin seeds. Gently stir for 30 seconds then add the onion, cashews and raisins, stirring. Add the tumeric and stir to incorporate.

Add the drained rice and the hot saffron water and the salt and cook for about 12 minutes, then cover the saucepan and reduce heat to low for a few minutes. Check to see if the water has been completely absorbed. If not simmer a few minutes longer being careful not to burn.
Use basmati rice that has been aged 2 years if possible….just better rice

Print This Recipe