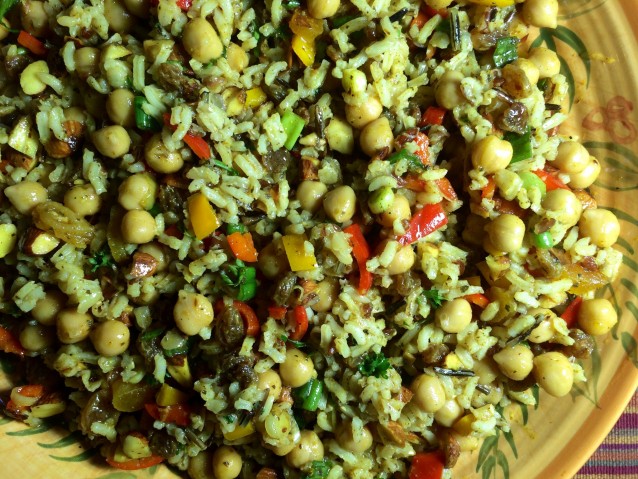 No matter where we take this salad the response has been the same, "….this is so good, can I have the recipe?"  We have shared it with family and friends from British Columbia to Newfoundland.  The dressing has the right combination of spices and the body of the salad has interesting textures and colours.  It is a favourite travel food for us eating it on road trips, planes and ferries.
Wild Rice
1 tbls soya sauce
1 tbls molasses
1/3 cup wild rice
1 ½ cups water
Rice
½ cup long grain rice
1 cup water
Salad
15 oz can chickpeas
 1 slice of a red onion, finely chopped
1 small red pepper (sweet), chopped
1/3 cup dried apricots, chopped
½ cup raisins
2 tbls mint or cilantro or combination of both
½ cup sliced almonds, toasted
Dressing
1 teas curry powder
1 teas coriander
1 teas turmeric
1 teas nutmeg
¼ teas cayenne
¼ cup rice vinegar
2 tbls honey
1 tbls lemon juice
5 tbls olive oil
Directions
Combine soya sauce, molasses and wild rice in a saucepan with 1 ½ cups water. Bring to a boil and simmer 30-50 minutes or until done.(It should be soft, firm and chewy with some grains popped and some whole) Drain and cool.
Combine long grain rice and water in another saucepan. Bring to a boil and simmer 20 minutes or until done.(Check your rice recipe for rice to water ratio)
Make dressing by dry frying the spices in a skillet for 2-4 minutes (don't burn them) Cool on a plate. Whisk the vinegar, honey, lemon juice in a bowl, then whisk in the oil and add the spices. Add everything except the rice to the dressing and let it marinade while the rice is cooling.
Add cooled rice, stir and serve.
Options:
If you make this a day ahead leave the rice separate until a couple of hours before you plan to serve it. The rice has a tendency to absorb a lot of the dressing and make the salad dry. If there are leftovers and they seem a bit dry, just add some olive oil to freshen it up.
I have made this with different rice and grain blends.

Print This Recipe