We just returned home from a fantastic week in New Mexico and during our trip we were able to meet up with an awesome bunch of local Geocachers at a Meet and Greet event in Albuquerque.
The New Mexico Geocachers are so hospitable and accommodating that we're still talking about it!
Here's how it all began… 🙂
A couple of months ago we made plans to visit New Mexico, in the Albuquerque and Santa Fe area. One of the first things we did after our flight and hotel arrangements were made was to seek out some caches. We found from past experience that there's no better place to start than at the local Geocachers website so we went to the New Mexico Geocaching website forums.
Once there we found a thread that was started by Goldfinch& Lady Goldfinch from Lansing, Michigan who would be visiting around the same time as we were. They were inquiring if there were any local events during their visit. Now here is where the New Mexico Cachers really start to show their true colors – since there were no local events in that time frame they quickly put together one to coincide with their visit and appropriately called it An Albuquerque Welcome!
Here's a couple photos from the event: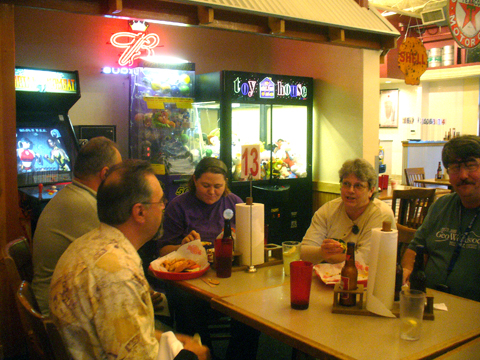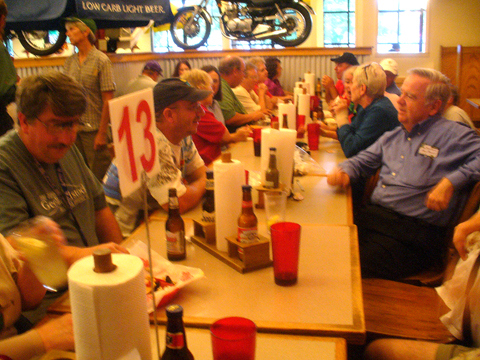 We met so many great people that night, including
ZenGuru, suz55tbird, tealeaf, nclinnm, P_Rouge, mrc5409, bob8bear, wer2ys4u, WeatherBug & XRN, MB3, SNEEZY, RioNaiad, PamelaNM, cyclegreen, NMJEEP, albuquerquebill, rapprapp, geowalkabout and kcepenn from Youngsville, Pennsylvania who were also visiting the area. (Who did we miss? Please let us know!)
The evening was spent in non-stop talk. The place was abuzz! It was like we knew them all for years!
nclinnm, who we met earlier in the week (more in a later post), gave everyone really cool wooden 'event bookmarks' and keychains that she made herself: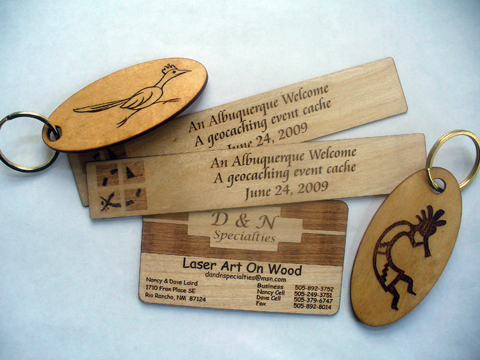 wer2ys4u gave us a couple of his beautifully crafted personal GeoCoins, one for us to bring home and release and one to release for him. Here they are showing both sides:
We also grabbed a Travel Bug from WeatherBug & XRN to bring home with us and release.
This was such a great evening. It was just like Christmas morning! 🙂
At one point one of the Cachers said to contact them the next time we are in the area. Another Cacher said, "Don't worry, they'll be moving here in five years." We had to laugh at this… we were wondering why it's going to take us five years! 🙂
It's easy to see why New Mexico is called 'The Land of Enchantment'! WE WILL BE BACK!
Keep on cachin'!
This post was originally posted on our now defunct website, Geocaching Online