We received a bit of a surprise when we went to our mailbox a couple of months ago. Inside was a small package that had a fair amount of weight to it. After rushing home we quickly opened it and look what we found inside, a cool Jukebox Geocoin!:
Does it look familiar? It's a replica of the jukebox image that we did for our Top 50 Songs To Go Geocaching post from almost a year ago.
Mike, from Atwellfamily.net contacted us a few months before letting us know that they planned to mint the jukebox image into a Geocoin. He was kind enough to send us a copy.
Here's what the back of the coin looks like: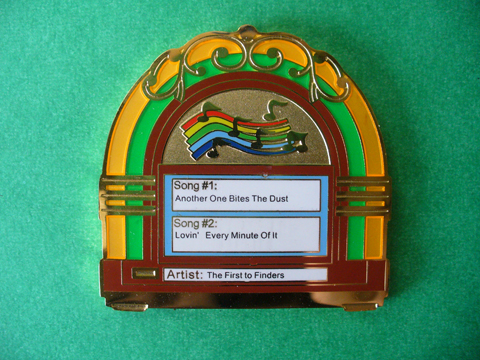 This is so cool! We have placed it in our treasure chest of Geocaching mementos for safe keeping.
Thanks, Mike! Keep on rockin'!
Keep on cachin'!
This post was originally posted on our now defunct website, Geocaching Online