We had a great time on Saturday at the annual Nova Scotia Geocaching Spring Kickoff. It was a fantastic afternoon of getting together with friends and family!
This is the fourth year for this event and it gets better every year! As in past years it was held at Curly Portables in Enfield, about 30 minutes outside of the Halifax city core.
This year saw the biggest turnout for this event with 102 Geocaching teams signing the log. This translated into a total of 161 people attending! There were several people from out of province, from as far away as Ontario, New Brunswick and Prince Edward Island. There were even some Geocachers who arrived that did not know that the event was going on – they logged in, met some new folks and had a great time!
We shared a table with our friends, the 'Geotrekkers', and spent the afternoon exchanging caching stories, travel experiences and caught up on recent news. We had a lot of laughs as we spoke and joked with other cachers who dropped by our table and those we met as we walked around dropping by other cachers tables. We also had a great meal. Yes, it was definitely a party. 🙂
In addition to the great food there was a bunch of prizes to be won, a 50/50 draw and a Travel Bug auction. The door prizes included carry bags, caching goodies, t-shirts, a ready-to-go Geocache, a set of unactivated silver provincial ACGA coins and more.

The 50/50 draw was won by EC+3 and the proceeds went to World Vision's 'Toonies From Teachers'. This charity builds classrooms in 3rd world countries. It is a project that Thistle started at Christmas, (who is now only $26. away from her goal!), and it has helped equip a classroom in a third world country with desks, chairs, etc. EC+3 donated $30.00 of his 50/50 winnings back to the charity and Brenda Rollins asked that half her bid from the Travel Bug Auction go to the World Vision charity. So altogether, the draw raised $185.00 for World Vision's 'Toonies From Teachers' charity!
A silent auction was held for the 'ACGA Auction TB' plaque that was created by 'Pushing Tin'. It is a mosaic of Geocacher photos from the Atlantic Canada Geocaching Association photo gallery that was designed and is a fundraiser with half of the money generated going to ACGA events and the other half going to a charity of the winner's choice. The Travel Bug plaque travels from event to event and resides at the winner's home until the next event.
The staff of Curley's really went up and beyond their normal duties today ensuring that we all got served in a timely manner. They were friendly, helpful and obviously very accommodating, considering that 161 crazy cachers descended on them all at the same time! They even gave roses to the ladies: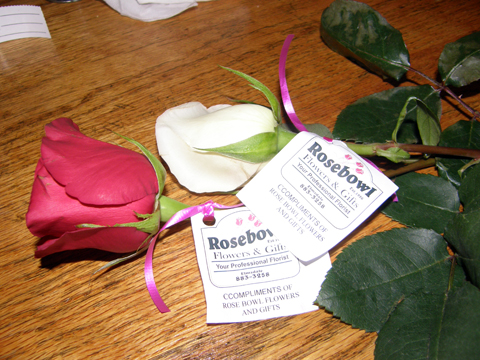 Here's Canuck drawing one of the winning tickets: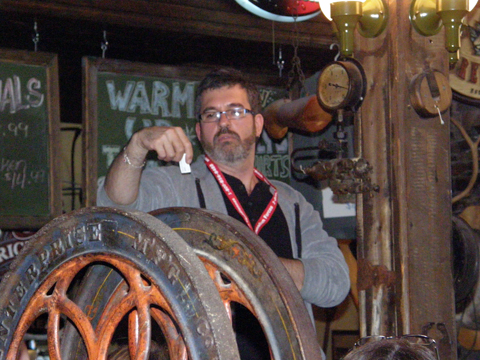 With all the excitement there was no chance of being bored. However, there was the possibility of getting boared 🙂 :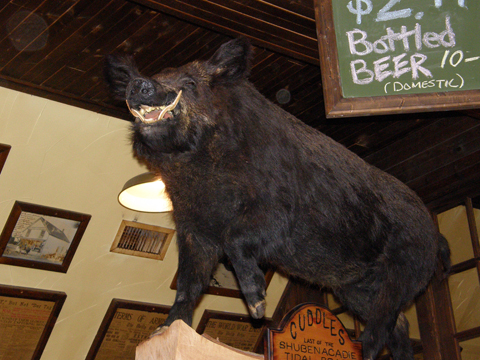 Thanks to all those that donated prizes, including The Adventure Outfitters, The 3 Geeks Outdoor Store, Canuck/Thistles, Treasurehumper, Bedrock Duo, Cache Crusaders and Limey & Canuck for taking the day over the top!
A Super Special thanks to Canuck, Thistles and Finn for organizing another great event. It's hard to sum up into words what a great job your hard work and dedication resulted in. We take that back, it can be summed up into words. Here's a few comments from the Cache Log:
"A fine time was had by all who attended."
"Thanks for a great time."
"Can't wait till next year."
"Got to see so many old friends and a few new."
"It was a good feeling to see so many caring cachers together in one spot."
"Great day at the event!"
"My first Geocache Event. Had a great time."
(Click here to view more logs)
As you can see, a good time was had by all! Our hats are off to you! Kudos! 🙂
We would also like to thank Canuck of Canuck Thistle for allowing us to use his extensive notes for this post. We were having such a great time that it wasn't until we were ready to leave that we remembered to take some notes and hastily scribbled a few things on the a napkin. (As you can tell, we almost forgot to take some photos too!). Thanks, Mike. 🙂
Btw – You can see more photos here.
What wonderful way to spend an afternoon.
Keep on cachin'!
This post was originally posted on our now defunct website, Geocaching Online