Do you use a chainsaw? Take a chainsaw safety course!
You know, it's just one of those things. You pick up a new tool and start using it. Oh sure, you read the manual, but only to read how to quickly get it started. There is no thought of proper use or concerns for safety. It's a tool, it makes lots of noise. Let 'er rip! That was then.
Now, after using a chainsaw for the past twenty-five years or so, I figured it was time to get some proper instruction on its use, maintenance and above all, safety. Although it's not a tool that I use everyday, except for the months following Hurricane Juan's arrival, I do use it quite frequently, especially in the spring and fall. There is always new downfall after the winter and yes, I'm still cleaning up Juan's mess. Later is better than never and so far I've been pretty lucky and had all the gear so it was time.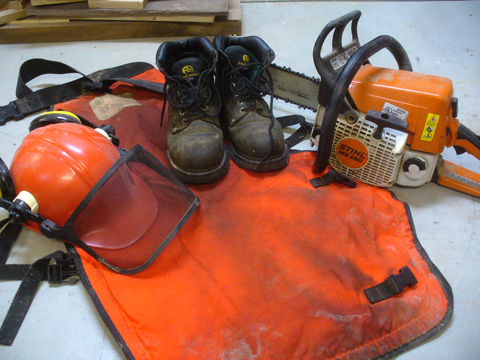 The Nova Scotia Department of Natural Resources recently held a Chainsaw Use and Safety Workshop that I was able attend. This was an all day event that included lecture, discussion, and both indoor and outdoor demonstrations.
The course followed the practices described in The Forest Professional, Guidelines for the Stewards of Tomorrow's Forest, which, according to our instructor, is the 'Bible' for anyone working in forestry or with chainsaws. We received a hardcopy of this manual to take home for later perusal and review.
The instructor was professional forester and certified arborist, Patrick Allan. Patrick began working with chainsaws on his cousin's woodlot at the young age of 14 wearing only sneakers, shorts, a t-shirt and a ball cap. After many close calls and seeing others get injured he began to focus on safety and proper felling techniques. This, in addition to becoming a professional pulp and trail cutter, led him to becoming an instructor in chainsaw and safety courses in 1985. He was once Bowater's primary trainer.
After introducing himself Patrick gave us a short history of forestry and the chainsaw, from its humble beginnings through to today. This was timelined with the introduction of safety practices and how they have changed throughout the years, from none at all to legal requirements and to government sponsored courses such as these.
From there Patrick went into more in-depth safety requirements and safe operating techniques, basic chainsaw maintenance and troubleshooting, blade sharpening. filing and chainsaw design. He also demonstrated, both in the classroom and outside, basic work technique including directional felling techniques, limbing techniques, and bucking techniques. During the lunch break we were able to bring in our chainsaws where Patrick gave each machine a quick review and offered us helpful suggestions and tips on our saw.
Shortly after lunch we went outside, into the woods, for practical demonstrations. Here are some photos:
Here is Patrick showing us starting techniques as well as proper handling: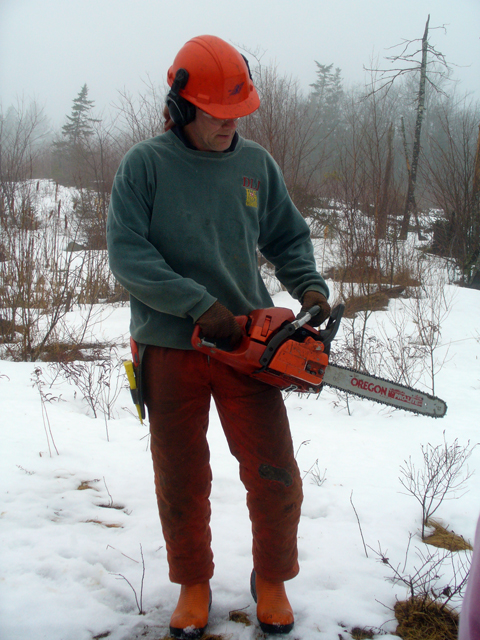 Here's Patrick cutting a notch. Notice how he is leaning against the tree for support: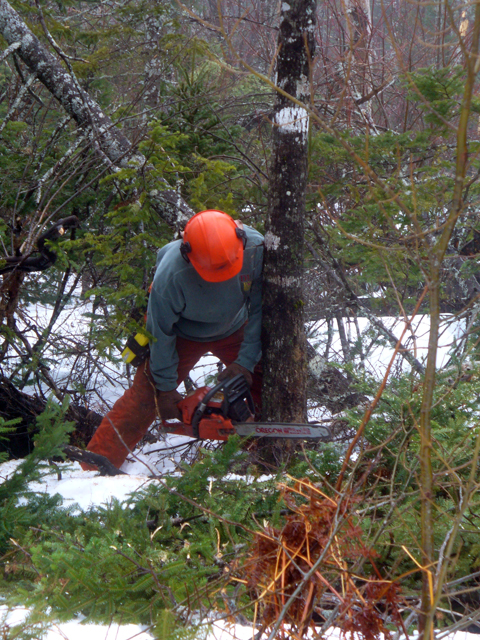 Here is the notch: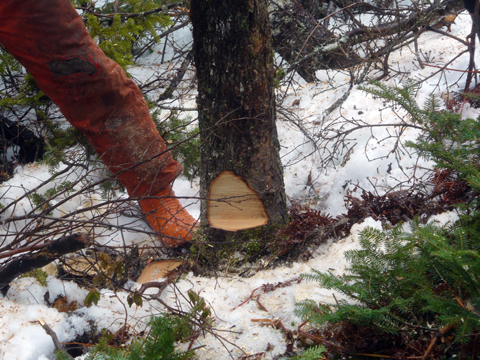 Here's a wedge in use (you'll also see that there was another notch cut above the first one for demonstration):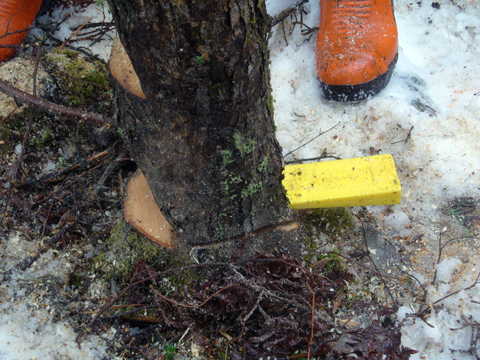 Here is the felled tree: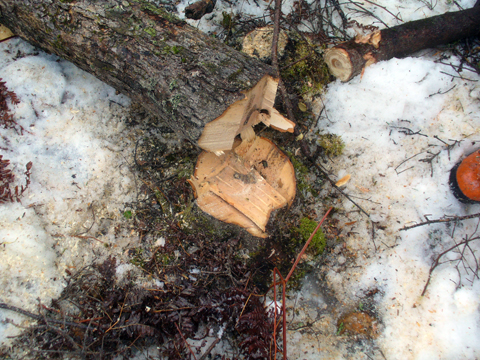 And here is Patrick demonstrating limbing techniques on a felled tree.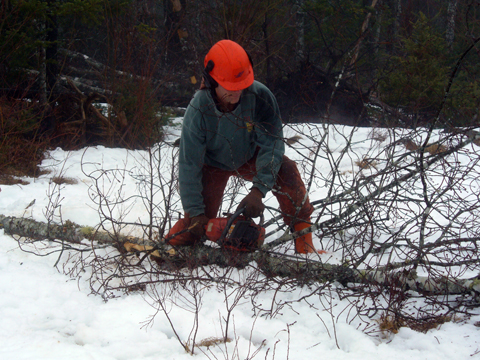 The outside demonstration added the visual impact to all that we had learned in the morning class. Seeing the proper techniques put into practice, with the background information that we were given earlier, strengthened the understanding of the safety goals of this course.
Here's a few notes that I was able to jot down:
Safety:
Wear safety boots with a 'lug' sole for better grip
Bright orange tips on your boot toes can be seen easily
Class 'A' pants have recommended rear calf protection
Patch pants with 'ShoeGoo' as sewing them on weakens the strength of the fibers
Store a 'pressure bandage' in your helmet (sanitary napkins make great pressure bandages)
Use an 'anti-fog' on a plastic face shield
Gloves with gauntlets have a tendency to catch on things and fill with chips
Kickback zone is the top quadrant of the blade tip
Cutting:
Notch opening should be a 70 degree angle at 1/5 to 1/3 (less is better) into the tree with an 80% cut on the face
The notch cuts must meet at the apex
Hinge should be only 10-15% of the tree
The backcut should be level with the apex of the notch opening
For a larger tree than the bar size you must swing the bar around and insert wedges as you go around
The wedge tab (on commercial wedges) goes face down
Maintenance:
Clean the spark arrestor and air filter by soaking in soapy water for about 8 hours
Filter must be completely dry before use. Get a 2nd one, prefeably made on nylon.
Mean Green Degreaser is a suggested cleaner.
When mixing gas put part gas in first, then oil, then rest of gas and then shake it to mix.
Keep the engine head clean
Condensation ruins a fuel filter so always leave the tank full
Rotate the bar regularly
Do a regular safety check
Change the rim sprocket every 2-4 chains
Lubricate the tip every week or not at all
File out the oil hole in the bar to prevent clogging
Always use high-test gasoline
Oregon Chain is a reputable supplier of chainsaw parts.
Remove (file off) the bucking dogs
Light reflects off the chrome layer of the edge of a dull blade.
Semi-chisel blade is prefered
In your toolkit:
Felling device/lever
Wedges
First-aid kit
Chainsaw safety checklist:
Chain brake
Throttle lockup
On'off switch
Chain catcher
Sproket nose guide bar (safety tip)
Safety chain
Vibration mounts
Spark arrestor
Depth gauge setting
Miscellaneous:
Chainsaws cut on speed, not torque.
Use 'Swedish felling practices' which are based on physics.
Different species of tree reacts different ways to a cut.
Adherance to safety does not stop accidents but it will minimize them.
Use the 'siting lines' that are on the saw
The half distance of 3 rivets on a chain is its 'pitch'
The cutting history is in the stump
There was a lot of information given in the short time available for this course. Patrick's professional approach, interlaced with his personal anecdotes, ensured our interest and allowed for easy understanding. His points were driven home with real-life examples. One in particular comes to mind that clearly demonstrates how common sense is not all that common – while in a commercial training session one time Patrick asked an attendee why he didn't have safety pants on. The attendee replied, "Every time I wear safety pants I cut them". 🙂
This was a great day with a lot of great information. There were so many things regarding both safety and maintenance that, even after using a chainsaw for this long, that I wasn't aware of. Like I said earlier, it was time for such a course, and obvious that I should have taken one a long time ago.
Thanks to Simon Mutabazi, course coordinator and special thanks to Patrick Allan for a great presentation and for giving me a new and positive understanding of chainsaw safety.
Back to the shop…