Since the object of Woodworking Safety Week is for woodworkers to focus on safety in the workshop I did a safety review of what equipment I use to make my shop safer, any problems that I may have with this equipment and areas where I could improve it.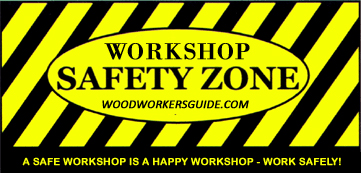 It certainly was an eye-opener, realizing the good and the bad. Here is my workshop safety review:
Dust Collector
Pro: I use a 1 horsepower Craftex dust collector that has an air suction capacity of 570 CFM's with a 1 micron filter bag. I use it with the table saw, the router and the belt sander. It also serves as my vaccuum cleaner.
Con: Since it has such a small capacity I have hook it up to one tool at a time. Obviously there are times when I have to 'just make a quick cut' and I don't.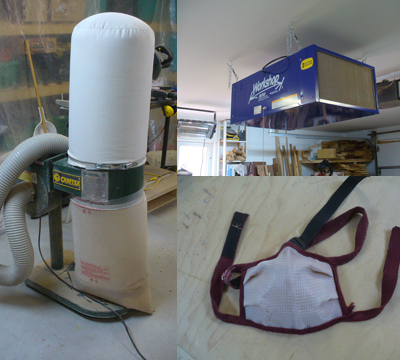 Air Filter
Pro: I use a 3 stage dust collection system that hangs from the ceiling. It has a washable polyurethane foam filter, a 2nd stage pleated cotton/polyester filter, and a 3rd stage pocket-bag polyester filter. The unit filters the air at a rate of 450 cfm – exchanging the air in the shop about six times an hour filtering out 99% of particles up to 5 microns, and 90% of particles up to 1 micron.
Con: It works very well at what it does but I find it very noisy. Therefore I only run it when I'm using the table saw for a lot of sawing, when doing a lot of routing and when cleaning up.
Dust Mask
Pro: I use the Dust Bee Gone dust mask which filters down to 3 microns. What I like a it is that it doesn't fog up my glasses, as it guarantees against. Since other masks fog me up I would never use them. I use this one all the time.
Con: It's not as effective as more expensive respirators and air-fed masks.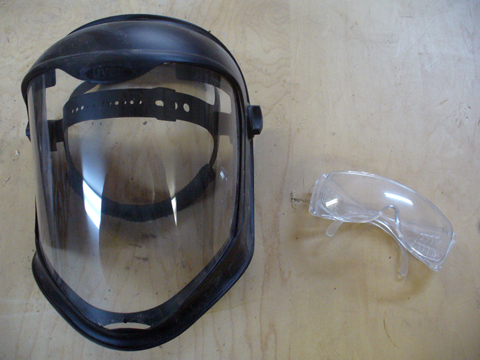 Faceshield
Pro: I use a faceshield with a polycarbonate shield for woodturning and when the table saw is throwing some heavy duty chips. It works well as was proven here.
Con: Safety-wise I believe this is adequate but combining the dust mask and shield into an a more robust air-fed unit would offer more overall protection.
Safety Glasses
Pro: I use a pair of plastic safety glasses over my prescription glasses.
Con: They are not designed to be worn over glasses and do not fit well. Therefore, they are not worn often.
Ear Protection
Pro: I have several pairs of headphone type ear protectors around the shop. There is always a pair on the table saw and a pair on the miter saw and a few 'floaters'. They do a great job at muffling the noise made from the tools. I wear them all the time when using high noise tools.
Con: This area seems to be adequate.
Push Tools
Pro: I use a variety of push tools, including the GRR-Ripper for feeding wood through my table saw, bandsaw, router and sanders.
Con: The thin plastic push sticks are getting 'ratty' and don't have the gripping power that they should.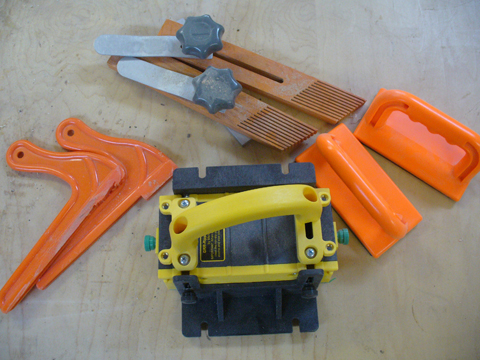 Featherboards and hold-downs
Pro: I use featherboards that fit miter slots quite frequently simply because they are like having another pair of hands, ones that can get much closer to tool blades than I can.
Con: Since the featherboards I have are for the miter slots they don't allow me to use them in the fence as hold-downs.
Clothing
Pro: I use gloves, kneepads, steel-toed boots when the particular job requires them.
Con: This area seems to be adequate.
The Broom
Pro: One of my favorite tools! I use both a push broom and sweep broom to regularly clean the shop.
Con: This area seems to be adequate.
Anti-Fatigue Mats
I use anti-fatique mats in front of my work bench and lathe, two area where there is a lot of standing.
Con: This area seems to be adequate.
Lighting
Pro: There florescent lighting in the shop ceiling and there are individual lights over bandsaw, lathe and one of the workbenches.
Con: The light over the lathe should be replaced with a florescent one and another ceiling fixture over my main workbench.
Fire Extinguisher
Con: Non-existent
First Aid Kit
Pro: I always depended on the first-aid supplies in the closet in the bathroom in the house down the hall. 🙂
Con: Non-existent
Obviously you can never do enough for the sake of safety. I imagine that I am like most woodworkers in the fact that while we try to work safely there is always a toss up whether to buy a safety related item or a new tool. Of course, the tool more often wins. However, in spite of this I was quite pleased while doing this review that I had acquired so many safety related equipment and techniques.
It didn't really come as any shock to me that I would realize areas for improvement but the one thing that did leave me quite bewildered was the fact that I don't have a first-aid kit in the shop. I always considered myself safety conscience but this oversight of what one would consider the first and foremost safety item that every workshop should have has left me quite shaken. This is definitely the first thing that has to be acquired!
So, in light of this workshop safety review, here are some things that I have to immediately rectify to make my shop safer:
1. Install a first-aid kit
2. Purchase a fire extinguisher
3. Make some new push sticks
4. Purchase a proper pair of safety glasses
5. Make some hold-downs
This has been a great exercise in safety. It's something that should be done regularly.
Back to the shop…