After only a few evenings and a couple of Saturday afternoons our Fun Turn project is finished!
What started as an idea 'turned' into a piece that we can take comfort in knowing was a job well done. The object of the Fun Turn was to have fun, and fun we certainly had! This was a great experience, and definitely a learning one!
For me this project was enjoyable on so many levels. First and foremost, of course, was working with Dave Wilkins. Dave has gained a lot of woodturning knowledge in the relatively few years that he has been turning and he freely imparts what he has learned. His willingness to share and his undeniable zeal for challenges made working with him truly a Fun Turn! The project itself gave me many opportunities to move outside of my comfort zone, from 'turning air' to doing a hollow vessel to the fine finial work. However, above all the biggest enjoyment for me was the collaboration aspect, particularly with the brainstorming of ideas. There were several instances where we found that the old axiom, the whole is greater than the sum of its parts, was exemplified. It is one thing to look at a project on your own and decide on a design or course of action thinking it's the best one and another to work with someone else where the decisions are compounded, each one building on the each others perspective.
I believe Dave summed it up best when he said, "I think the experience of collaboration is a positive one. It pushes both turners to perform, yet forces both of them to do aspects of turning they may not otherwise do. As a solitary exercise design, planning, turning and finishing are all left to the individual. When the collaboration begins, design concepts are shared, a second set of opinions and ideas are infused and you hope for the two heads are better than one thing to bring about superior design. After design the execution can become a mentoring experience or a shared experience. There are benefits for both turners regardless of the skill level. Ultimately the collaboration should benefit both turners as long as they are willing to work with each other."
Here are a few more photos showing the piece from different angles: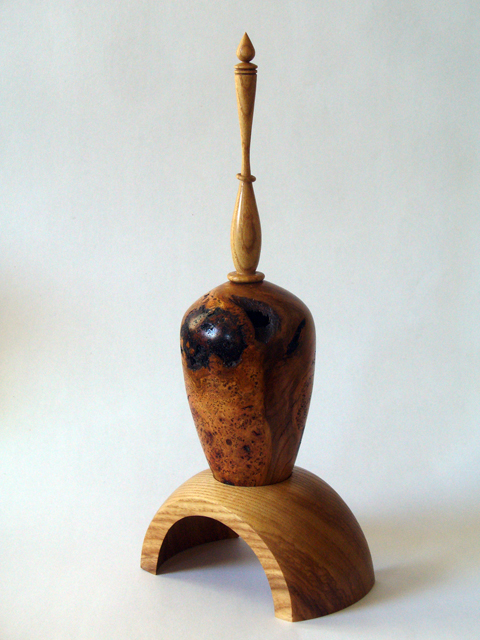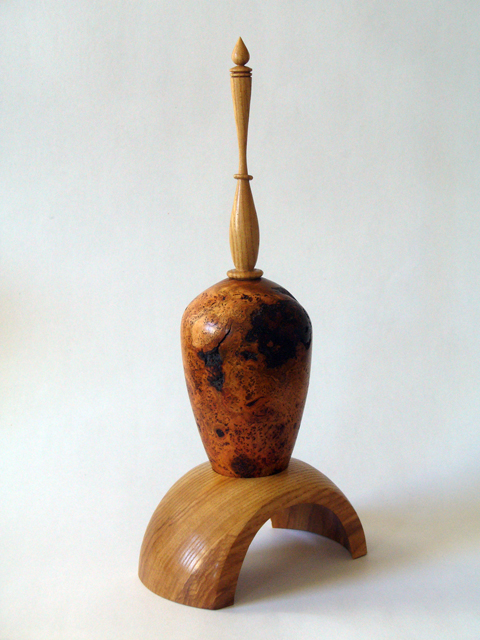 For the finish we used a coat of Lee Valley's Polymerized Tung Oil Sealer followed by a couple of coats of their Polymerized Tung Oil and buffed with steel wool.
Though happy to have the project finished it was sad to see that it was over so quickly, simply because it was such a great time. Hopefully we'll get a chance to do another in the near future!
Thanks to the Nova Woodturners Guild for suggesting this great opportunity in learning and turning fun!
Back to the shop…