The sun finally broke out yesterday and the temperature rose to above 6C (42F). As Mother would have said, "It's a great day to get out and blow off the stink". So we did.
The trail we chose was at the end of a cul-de-sac just a few streets over from our home, pretty much in our own backyard! We became aware of it at the beginning of the winter and we have been itching to get to it. Not only are there a couple of Geocaches along the route but the direction of the trail looked like it would connect to another area near our neighborhood that we were looking forward to exploring.
The first cache took us a fair distance off the trail and a bit of bushwhacking was required. We passed through several stands of birch trees which we're sure will be even more alluring in a few months when crowned with green leaves. Nearby was a small pond still partially covered with ice: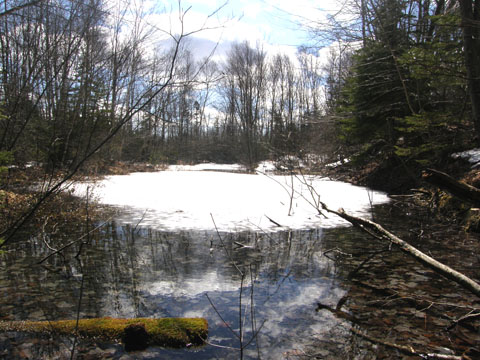 We also came across an area where there were a couple of dead trees with some heavy-duty fungi action happening: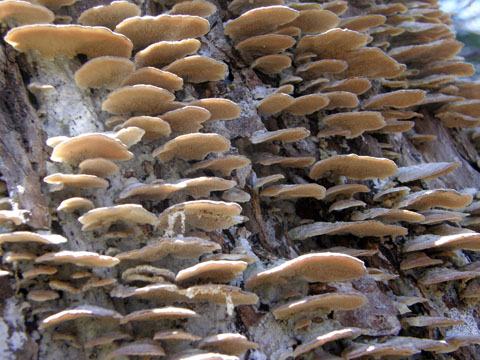 Continuing on to the second cache we found that the trail started to get a bit wet. There were areas where it was completely submerged: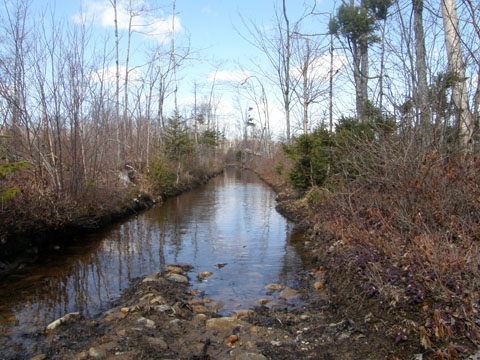 We found the second cache which was a multi-cache. The final destination was located in a cairn that stood out in the low brush. The ammo box blended in well quite well with the rock: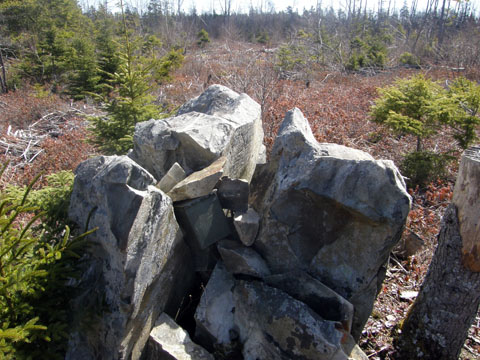 We found another cache near the end of the trail which gave us a total of three for the day: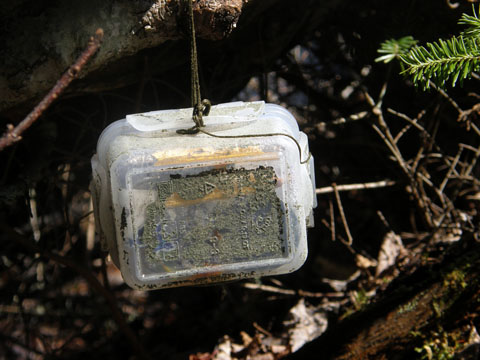 Our fingers are crossed that we're back in the game. Although, we thought the same the last time we got out over a month ago! 🙂
The round trip route took us just over 3 hours. This was largely due to the fact that most of the trail was under water and we were forced to do a bit of bushwhacking. It made us feel like kids again, jumping from rock to rock, hanging on branches and swinging from trees. Oh yes, there were a couple of soakers! It was great just getting out and finding more about our area, and the finds were definitely the icing on the cake.
The trail did connect the area that we thought it would. Once the warmer weather comes and the trail dries up we hope to use this route in our daily walks, it being a lot more appealing than the paved streets.
Keep on cachin'!
This post was originally posted on our now defunct website, Geocaching Online