Once again the Cape Breton Geocachers here in Nova Scotia held an excellent event and once again we were unable to attend. However, once again, stagunner was so kind to send the following post along, telling us about the great time they had:
---
What a better way to celebrate the changing of the seasons than to have a Geocaching event and see the splendor of some beautiful islands. This year's Cape Breton Celtic Caching Challenge event on October 18th was a great celebration!
We did some difficult thinking when selecting the date for this event, but this date proved to be the most suitable. It turned out to be a nice cool fall day with just enough sun to keep it warm while caching.
The event was held near St Peter's on Cape Breton Islands, and was done in a few stages. First of all, the cachers had to do their part and participate in the Hiding challenge. It was planned this way to get more cachers out to hide some good caches. The next part was to have the event, a gathering of cachers near the St Peter's Canal, a chance to load up waypoints and go explore some different parts of the area. As it turned out the technical difficulties were not at this end of the cache downloads. Everyone was worried that the caches would not get listed on time, But the back up plan worked out just as good, Down Home Girl and stagunner had the data available to the event participants, good thing as the caches did not get listed until later in the afternoon.
Twenty cachers then went on their way to seek the treasures and find the key swag items. These were needed to trade for better swag later in the day. The caches were hidden all over Cape Breton Island, which is a lot bigger than some think. The 25 caches led folks to some interesting places which boasted some spectacular views, but isn't that what Geocaching is all about? It isn't the destination but the treasure you see along the journey!
We even had an lunch gathering at the Cap Auget Ecotrail system trail head, which is located near Petit De Grat on Isle Madame. If you get out this way go see it. It is a great area. Thanks goes out to Joan Clannon at the Development Isle Madame Association for keeping the picnic tables available for our use.
MineRP, Mapper2, Cheesepizza, Navig8er, OutForAStroll, Canuck Thistles, Finn, WillybooClan, Fascache, zmzm, n#1 geotrekkin, wicked77, magentariff, the lostGeeks, down home Girl, and stagunner all met later on at the beautiful Bras D'Or Lakes Inn, where Rhoda and Jean Pierre Gillet, our hosts for the event, provided the lounge for our use. As the cachers arrived they all had one more cache to find – hidden near the Inn was a 'Cash Cache' container loaded with envelopes and some unknown quantity of coupons that were to be used later.
3Geeks set up their traveling swag store and offered their wares for the tired but happy cachers. There are now a new number of bison tubes ready to be hidden and a few Travel Bugs to be found.
The Inn staff poured out the warm drinks and every one waited for the SWAG Trade and the 'Cash Cache Sale'. The swag was provided by several sponsors, Groundspeak, Atlantic Canada Geocaching Association, 3Geeks Outdoor Store, Landsharkz, Worldcaching, Shop4Swag, IslandButtons, Environment Canada, Geotrekkin, The Eagle 103.5 FM, The GIANT 101.9FM, Geocaching Online, The TrailShop, and there was enough of it to go around, well almost. Down Home Girl announced 'The Swag Trade' items and revealed the items for trade. Cachers were heard saying "Oh I should have taken that" and 7 out of 10 trades where made.
The 'Cash Cache Sale' was next and the cachers were told to open the sealed cash envelopes. Again some were happy and some weren't as they saw the amounts they held, 10 happy cachers went away with some cool swag, and one went whee whee whine all the way home.
The newbie prize was handed out to the cacher with the least finds so they could enhance thieir knowledge of caching while reading 'The Idiots Guide to Geocaching' from Groundspeak. We hope Zmzm and n#1 enjoy the reading.
The Cape Breton Celtic Caching Challenge prize, provided by Atlantic Canada Geocaching Association, was given to the Fascache team as they placed the most caches for the event, and over the last year they have placed some real good caches. Congratulations goes out to them for their hard work and effort they have done in the local area.
The last prize was given to Rhoda and Jean Pierre Gillet, our hosts and the owners of the beautiful Bras D'Or Lakes Inn at St Peters. They provided an excellent setting for this event and served some very good food. Without this contribution to the event it would have never happened. They were given t-shirts from Geocaching Online. Rhoda says that this type of activity needs to be advertised a lot more and hopes that the tourism industry will pick up on Geocaching like some other regional agencies have.
Here are some photos showing what a great time everyone were having:
stagunner gives the event low down: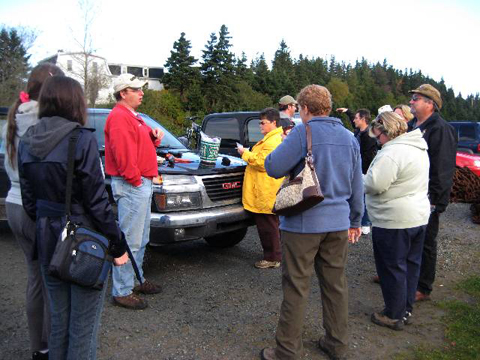 MineRP gets pointers from cheezpizza: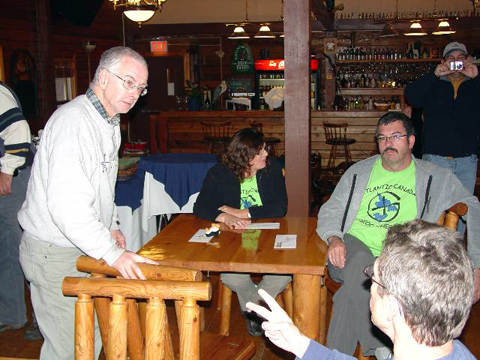 WillybooClan checking out the swag: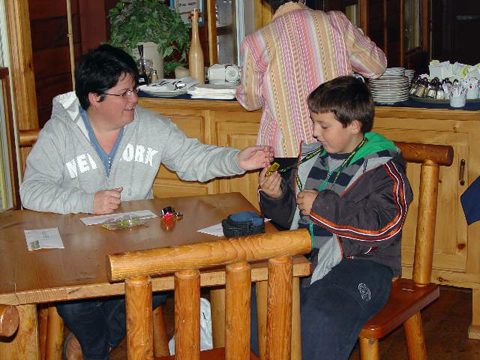 geotrekkin peekaboo: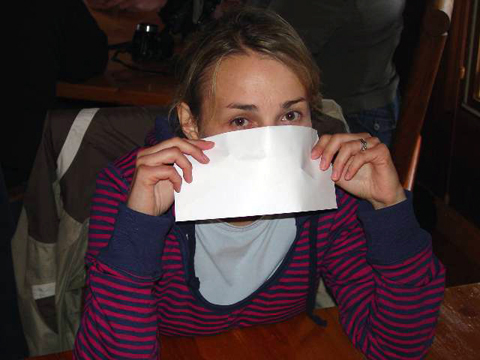 Cachers enjoying themselves: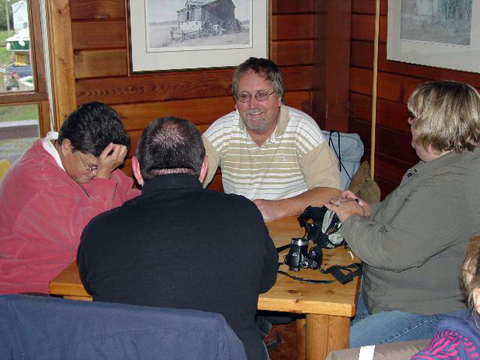 More cachers enjoying themselves: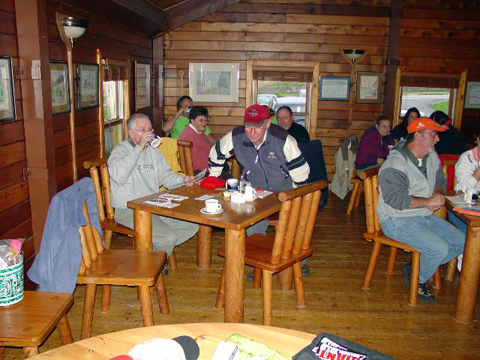 And more cachers enjoying themselves: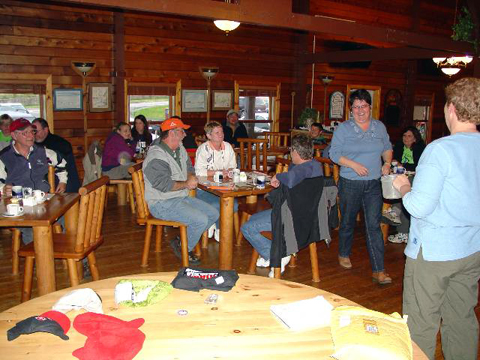 The 3Geeeks store is open: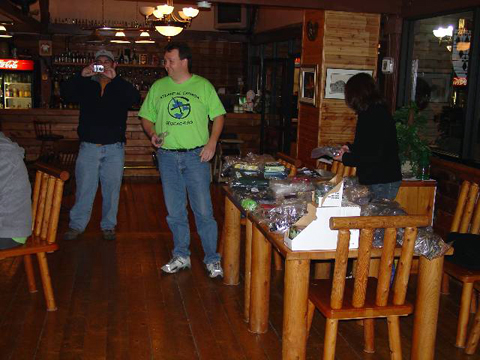 Down Home Girl passing out tickets: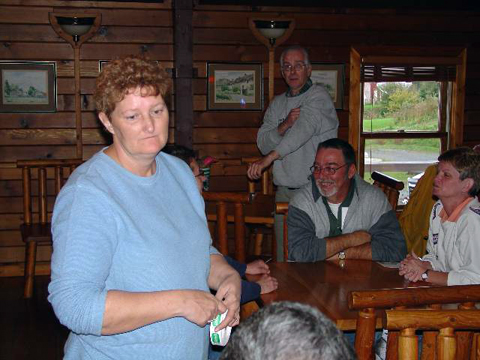 fascache gets a nice prize: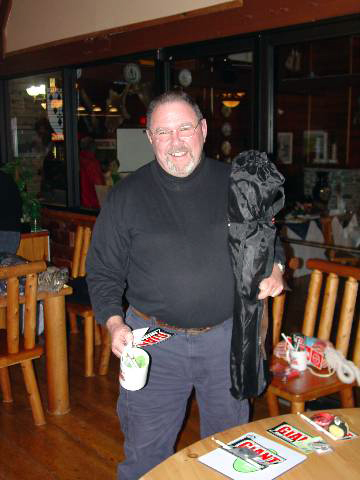 Willy of willybooclan gets a good prize: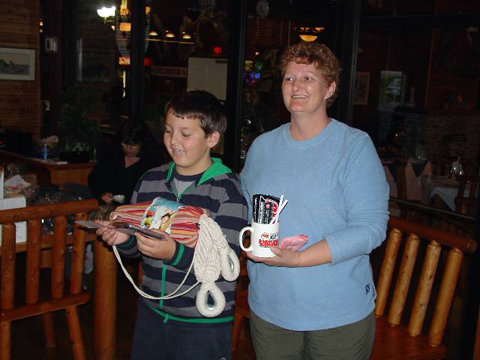 zmzm picks up some swag: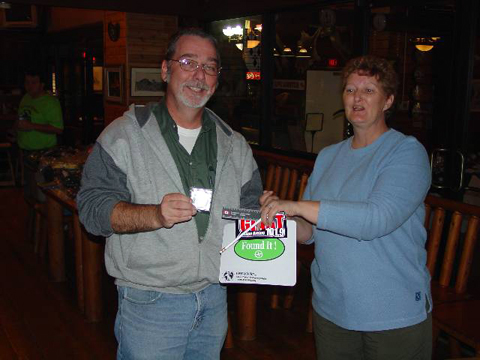 Wicked77 gets her prize: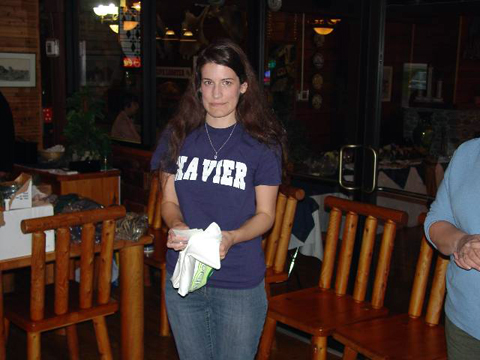 Canuck gets a prize: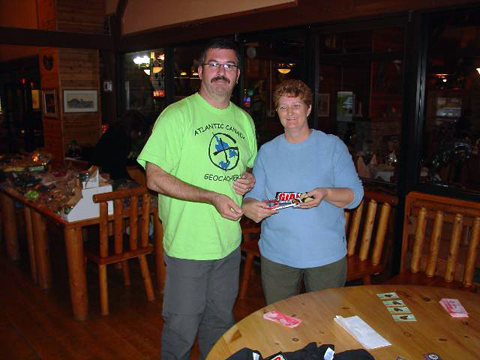 stagunner presents Rhoda of the Bras D'Or Lakes Inn a prize: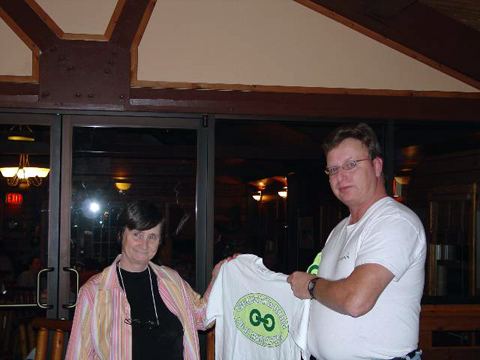 This event was a great success, even though the numbers weren't large we had a great time. The Cape Bretoners will be doing this one again. So until next year, 'Ciad Mille Failte – A thousand welcomes to an Island with over a thousand caches'!
The Cape Breton Geocachers!
---
Wow! It looks like we missed another awesome event on beautiful Cape Breton Island! 🙁 In case you don't remember, the Cape Breton Cachers had a great event just a few weeks ago on Scaterie Island. These Capers really know how to party, and often! 🙂
Although we weren't able to attend this event ourselves we were very happy to be able to participate on the sponsorship level. Thanks for allowing us to be a small part of such an apparent successful event.
Special thanks to stagunner for keeping us all up to date on these happenings! Kudos on a fanastic event!
Keep on cachin'!
This post was originally posted on our now defunct website, Geocaching Online