The Nova Woodturners Guild 2010 Woodturning Competition was held this past weekend and like the others before it was a great show! No, it was a fantastic show! No, it was a super show! Yeah, that was it. 🙂
There were almost fifty pieces entered by twenty different entrants with styles that ranged from furniture to sculpture and from small to large. It was an excellent representation of the club's diversity and skill levels.
The most sought after prize, The People's Choice Award, was won again this year by Don Moore for his Cherry Burl vase with the burned edges.
On winning, Don related the story of how this piece of wood was painstakingly turned. Apparently it had been in a fire and it was quite charred when he got it. This, as you can imagine, created quite the mess while turning. 😉 However, like a Phoenix it rose from the ashes to become this beautiful piece here: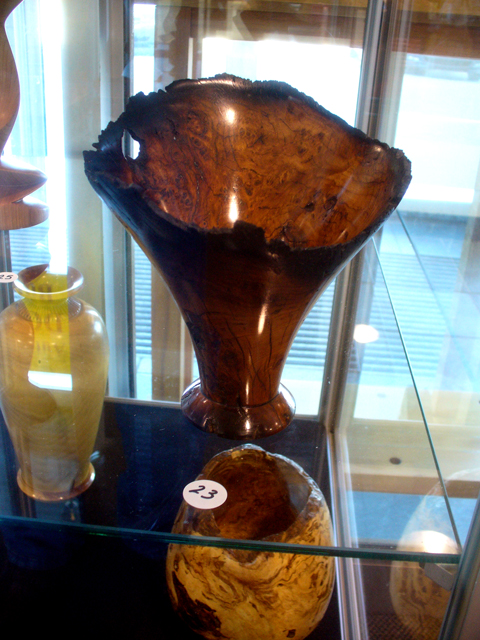 Don received The Warman Castle trophy for this award. Warman Castle was an active past member of the NWG until his passing several years ago. The trophy was named in his honor because of his propensity to offer help to other woodturners.
Although the People's Choice Award may be the most coveted, the judged awards are the most sought after. 🙂 These awards include judging in two categories, Faceplate and Spindle, and three classes within each category, Novice, Intermediate and Open.
The winners in the Faceplate Category were as follows:
Open class:
1st place – Don Moore
2nd place- Richard Ford
3rd place – Doug McGuire
Intermediate class:
1st place – Gordon Marshall
2nd place- Ian Scott
3rd place – Edgil Tanner
Novice Class:
1st place – Maureen Simpson
2nd place- Maureen Simpson
3rd place – Ted Monk
The winners in the Spindle Category were as follows:
Open class:
1st place – Brad Sorel
2nd place- Don Moore
3rd place – Darrel Eisner
Intermediate class:
1st place – Norm Jolivet
2nd place- Ian Scott
3rd place – Dan Graham
Novice Class:
1st place – Maureen Simpson
2nd place- Jamie Bradley
3rd place – Maureen Simpson
These category winners will each receive a beautiful wooden, laser-etched plaque commemorating their win. As a bonus, and just for entering the competition, every entrant won a random picked prize package that contained a variety of different items drawn from a long list that included gift certificates, turning instruction, t-shirts, jackets, and more!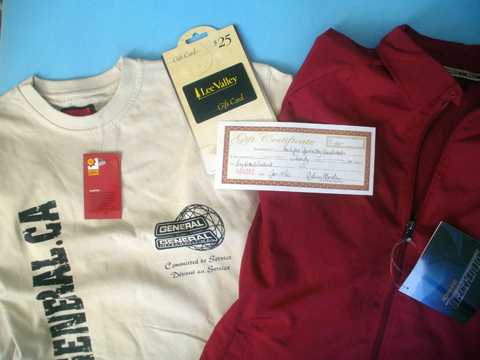 These prizes were all donated by sponsors that included Lee Valley, Busy Bee Tools, Halifax Specialty Hardwoods, Don Moore, Dave Wilkins, Scotian Pens, General International, Atlantic Air Cooled Engines, SIA, Acme Signs, Rideout Tools, Prime Fasteners, Newsbreak Café and Woodmaster Tools. Special thanks to all of theses sponsors for taking this great occasion over the top!
Here are photos of some of this year's entries:
[envira-gallery-dynamic id="custom-name" images="10150,10151,10152,10153,10154,10155,10156,10157,10158,10159,10160,10161,10162,10163,10164,10165,10166,10167,10168,10169,10170,10171,10172,10173,10174,10175,10176,10177,10178″]
Congratulations to all of the competition entrants, and especially the winners!
Thanks to this year's judges, Steven Kennard, Gregory Heyn and Zalman Amit.
Hats off to Robert Atkinson, Don Moore, Dave Paul and Dan Graham, the Competition Committee, for another successful competition. Once again you have all outdone yourselves!
And finally, special thanks to Lee Valley and staff, especially Scott Croucher, for once again hosting this event. Scott is always the perfect host, ensuring that everything is just right. It's hard to believe that with all the work involved he would have time to bake such great cookies! 🙂 Thanks, Scott!
What a fantastic time! As always, We're looking forward with great anticipation to next year's Nova Woodturners Guild woodturning competition!
Back to the shop…