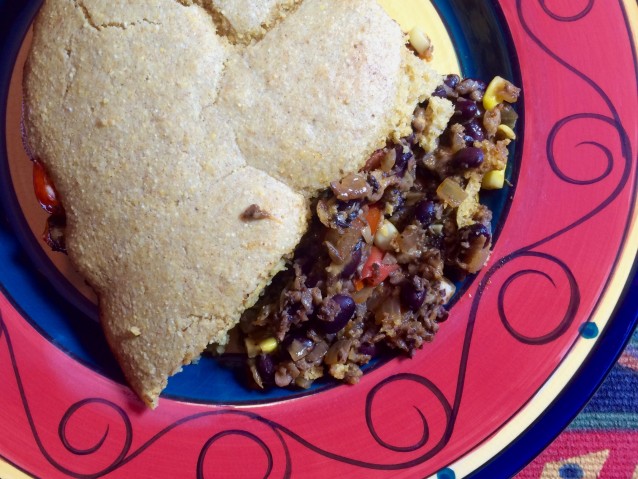 Don't you just love a one pan meal?  This is a vegetarian version of Skillet Tamale Pie.  This comes together fast and is so easy to clean up, just one frying pan.  We love crimini mushrooms but if they are unavailable try baby bellas or brown mushrooms.
Ingredients
2 tbls vegetable oil
1 medium onion, diced
1 1/2 tbls chili powder
2 cloves garlic, crushed
3 cups crimini mushrooms, minced
1 19oz can black beans, drained and rinsed
2 large fresh tomatoes, seeded and diced or 14oz can diced tomatoes
1 cup cheddar cheese, grated
1 teas coriander or handful of chopped cilantro leaves
1/2 teas cumin
2/3 cup corn niblets
Cornmeal Topping
3/4 cup unbleached white flour
3/4 cup cornmeal
2 tbls sugar
3/4 teas baking powder
3/4 teas baking soda
3/4 teas salt
3/4 cup milk or yogurt
 2 tbls melted butter and 1 tbls olive oil
1 large egg
Directions
Choose a large skillet which can go in the oven.  Put it on a burner at medium heat and add oil, onion and chili powder.  Saute until the onions are translucent.  Add the two cloves of crushed garlic.  Stir once around the pan and add the mushrooms cooking until most of the moisture has cooked out of the mushrooms.  Add the black beans and the chopped tomatoes and allow the tomatoes to wilt a bit.  Add the cheese, coriander (or cilantro), cumin and corn niblets.  Turn the heat to low and let it simmer away while you make the cornbread topping.
Preheat oven to 450F
In a medium bowl combine the flour, cornmeal, sugar, baking soda, baking powder and salt.  In another small bowl combine the milk, butter and oil and egg.  Whisk the wet ingredients into the dry ingredients.  Using a soup spoon drop the batter onto the mixture in the skillet.  Don't worry if the cornbread does not completely cover the surface of the skillet.  It will rise and fill in the gaps as it bakes.
Put in the oven and bake 10-12 minutes.  Wrap handle of frying pan with a tea towel or pot holder so you won't be tempted to grab it when serving this dish.
If using cow's milk, sour the milk with 1 tbls vinegar or lemon juice.  If using alternative milks, almond, rice, soya there is no need to sour the milk.

Print This Recipe