Across the street from The Liberty Tool Company in Liberty, Maine, located on the upper floors of the Liberty Graphics building, is The Davistown Museum. Now, this isn't just any old museum with long-dead artifacts, diminutive dioramas and stone-cold relics. No, this is a tool museum. A hands-on (reread: hands-on) museum for eighteenth and nineteenth century hand tools!
I was able to drop by the museum during my recent visit to Liberty Tools and I spent several (reread: several 🙂 ) enjoyable and very informative hours there.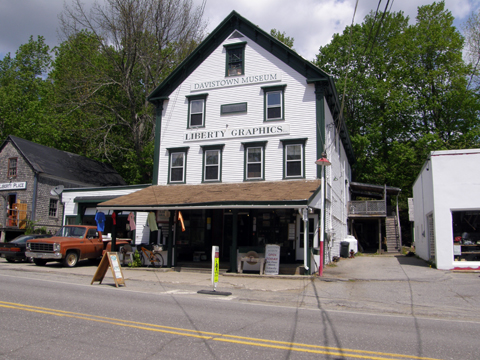 On arriving I met staff member Sett Balise, who graciously took the time to explain various aspects of the museum and a bit of history.
The mission of The Davistown Museum is the recovery, restoration, preservation, cataloging, displaying, and interpreting of the hand tools of New England's early American industries from 1607 to 1930. This includes the tools of shipsmiths, edge toolmakers, forgemasters, blacksmiths, shipwrights, coopers, wheelwrights, sail makers, pattern makers, machinists, tool and die makers, and mechanics.
Since this is a 'hands-on' museum you are encouraged to touch and handle the tools. To be able to feel the weight of a tool, to swing an adze (carefully), to pick up and compare the various sizes of drawknives (and a whole lot more!) was a thrill. There are tools there that I had only read about and seen in books.
Here are some photos that I took showing some of the tools on display: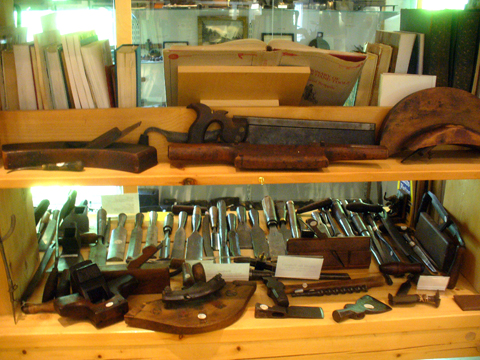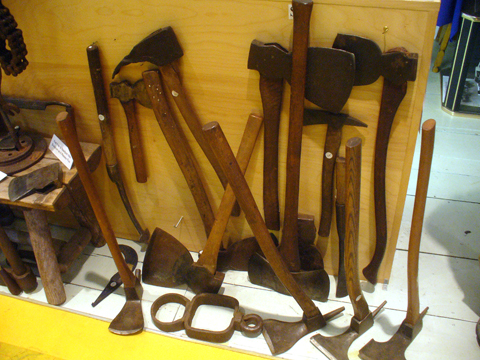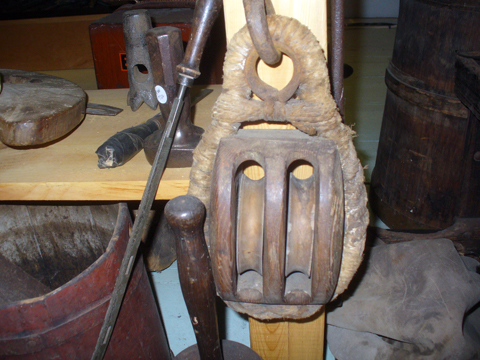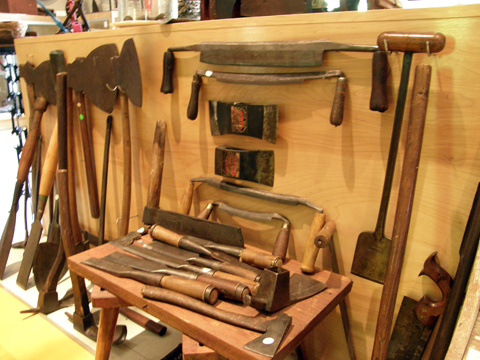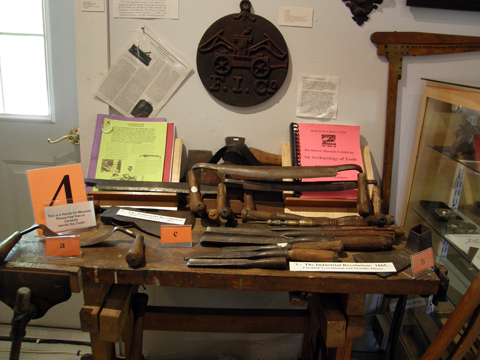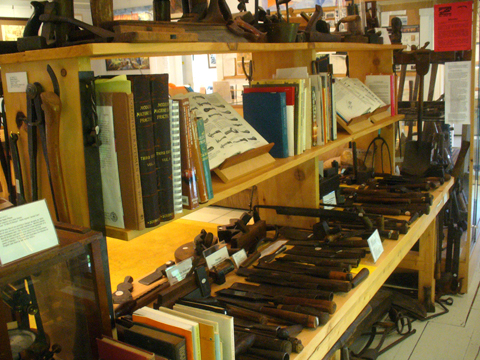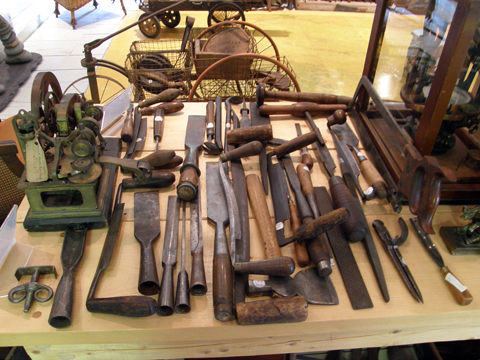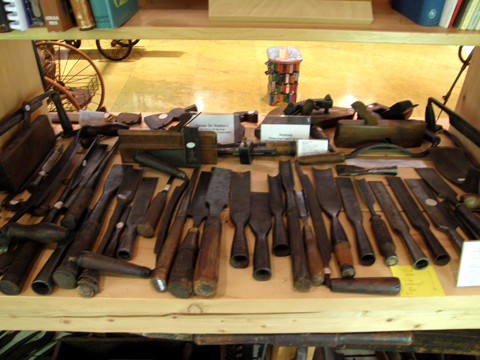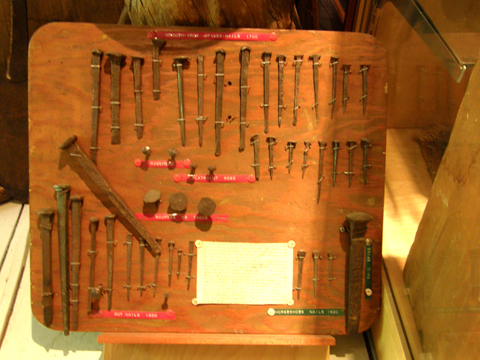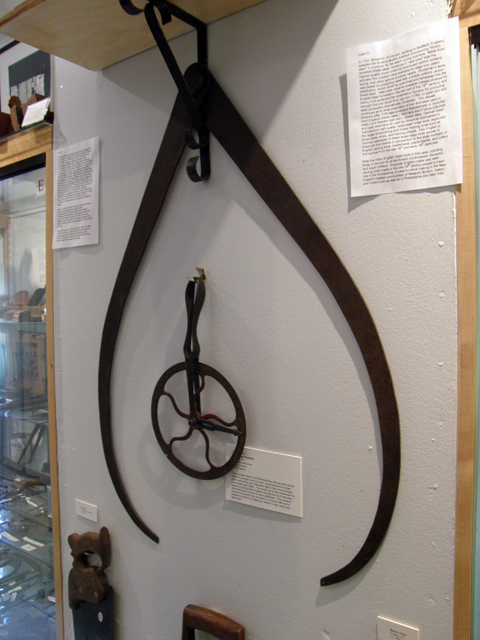 Skip Brack, owner and buyer for the Jonesport Wood Company, which includes Liberty Tool Company, the Hulls Cove Tool Barn, and Captain Tinkham's Emporium in Searsport founded the museum in 1999. His search for and recovery of old tools led to the discovery of historically significant tools which became the basis for the museum collections.
The tool collections show the evolution of a hand forge-welded tool industry before 1840 into the Industrial Revolution where toolmaking became increasingly mechanized. Following this a timeline you can trace the changes in these tools, from bog iron edged tools to drop forged steel tools.
Although there are a few glassed-in artifacts the majority of the tools are displayed on shelves, walls and tables. This allows easy access to these tools (did I say this was a hands-on museum? 🙂 ). There are placards telling you of the different eras, tool history and their use.
The tool displays are only one part of this historical haven. In addition to the museum the building also houses:
The Center for the Study of Early Tools, with a library and accommodations for visitors interested in studying at the museum. An extensive collection of reference books on the history of tools and technology both in hardcopy and online is available. They have also produced a number of publications on the subjects of tools that are available at the museum.

A Children's Corner, featuring activities for drop-in visitors and scheduled field trips.

A local history research room.

A beautiful selection of Native American tools and artifacts including one of the largest collections of 'wampum' in New England.

The Davistown Museum Café, offering hot and cold drinks, snacks, WiFi, an expansive porch with a lovely view of nearby hills, and a selection of used and new books.

An ongoing art exhibition in conjunction with the Maine Artists Guild: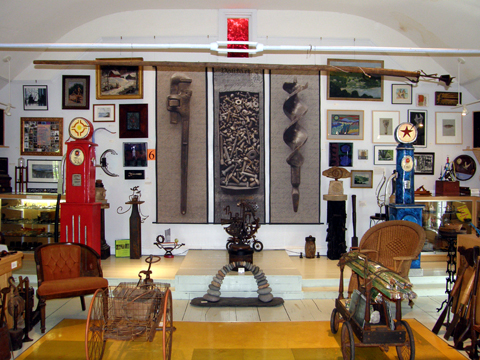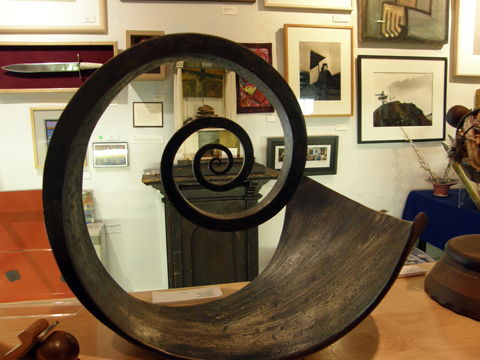 For tool collectors and aficionados The Davistown Museum is a great experience and resource, a jewel in the rust. Put this on your 'Places I Have To Visit" list and make sure that you give yourself a couple of hours to peruse this grand collection.
I believe that what impressed me most was not only the tool displays but the feeling that I got just by being there. You can feel the history of these tools, literally and figuratively. They have life, in their past and in what they bring to the future.
Hats off to the team at The Davistown Museum for keeping tool history alive and well! Kudos! Kudos! Kudos to you!
Back to the shop…