Thanks to my good friend, David Wilkins, I had a chance to try out the Rolly Munro Articulated Hollower recently and let me say from the outset that I was very impressed with it! It cut quickly, left a clean finish and it was comfortable to hold. I was able to turn a hollowed vase in record time and, well, in short, having one of my own has now moved to the top my wish list!
Here you can see the handle, the shaft, the heads, sharpening jig and wrenches that comes with the set: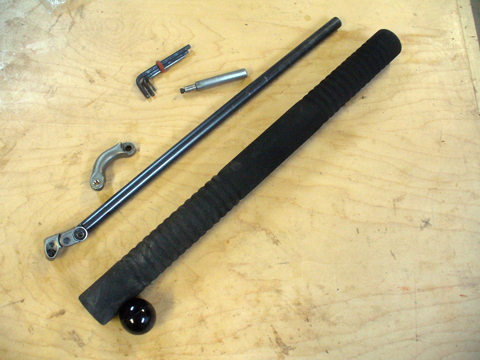 Rolly Munro spent over ten years experimenting with designs for hollowing tools that has culminated in this fine tool.
It has been designed around the Technatool hollower cutting tip, which is coupled with a stainless steel depth gauge. The cutter head has an adjustable hood to control the depth of cut. When dull, the round cutter is simply rotated to reveal a fresh edge. The cutter can also be easily resharpened by rotating it on a grinder using the supplied jig. There are 3 cutters supplied.
The articulated head allows for a multitude of configurations to get into even the toughest of areas. You can use it alone or you can combine it with the short 1-1/4″ straight linkage and the longer 2-3/4″ curved linkage for a variety of angles.
The 5/8″ diameter steel tool shaft is just over 16-1/2″ long and the hollow aluminum handle is about 19-1/2″ long by 1-1/2″ in diameter. There is a knobbed screw on the handle that allows easy control of the back and forward motion as well as provide a visual reference of the cutter position within the hollow form.
Here's a video showing it in use (The quality of the video isn't that great but it does get better as it goes along):
Impressive, huh? 🙂
Because of the shaft and head size this tool is best suited for medium to large vessels. (There is a similar mini-hollower available.)
Here is a photo of the small head: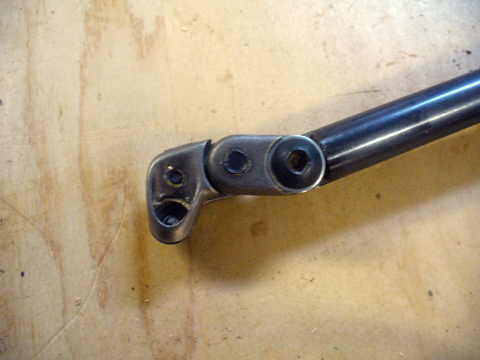 Here's a photo of the large head: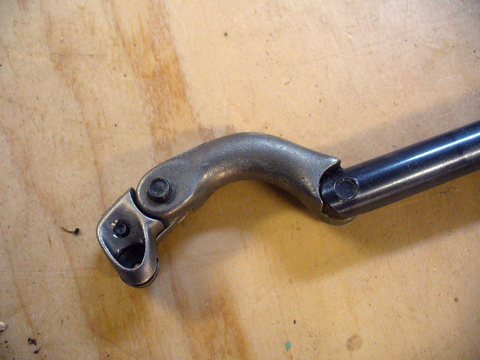 Here's a photo of the sharpening jig: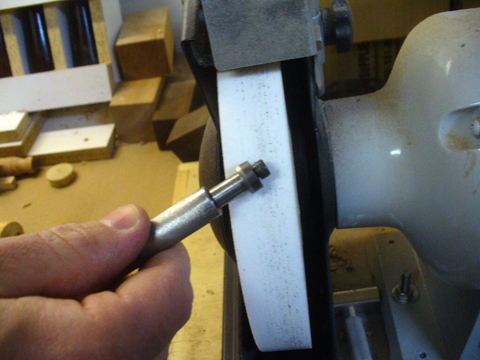 This is a 'cutter' as opposed to a 'scraper', therefore I found it to be a lot more aggressive at 'hogging' while at the same time the adjustable hood allowed for fine work. It was easy to control in both instances.
The one thing that I did find a bit frustrating was the need for several different wrenches to change the various parts of the articulated head. It would be a lot more convenient just to have one size. I found that for some reason I always had the wrong size in my hand. However, this was just a small annoyance in scope of my overall pleasure in using it. As I said, it's at the top of my wish list. 🙂
I was glad to have the opportunity to take the 'Rolly' out for a spin. This is not an inexpensive tool and therefore, for some, it may take some consideration before buying. However, I believe that, like me, once you try you'll love it!
My wife would also like to thank Dave for allowing me to try it out… 😉 LOL!
The Rolly Munro Articulated Hollower is available from a variety of woodturning suppliers including Lee Valley.
Back to the shop…