This month's get together of the Atlantic Woodworkers Association brought us back to our regular meeting place at the Home Depot for a special presentation on pen turning by our newly past chairman, Cecil Canam. In addition to other facets of woodworking Cecil is an avid woodturner and is quite passionate about turning pens. We certainly saw why tonight!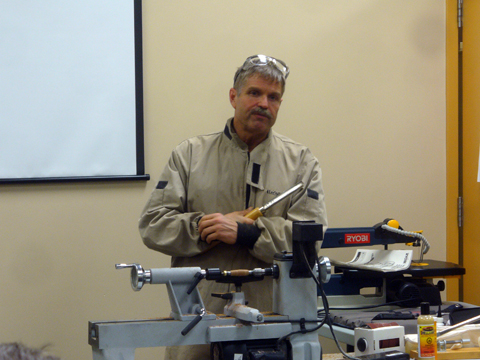 Cecil is also a member of the Nova Woodturners Guild. He turns bowls, Christmas ornaments, bottle stoppers and more. He says that very little scrap goes to waste around his shop!
The presentation started with an overview of safety considerations while turning with emphasis on wood toxicity and glue fumes. This was followed by a required tool list and an explanation of each tool's use.
The process for turning a pen was clearly explained from choosing the wood and the pen kit style to the actual turning and finishing, and then finally putting all the pieces together, both literally and figuratively. This was done while turning pens so it was easy to see, relate to and understand each step.
Cecil turned several pens during his presentation including this Sierra style pen made out of Rosewood: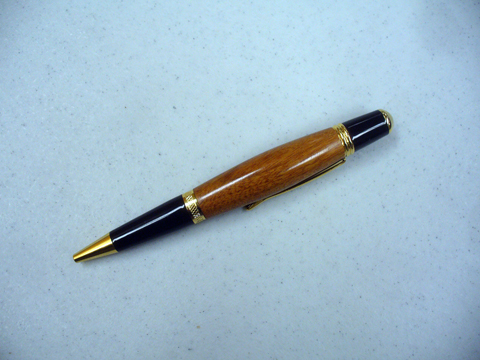 Here he is turning the Sierra pen: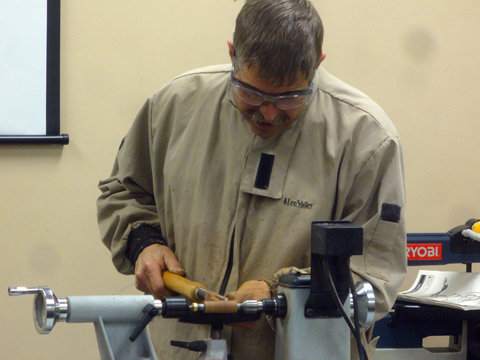 Here are some other fine pens that he has turned: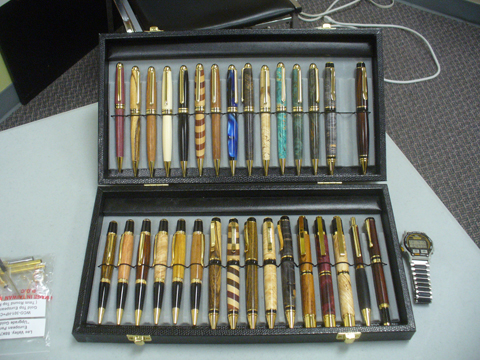 This is a table displaying some of his work, tools, jigs and safety items: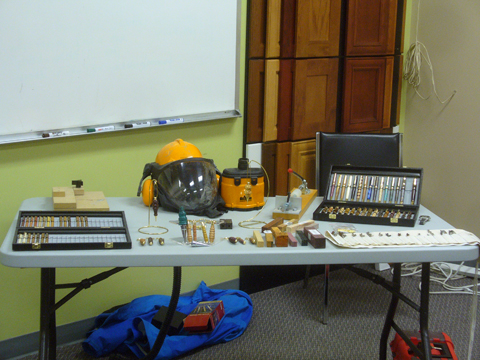 This is the small Delta lathe that he was using for the demo. He couldn't fit his large General lathe through the door 🙂 :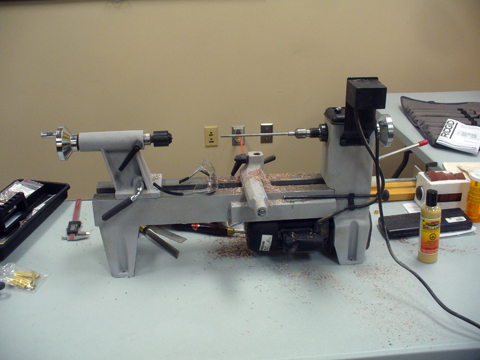 As the presentation went on the members moved from quietly sitting to crowding around the lathe. From a couple of people first wanting to take a closer look to the hubbub of activity seen here it was quite obvious that pen turning held a lot of interest for a lot of members.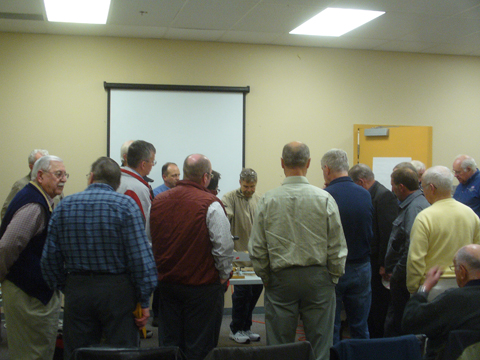 This was a fantastic presentation that was well received by the members. I believe that woodworking instruction given and shown by one of our own holds special significance, one that we can truly identify with. Sharing is a large part of the club's success and this was certainly demonstrated tonight. Thanks, Cecil! Looking forward to the next one on Christmas ornaments later in the year!
Tonight was also our Annual General meeting so the meeting started with a short 'out with the old and in with the new', as they say. 🙂 There was a great club history given by our past, past chairman, Lew Hatt, with acknowledgements given to past members and events that has led to the growth and success of the club since its incorporation in 1982. Nominations and voting for the new executive then took place. The 'new' executive assumed office and the 'old' executive were congratulated on the fine job that they did for the past two years that they were in office. Kudos to all!
As well, there was a short presentation tonight by members of Bayside Camp in regards to their new facility and the need for about 50 wooden bunk beds to be built. Bayside Camp is a non-profit ministry of the Baptist Churches of the Halifax region, committed to reaching a generation of youth. The 100 acre camp, which is still under construction, is located on Third Pond Lake at 1503 Ketch Harbour Rd., Sambro Head, Nova Scotia. Camp Director, Ben Trites, showed a short, entertaining slideshow of the camp location and the construction so far. It is their hope that the AWA will support them with the labour and experience aspect of the building of these much needed bunk beds. One of the mandates of the AWA includes community volunteer efforts so steps were taken to form a committee to look further into the possibility of helping with this apparent worthwhile project.
The evening finished with a couple of draws and auctions. The first draw was for the Sierra pen that Cecil turned and the second draw was for a used 12″ Craftex planer that a member had brought in. The auction items included a new Ryobi impact driver kit and a new Ryobi scrollsaw.
This was a great meeting and I was surprised on reflection to realize that there was so much packed into such a short time.
Once again, thanks to Cecil for the great presentation, special thanks to the past executive and congratulations to the new executive! Kudos to all!
Back to the shop…