Here is a couple of pens that I just turned. The pen on the top is in the European Round Top pen style and is made out of Buckeye Burl. The pen on the bottom is in the Slimline style and made out of Tulipwood.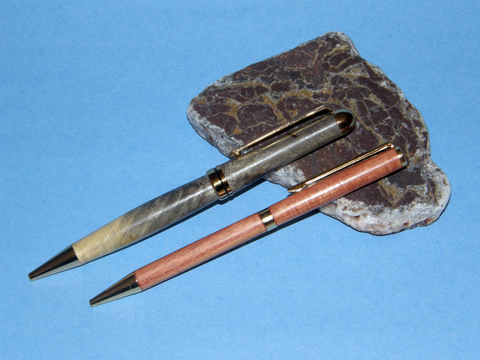 Buckeye is a beautiful wood available throughout North America, specifically the US state of Ohio where it is the State Tree. The burl has a terrific swirling grain with multi-colored layers. I find that it looks like some varieties of animal horn.
Tulipwood is an exotic wood from northern Brazil, not to be confused with Poplar which is also referred to as Tulipwood. The heartwood is a beautiful pink-yellow with a pronounced striped figure in varying shades of salmon pink and rose red. The grain is straight but more often irregular, with a fine texture.
Both pens are finished with the UltraShine and Shellawax combo.
Back to the shop…