My daughter is finishing up her Summer work term today and she wanted to give her coworkers a memento in thanks for their support over the past few months. She wanted to give the four guys turned wooden pens (and wine stoppers for the three gals) so I spent last week turning a whole slew of pens. I had quite a few kits on hand so I though, "Why stop at four when you can make twenty?!" 🙂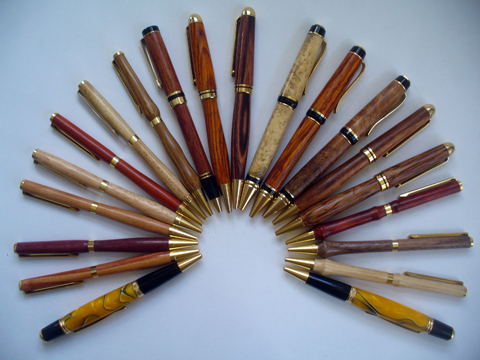 Turning wooden pens is what got me started in woodturning and I still find turning them lots of fun. In a relatively short time you can create a beautiful gift.
I find 'pen production' to be much easier than just turning a pen or two. It seems that when you get into the swing of things they just go so much faster and easier too!
Here's a closer view of the pens:

These five are Slimlines and from left to right: Tulipwood, Purpleheart, Cherry, Hickory and Pauduk: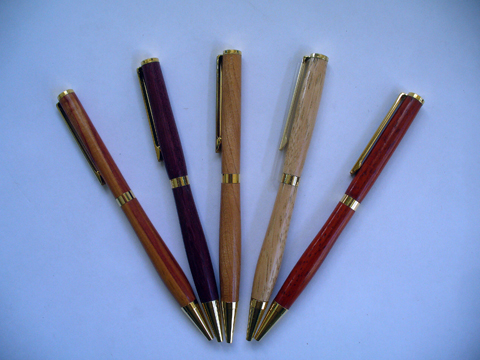 Here's another five Slimlines and from left to right: Redwood, Zebrawood, Spalted Birch, Walnut and Ash: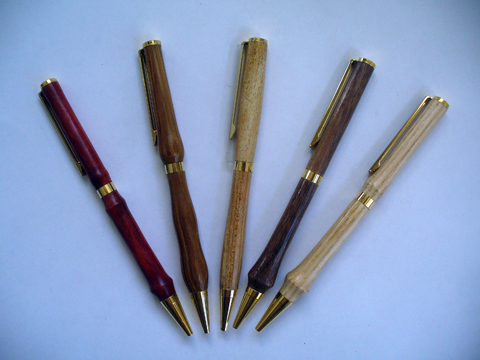 Here's four European Roundtops and in the middle, an American Flattop. From left to right the woods are: Mexican Cocobolo, Kingwood, Bubinga, Tigerwood and Red Palm: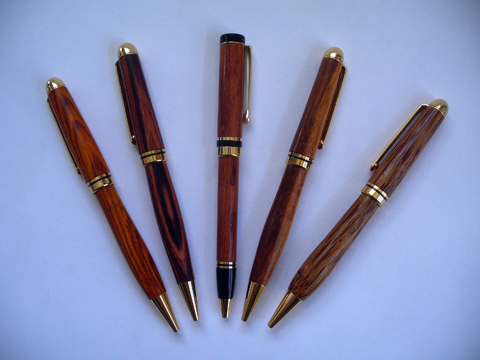 My daughter chose the four European Roundtops to give as gifts to her friends at work.
And finally three Cigar style and two Wall Street II's. The Cigars are (from left to right) Box Elder Burl, Mexican Cocobolo and Maple Burl and the two Wall Streets are Acrylic: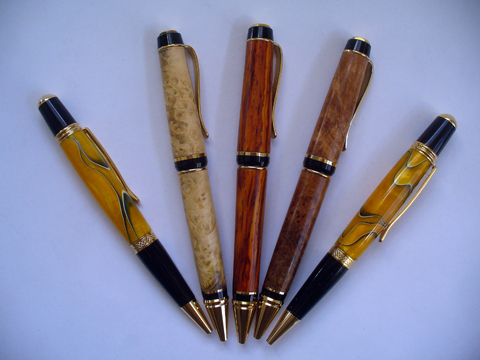 This should give me a bit of 'leg up' on Christmas this year since I usually wait until the 3rd week of December. 🙂
Back to the shop…