Last week I (go_man) had the good fortune to visit Fredericksburg, Virginia. This gave me the chance to get together with a local Geocacher and to get out and do some caching in Virginia!
The Fredericksburg area of Virginia is steeped in history and gives you the opportunity to walk where American Presidents and famous Generals once walked. It was near here that the first president of the United States, George Washington, once roamed as a young boy. It was also near here that the North and South armies of the American Civil War came face to face in battle. This area, which is located about halfway between Washington D.C., which was the capital of the Union, and Richmond, which was the capital of the Confederacy, was the major site of five Civil War battles.
Downtown Fredericksburg still retains that small town feel. You can enjoy a leisurely stroll through it's tree line streets. As you walk along you are sure to be tempted by the many restaurants and specialty shops.
Prior to visiting Fredericksburg I contacted the Fredericksburg Geocachers asking if there were any local cachers interested in going Geocaching with me. I received quick replies from several of the members and through the course of messaging back and forth with them "smarple" and I worked out our schedules to meet up and go caching on Wednesday night.

On Wednesday around 5:00 pm 'smarple' picked me up at my hotel and we were off Geocaching.
It was a whirlwind tour of a half dozen of really cool caches. We started in an area near the Rappahannock River where I was able to pick up a few. Then we were off to an area around the University of Mary Washington for a few more.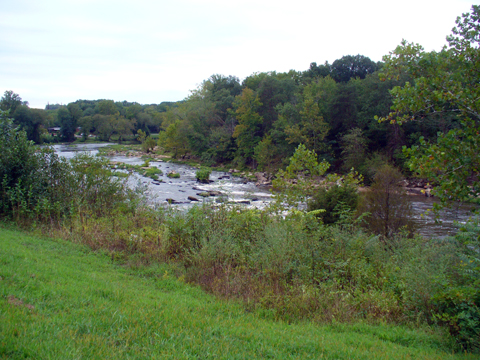 I was treated to several caches hidden by 'weirdharold' who is apparently known for his crafty hides. Crafty, indeed! He is definitely a master of the 'hide in plain site' caches. They were excellent and a lot of fun! I wish that I could post the photos of them because they were so cool but that would just spoil your fun! 😉
After caching we stopped for a late supper at Allmans BBQ, a meal tradition since 1954, where we dined on barbeque ribs, pulled pork sandwiches, beans and slaw. We followed this with frozen custard from historic Carl's, another local tradition.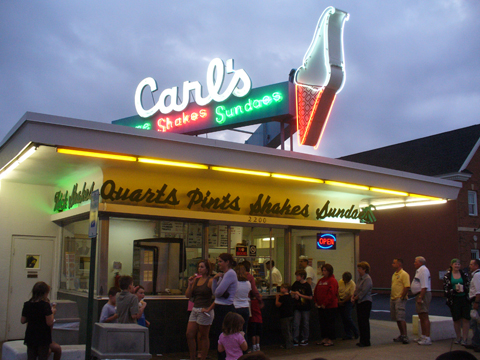 As you know, one of the biggest enjoyments that we get from Geocaching is going to places we have never been and meeting new people. Well, tonight it certainly was that. 'smarple' not only brought me to some of the areas' favorite caches and places but he also shared a bit of history and local lore. I also found out that, coincidently, 'smarple' was in our home area recently with his family and he plans on a return visit soon. Small world, huh?!
So there it was – great company, Geocaching, Allman's and Carl's. All in one day. It was a fantastic Fredericksburg evening!
I'd like to thank 'smarple' who was so kind to share his time with me. I doubt that without his help I would have got to go caching. I hope that I will be able to reciprocate someday soon.
I also like to thank the other members of the Fredericksburg Geocachers who were so helpful with my inquiries. It was unfortunate that I wasn't able to get out caching with 'joanne_dn' or 'goingtopot' who also graciously offered their time. Nor did I have a chance to have some wings with 'moongecko06'. Maybe next time, eh? 🙂 Thanks also goes out to 'binghamjd' and 'weirdharold' for some great food suggestions which I took advantage of thruout the week and 'barkfeather' for 'warning' me about the 'weirdharold' caches :). And of course, thanks to 'weirdharold', 'F'burg Don' and 'goingtopot' for the hides. All of the Fredericksburg Geocachers can feel proud that they were well represented by all these members!
It was truly a wonderful time! Thanks!
Keep on cachin'!
This post was originally posted on our now defunct website, Geocaching Online