Last night's meeting of the Nova Woodturners' Guild was the final one for the season and it was also our Annual General Meeting.
We met in one of the classrooms, upstairs from our usual meeting place in the Carpentry Room, of the Nova Scotia Community College on Leeds St.
The meeting began with plaques being given out to a few past NWG Woodturning Competition People's Choice Award winners. Plaques for this award were just instituted with this year's turning competition so not only was this year's winner presented with one but past winners as well.
We then heard from the Competition and Exhibition Committee regarding some proposals on the length of service for committee members, the competition structure, financial concerns, entry fees and how the entry fee is to be used. There was great debate on these issues and motions were passed in favour of the present committee staying in place for two years and one member being replaced each year, two competition categories; faceplate and spindle will remain, the entry fees will remain the same and will continue to be donated to charity and an increase in dues will begin in the 2010-2011 season.
This was followed by a financial report and audit which, after a couple of inquiries, was subsequently approved.
A preliminary report was given about the possibility of having a 'junior membership' where a member will be able to bring a person under the age of 18 that they are legally responsible for (ie, son, daughter, grandchildren, etc.) to our meetings. The purpose of this would be to share our woodturning knowledge as well as interest young people in turning. There will be more on this in the future.

It was also adopted that the library will be open from 7:00 to 7:20 of each meeting and demonstrations, speakers, etc. will not begin until 7:20. This will allow members to comfortably return and take out books and socialize. It will also allow the demonstrations to begin uninterrupted.
A new executive for the 2010-2011 season was also vote in. Congrats to all!
There were several turned pieces on display that unfortunately because of time constraints were not able to be presented and discussed. However, everyone had a chance to view them prior to the meeting. Here are a few photos of these pieces: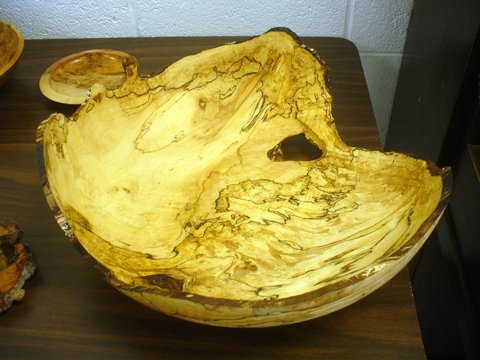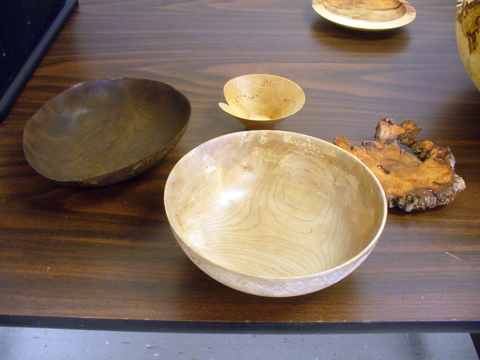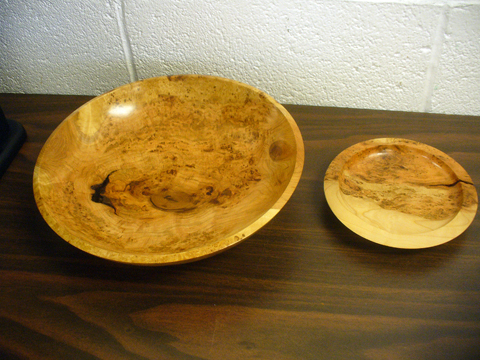 The evening finished with a draw for several pieces of Ash and Maple.
And with that another successful year came to a close. It sure was a great one! If you would like to read about the past meetings of the Nova Woodturners' Guild please click here.
Back to the shop…