The focus of this month's meeting of the Nova Woodturners Guild was the club's upcoming 2010 Woodturning Competition.
We were fortunate to have John Macnab speaking on the competition preparation, form and artist's intent.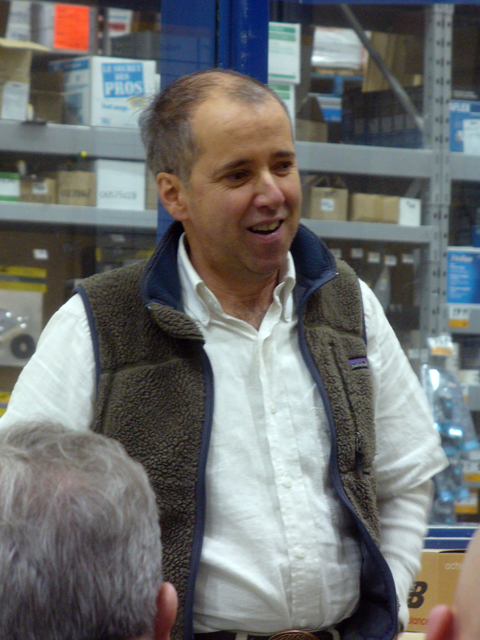 John recently won this year's Lieutenant Governor's Master Arts Award for his piece entitled CSDC 3-8 (Compound Spiral Double Cone No. 3, 8 Sided). This sculpture is a 25-foot long spiral sculpture turned from red spruce. It is best described as, "Suspended horizontally, it presents a floating form of lyrical grace and simplicity that belies the complexity of its production and its remarkable cross-disciplinary origins."
John is a self-taught woodturner and machinist and his beautiful turned sculptures have been shown in galleries across North America. Combining his woodturning background and his engineering skills he invented a 20-foot vertical lathe that enables him to turn large spiral sculptures. Here's a photo of John at work at the lathe in his studio: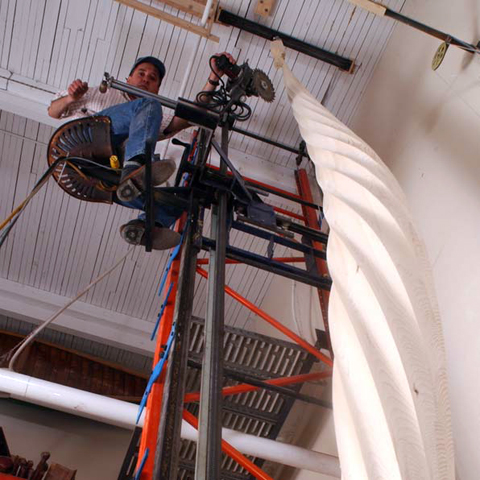 When speaking on 'purity of intent' John emphasized the need for one to carry the sense of wholeness from inception through completion of a project. At any point along the creative journey if a piece of this complex puzzle is lost then the intent is also lost, or at least, blurred.
When speaking of form he showed several examples using various pieces of pottery and a Japanese vase that he brought in. He also brought in his 'Owl' sculpture to explain his concepts in further detail.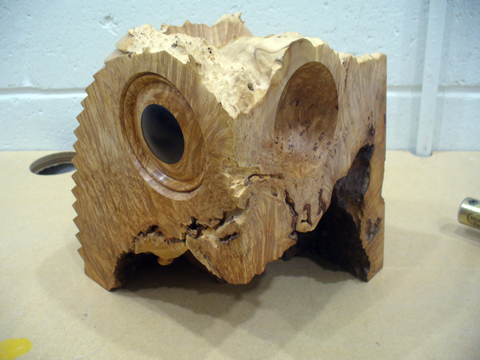 In addition to the visual impact this piece gave to John's explanations it also clearly brought home the fact that technique is not just skill, but innovation combined with skill.
Continuing this thread on form and intent he chose random woodturnings that members had brought in for Show and Tell and gave positive critique to these pieces.
Following this in-depth talk it was time to lighten and up and have a little fun. At this point John brought out several spin tops. Yes, spin tops! Apparently he has a collection of these and as he explained, "They are a continuation of my fascination with things that go around!" 🙂
After a brief talk on the history of tops and what makes a good one we were treated to a demonstration. All 23 members were standing, craning their necks to get a glimpse of these beautiful "toys" in action. There were also a few oohs and ahhs! 😉
John concluded his presentation with a lengthy question and answer period.
The Show and Tell portion of the meeting was well supported with quite a few pieces brought in. They included several bowls, a pepper mill, a Christmas ornament and more. Here, have a look: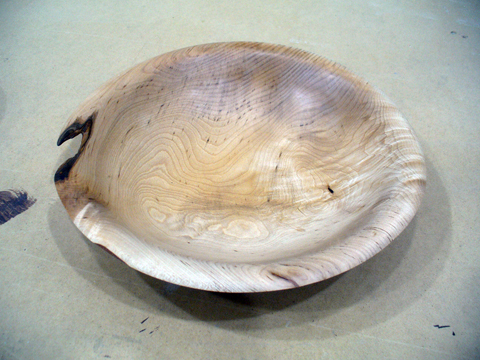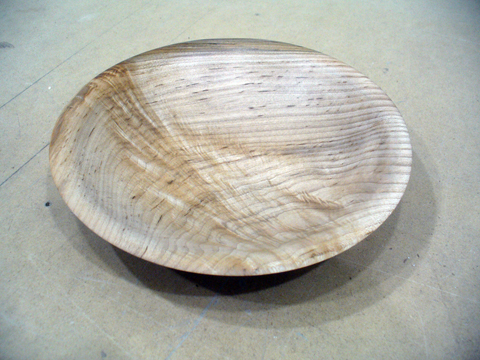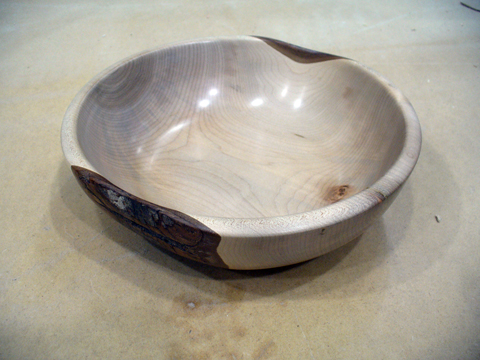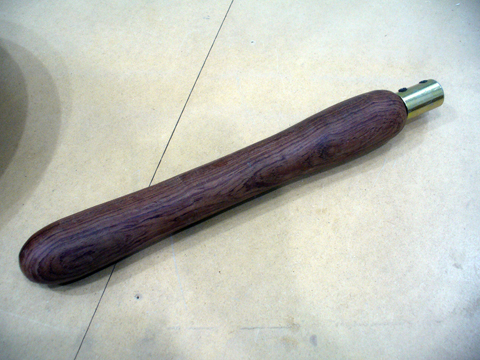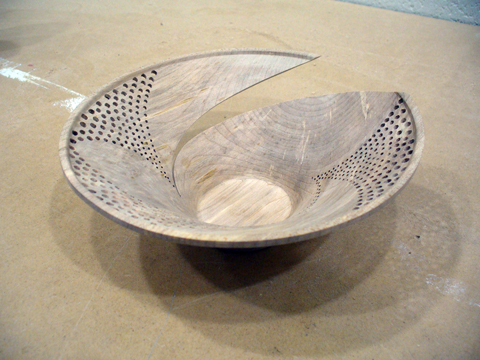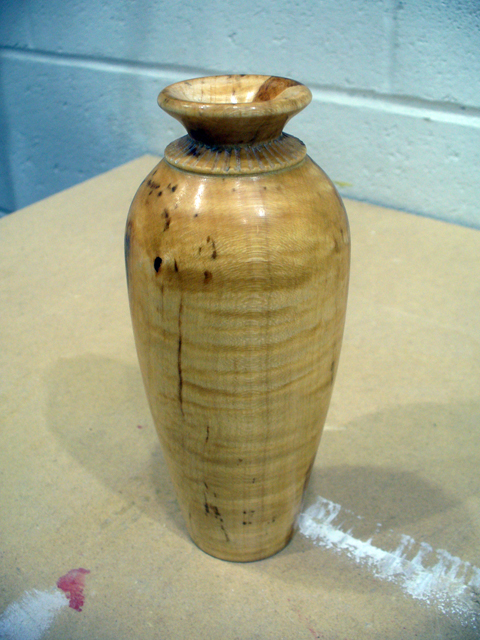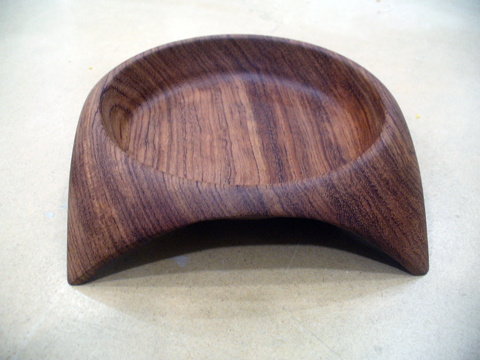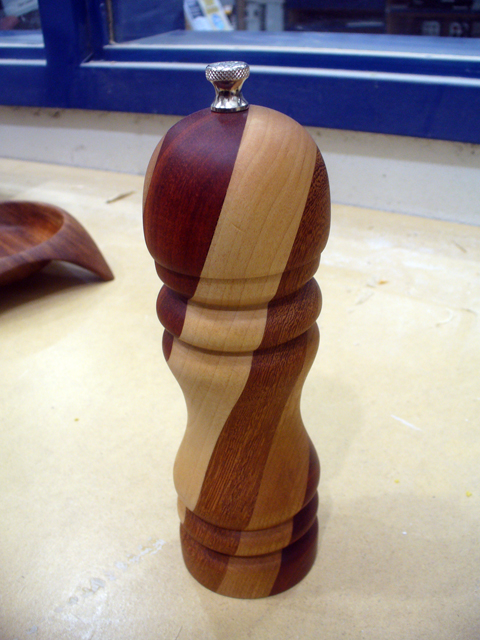 The meeting finished with the Competition Sub-Committee discussing our upcoming competition which is to be held on March 6th, 2010 at Lee Valley. Other important dates are that all competition submissions must be in by February 27th and setup of the display will take place on March 1st.
This was a fantastic meeting with the educational offering from highly experienced John Macnab. His presentation was as enlightening as it was interesting. Thanks so much, John, for giving us more insight into this critical part of our work!
For more information about John and to view some images of his work you can do so here on his website. Be sure to read this article on his work from Woodwork magazine.
Back to the shop…