Here are a pair of picture perfect picture frames! Because we are in the midst of a bit of redecorating here at home I had a good excuse to switch over to doing up a couple of picture frames. Since my wife and I have collected quite a few photos and pictures over the years these are just two of many more frames that I hope to make over the coming weeks.
These two are 8″ X 10″ frames made from some scraps of cherry with a beeswax finish:
Here are the completed frames with the pictures installed: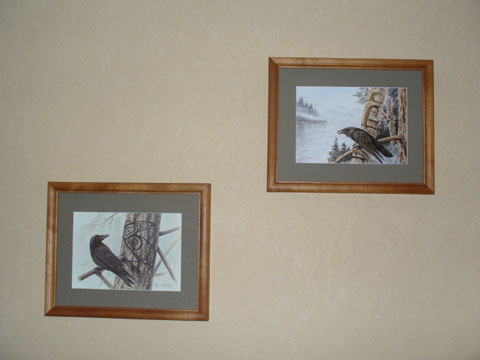 I purchased a mat cutter a few years ago that allows us to do the matting as well as the frames.
I believe the hardest part about making a picture frame is the infinite amount of choice available for the frame width, frame style, mat color, mat width and finish.
Cutting the 45 degree angles are quite simple with a Perfect Picture Framer Jig.
Back to the shop…