We were treated to two great presentations last night at this months Nova Woodturners Guild meeting. The first was a sharpening presentation by Don Moore and the second was an information session on hollow turning by Dave Wilkins.
Don began the evening showing us the various facets of correctly sharpening our woodturning tools. Some of the information he imparted (and/or reminded us of) included:
Sharpen scrapers upside down. This automatically creates a burr on the top edge.
Keep the grinder wheels dressed.
Mark the full breadth of the tool edge with a marker. This not only helps in setup but will show any areas that the grinder may be missing.
Round the bottom edges of the scraper to ease movement across the toolrest.
Remove some of the heel on the scraper to facilitate getting into bowl corners.
Add a piece of leather to your grinder station for quick honing.

He also showed, and told the benefits of, the grind he uses on his skew chisel. He grinds the first half at the standard 70 degrees and then curves the second half. This differs from the standard full 70 degree grind and the full curved grind.

Dave began his presentation with an explanation on how he created two different hollow forms. The first was a 'bottomless bowl' and the other, that can be best described as a wheel, had two openings, top and bottom. In addition to the challenge of turning these pieces there were obvious mounting issues.

Dave followed this with an explanation of the use of some of the chisels in the Kelton line of woodturning tools as well as performed a live demonstration of these tools on a small hollow vessel. This was followed by a short Q & A session while several members tried their hand at using these tools.

There was a quick Show and Tell session tonight showing some beautiful items.

This first photo shows several hollow vessels. The two on the left were the ones Dave used in his presentation. It also shows a nice spalted vase with a walnut top and bottom: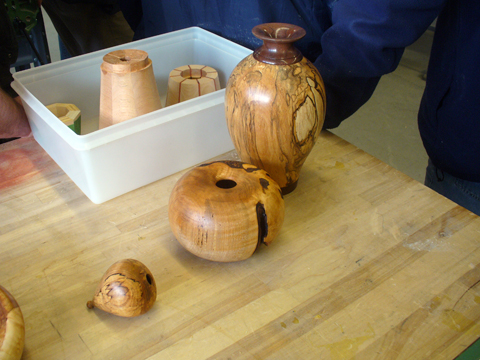 Here are three beautifully crafted bowls and a members 'first' egg: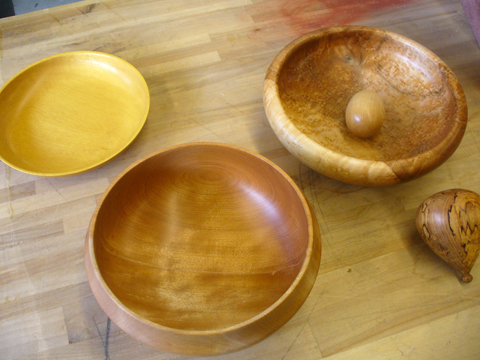 This photo is of a photo brought in by member Stuart Taylor showing his super long lathe and the 8 foot piece of wood he was turning at the time: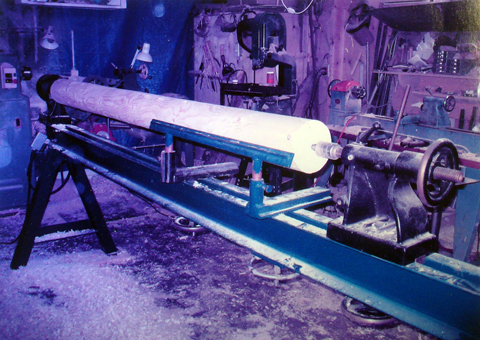 The evening finished off with a drawing for several pieces of wood that was brought in by various members.
Another great evening.
You can find more NWG meeting related articles here if you are interested.
Back to the shop…