Lookie there! It's a Wolverine Sharpening System! Merry Christmas to me… Merry Christmas to me… 🙂
Since the woodturning tool sharpening seminar I took back in October I knew that there was a better way of sharpening my tools. I can assure you that my 'freehand' sharpening leaves a lot to be desired! Since then I have been eyeing the Oneway Wolverine Sharpening System and since it's almost Christmas I bought the basic system with the vari-grind and skew attachments. 😉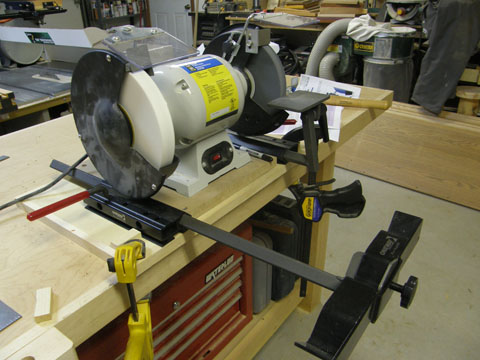 The basic jig comes with two bases, a grinding platform, and a long adjustable V-arm. Both the platform and the V-arm attachments can be used in either base, allowing you to switch between fine and coarse wheels.
The grinding platform adjusts for different bevel angles and the V-arm allows you to make straight grinds on bowl gouges and roughing gouges.
The vari-grind attachment allows you to grind fingernail-profiles and bowl gouge profiles. And the skew attachment simplifies ginding both sides of the skew identically. The tool handle sits in a pocket on either side of the arm, automatically setting a 30° rake angle. The same grind is produced on the opposite face by simply switching from one pocket to the other.
The setup of the system on the grinder was pretty straight forward and pretty soon I had my tools sharpened sharper than ever before, and with correct angles.
Back to the shop…