We recently made our own beeswax finish that incorporated beeswax and mineral oil.
This was a very straight forward process that created a quality product at relatively low cost.
We purchased the mineral oil at the grocery store in the pharmacy section and we got the beeswax from a local honey maker. The total cost for both was under $3.00 giving a cost per ounce at roughly .24 cents. This is 1/10 of the cost for similar commercial products!
The recipe that we used is simple and it took less than 15 minutes to make it.
Here's the recipe that I used:
Ingredients:
1.5 cups (355 ml) mineral oil
2.5 ounces (71 g) beeswax
Preparation:
Use a tall metal container or can and pour the mineral oil into it and add the beeswax. Melt over a low heat source just until the beeswax has completely dissolved (please see tips and comments below for suggestions), stirring as it melts. Once the mixture is blended, remove from heat. Allow to cool for a couple minutes so that it's not too hot for the glass jars, then pour into the glass jars and allow to finish cooling completely. Add the lid, label it, then store in a cool location.
These ingredient amounts resulted in a wax that though solid when cooled was soft and smooth. You can vary the amount of beeswax to give you either a softer or harder wax.
We used the smaller (4 oz.) size Mason jars because they are short with a wide mouth, allowing me to access right to the bottom. This recipe yields around 16 oz. and requires 4 of these jars.
Be careful when heating and blending the oil and beeswax, especially if using an open flame!
As you can see, there's not much to it. 🙂
Here's some more photos beginning with the ingredients: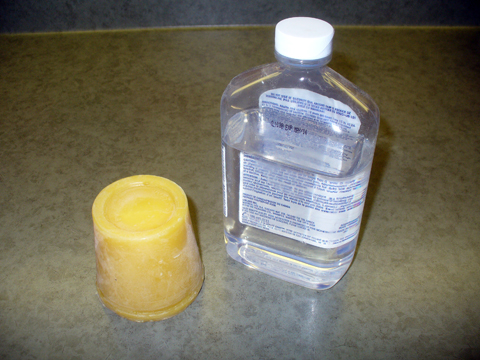 Here's the blended oil and wax cooling: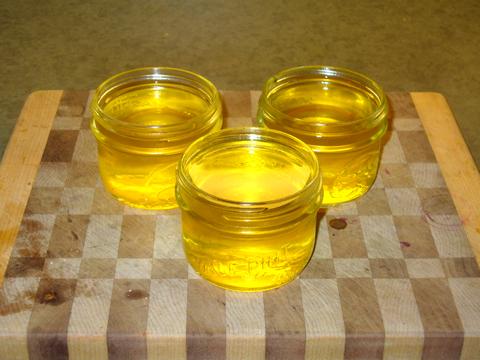 A closeup of the wax: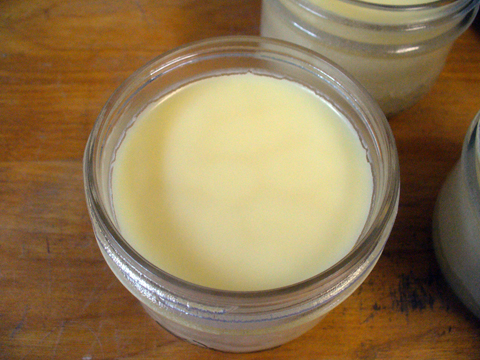 This one shows the soft, smooth texture of the wax: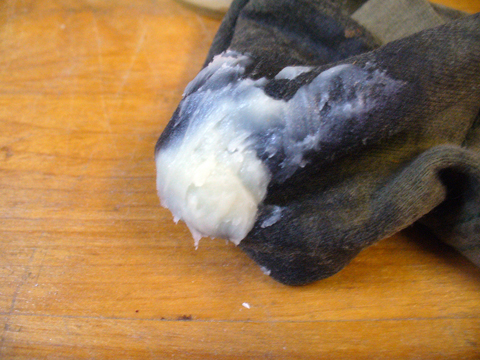 With a few simple ingredients and a few minutes we got enough beeswax finish to last us for quite some time, and all for under 3 bucks! 🙂
Update: Since making this recipe we have I also made others by adding more amounts of mineral oil. By adding more mineral oil the finished product becomes a softer paste, which we like for other applications. Start with the above recipe and then experiment to get the consistency that you are looking for. You can always reheat and add more mineral oil until you get it right. 🙂
We also spoke with several people that use a microwave oven for melting the wax and blending. Although we haven't tried it yet it sounds to be a lot safer than doing this over an open heat source.
Back to the shop…