I just lucked into a great deal on some woodturning tools through the local classifieds and picked up seven 'almost new' Henry Taylor's: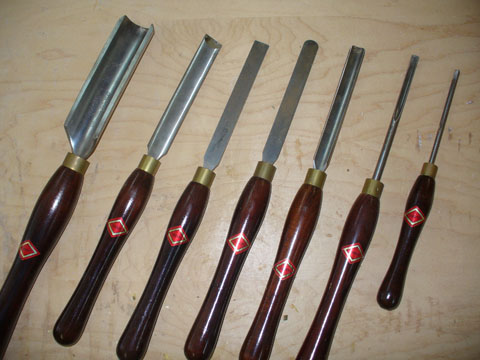 From left to right:
1 1/2″ Roughing Gouge
1″ Oval Skew
3/4″ Square Nose Scraper
3/4″ Round Nose Scraper
3/4″ Gouge
3/8″ Spindle Gouge
1/4″ Spindle Gouge
There is very little wear on these tools, in fact, a couple of them have never even been sharpened yet.
The deal was so sweet that I just couldn't turn it down. The funny thing was that I bought them from the same guy I bought the lathe from last summer! He didn't want to part with them then but apparently changed his mind. I promised him that the tools will be in good hands and that hopefully he'll get back into it at some time in the future.
It's quite obvious that someone up there wants me in this woodturning thing! 🙂
Back to the shop…