I finally got around to creating a bandsaw circle cutting jig today. This was spurred on by my recent purchase of a couple of bowl blocks that I needed to cut round.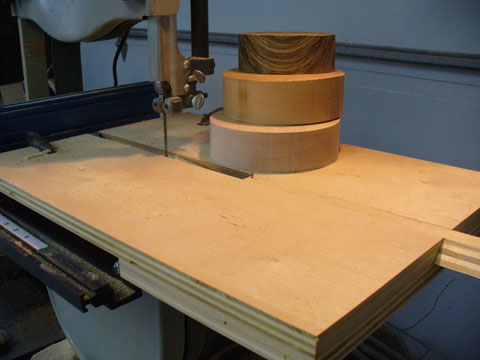 The process was quite simple. I cut a piece of 3/4″ plywood 8″ longer and a bit wider than the saw table. Then I cut a 'slide' out of the center. This was done by marking the center and then measuring 3/8″ on both sides of the centerline. This was cut on 45 degrees. Cutting on the outside of the line ensured that the top of the slide was 3/4″ wide.
Next, I turned all the pieces over and then placed all the pieces together snugly but with the slide moving freely. I measured the width and cut another piece of plywood by this width and 8″. Once cut I screwed this to the bottom of the two outside pieces.
Next, I put a nail near the end of the slide and clipped it off, leaving about 1/4″.
To use the jig I mark the center of the square of wood and punch a small hole in the center using an awl. Place the hole over the nail on the slide and bring the block up to the saw blade. Turn on the saw and slowing turn the block of wood.
It seems to work quite well however I first had problems because of the radius I was cutting. I was using a 1/2″ wide blade. Once I switched to a 1/4″ wide blade all was well.
Back to the shop…