The AAW 2009 Symposium Day 1! I had the good fortune to go to the 23rd Annual American Association of Woodturners Symposium in Albuquerque, New Mexico back in June and it was a total blast! There was so much going on that it is has taken me until now just to sort it out in my head. 🙂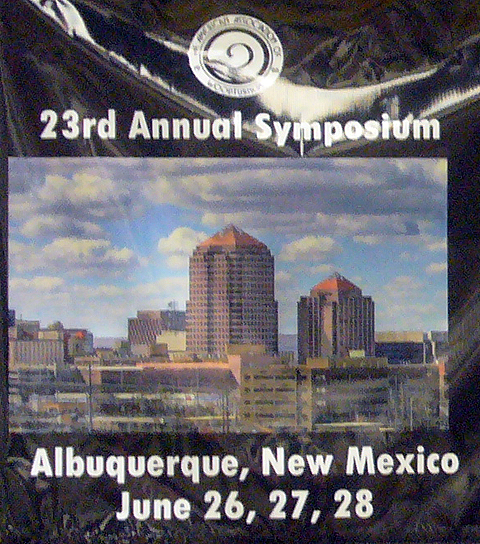 Attending the Symposium was such a fantastic time, there was so much to do and see! I got to meet so many great people and see so many great turnings. To be totally immersed in this for over three days was an absolute thrill.
The Thursday before the Symposium was open for registrations, the demonstrator's dinner, gallery reception and a special evening presentation called 'Believe It Or Not, A Contemporary Look At Woodturning Artists Today'. This was an entertaining look at the more notable woodturners as they might not want to be seen. The slideshow was presented by Jacques Vesery and Terry Martin. It was a real hoot to see the 'big names' in turning in humorous situations. The storyline that coincided with the slideshow was outrageously funny.
Friday, June 26th, was the official opening of the Symposium and it started with a bang, literally. 🙂 The Star Feather Group from the Jemez Pueblo, located about 50 miles North of Albuquerque, began the day with traditional Native drumming and singing. This was well received by the attendees as could be seen by the amount of photos being taken. The beating of the drums also drew us all nearer to the Kiva Auditorium in the Albuquerque Convention Center for the opening ceremony.
Bill Haskell, President of the AAW, officially opened the 2009 American Association of Woodturners Symposium with a hearty welcome.
A poll of those in the audience revealed that there were quite a few first-time Symposium attendees (like me) as well as several members that had attended all 23 Symposiums!
Mary Lacer then introduced the keynote speaker for this year's Symposium, Tom Joyce. Tom is an artist, designer and blacksmith from Santa Fe, New Mexico who forges sculptures, architectural ironwork and public art projects throughout the United States. He was featured in the PBS documentary, Craft In America.
Tom showed a slideshow of his work and gave a short personal history of himself. He spoke of his work with his apprenticeship program which he likened to the AAW youth and educational programs. I was most inspired by his comment and examples regarding "the history of material and the importance of its future use."
Tom's presentation was followed by Bill introducing the AAW Board Members. This was followed by the presentation of the 2009 AAW Honorary Lifetime Member Award to Giles Gilson. Finishing up the opening ceremony was a recognition of all the volunteers that were making this Symposium possible.
After a short break the instructional Rotations began. There were 150 demonstration rotations at the Symposium and unfortunately time only allows one to get to a maximum of 11. Since I believe that my turning can be improved 100, 200 or 1000% simply by more practice I chose demonstrations that focused instead on different finishing and texturing techniques.
The first Rotation I went to was Basket Illusions – The Process and Inspiration with David Nittmann. He began with a slideshow introduction of himself and his work. I was already familiar with a lot of his work but having him present it and telling about how he came about to do the individual pieces was quite spellbinding. He followed this with a step-by-step of the turning process which was equally as interesting.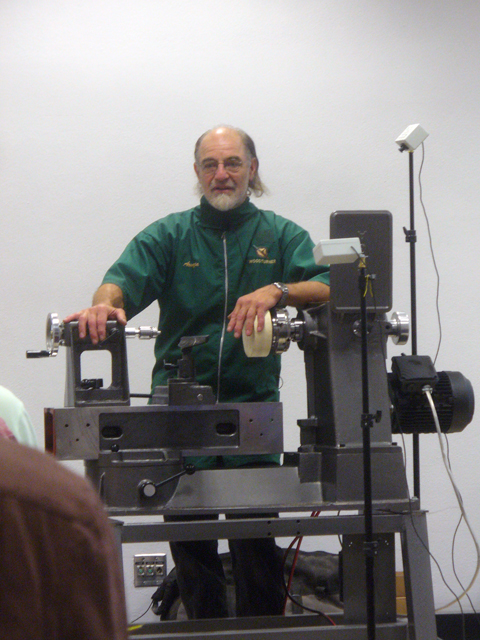 The second Rotation I went to was called "The Cutting Technique", again with David Nittmann . In this session he showed the cutting technique that he uses to make his beautiful Basket Illusion platters and body drums by turning a small platter. Although the preceding Rotation was not required it certainly helped in understanding the process, first being told and then actually shown.
He had an array of supplies that he uses on display as well as this piece:
One of his sketch books was also available where you could see his drawings that he makes prior to actually creating a piece: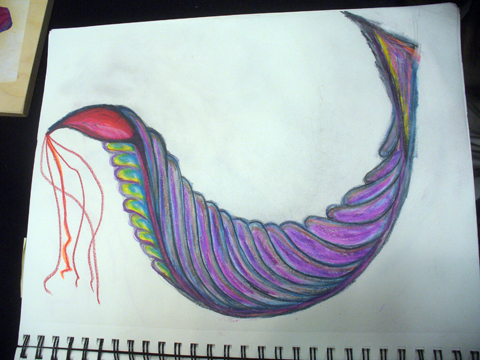 David's Basket Illusion pieces have always fascinated me so I had been looking forward to attending these two seminars for the past couple of months. I wasn't disappointed. 🙂
The third Rotation of Day 1 that I attended was called "Changing The Surface" and was presented by Matthew Hill.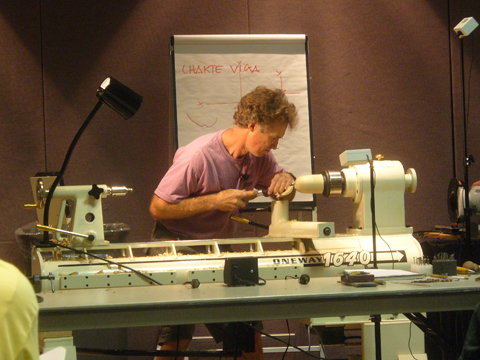 Matthew first took us on a slideshow tour of a variety of textures that he created on a variety of pieces of his work and showed us what tools and techniques he uses to achieve them.
He uses a straight-forward direct approach to his 'laundry list' of textures, using simple tools to give him the signature look that he successfully achieves.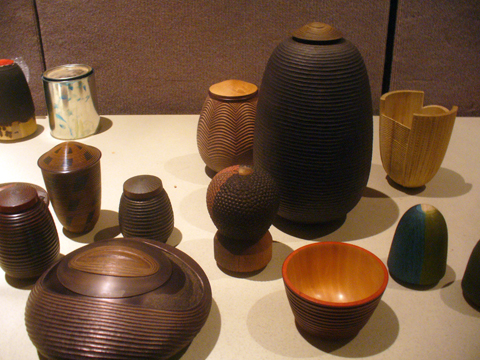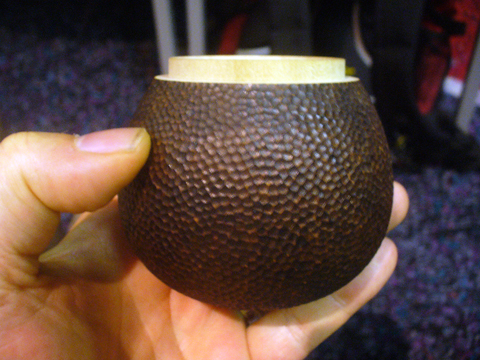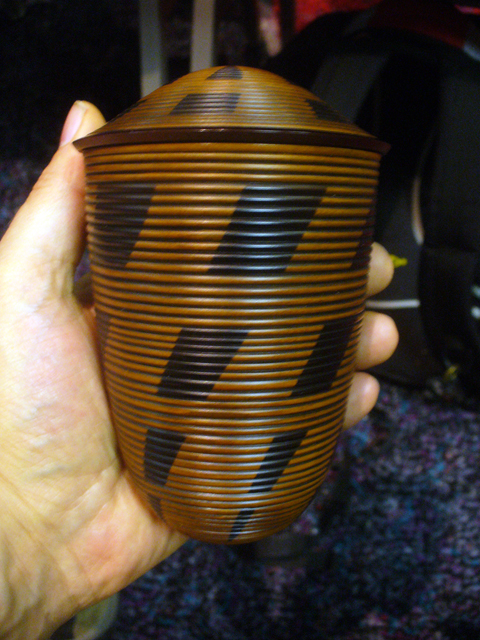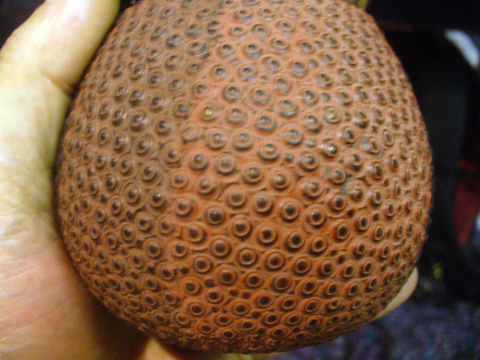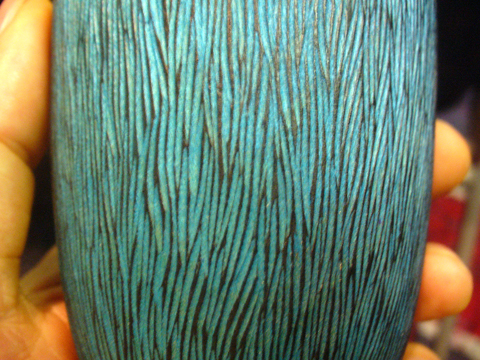 The fourth Rotation I attended was again with Matthew Hill. This one was called "Dyes, Stains, Glazes and Topcoats" and Matthew gave an extensive run-down on the equipment, finishes and techniques he uses. At our request, and since this was the last Rotation of the day, he continued well past the allotted end time to give more in-depth instruction on several advanced techniques. It was well worth the late supper!
This ended the Rotations for the day but it didn't end the fun! Later in the evening it was time for the Special Interest Night. There were eight sessions to choose from, each dealing with a niche, or special focus, of woodturning. I chose to go to the one called Segmented Turning.
This session was hosted by Malcolm Tibbetts, Curt Theobald and Bill Smith: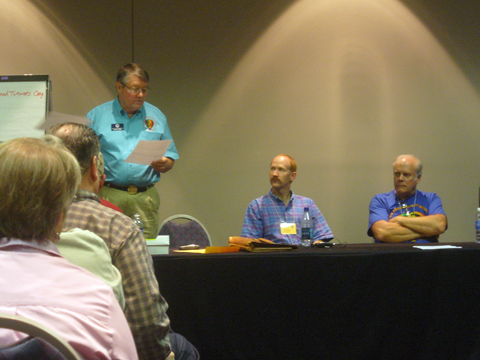 The purpose of this session was to formalize the creation of a new, specialty chapter within the AAW dedicated toward the advancement of segmented turning. This idea grew out of the success of the first Segmented Woodturning Symposium held last November. During tonight's historic first meeting the club was created and the officers were voted in through motions and debate. Likewise, several housekeeping items that are required for a new club creation were attended to. This will be an online club, called Segmented Woodturners, and contact will be done via newsletters, website and yearly symposiums. It promises to be exciting! If you have an interest in segmented turning you can find out more here.
This was one long day (8am-9pm) but it was a fantastic day. My head was so filled with thoughts and ideas that, as you can imagine, it was hard to sleep… but sleep I had to do because there was another full day tomorrow!
Back to the shop…