It was another beautiful day in Albuquerque and another great day at the American Association of Woodturner's 2009 Symposium! For the first Rotation on Day 2 I went to "Getting Creative With Epoxy" with Marilyn Campbell.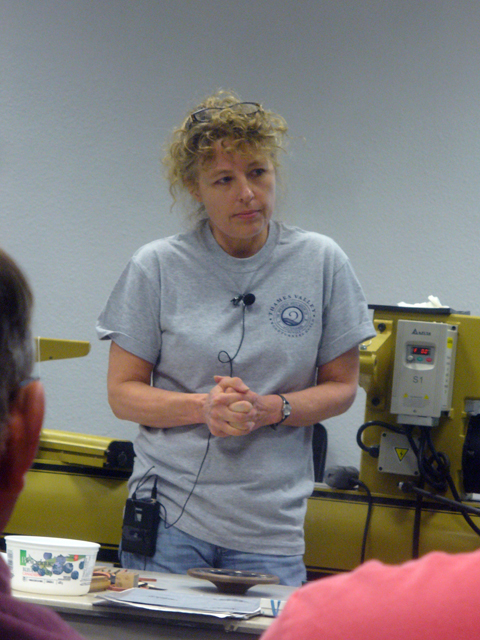 Marilyn first gave us a great slideshow overview of her past work and work done by others that displayed the results of the technique that she would explain today. She then went through the steps for using epoxy not only as a glue but as a medium.
She demonstrated two particular techniques, one where the wood was cut into flowing shapes and refitted with epoxy of varying colors and thickness and the other where a channel was cut in the top of a plate and then filled with different colored epoxies and materials, like these pieces here: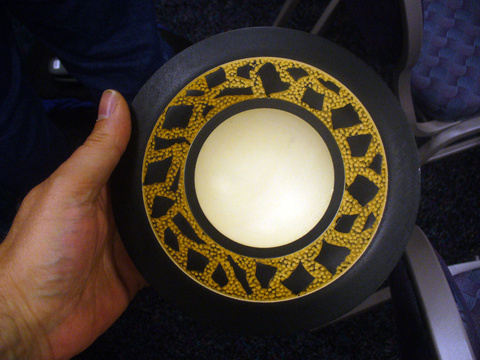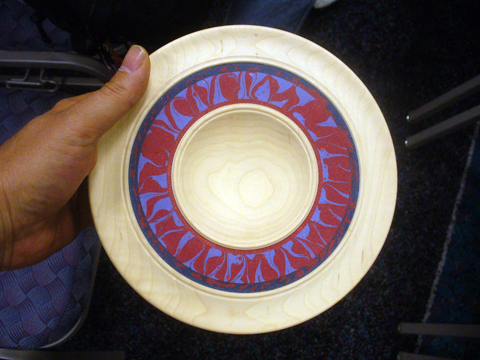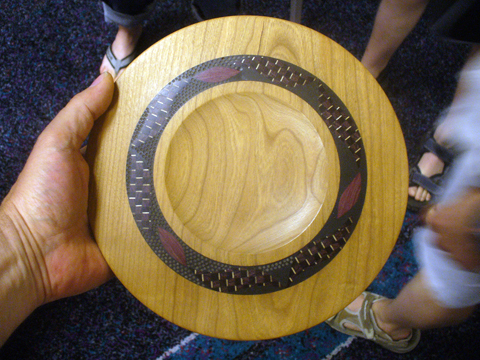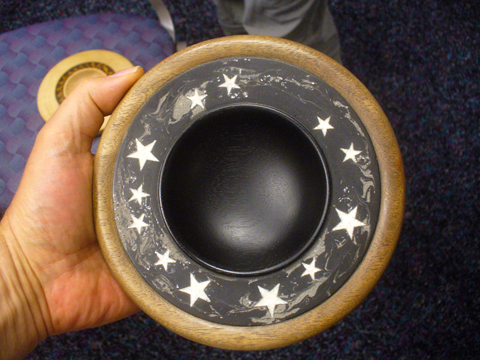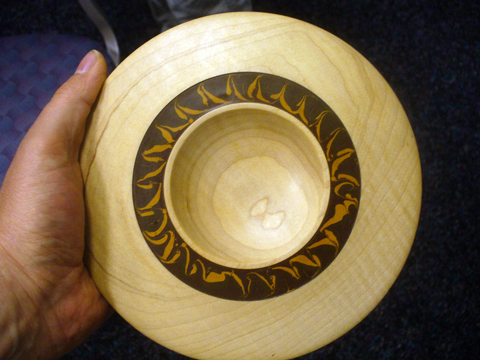 For such a simple procedure it sure gives a lot of design opportunities for making some great looking art!
For the second Rotation of the day I went to the "Burial Urns With Threaded Lids" presentation by Mike Mahoney.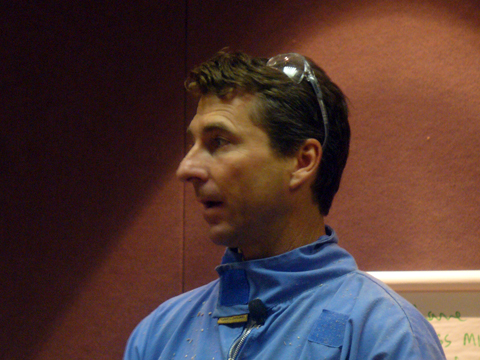 The focus of Mike's presentation was to ensure an adequate size for the urn and turning a threaded lid. He also spoke on the importance of design. He began with a slideshow showing different design possibilities and why they 'work'.
He continued the design theory through the completion of a small hollow form, similar to this one that he passed around: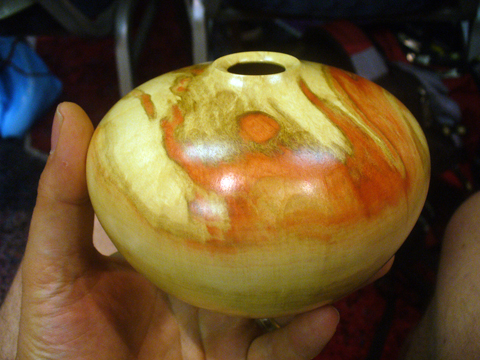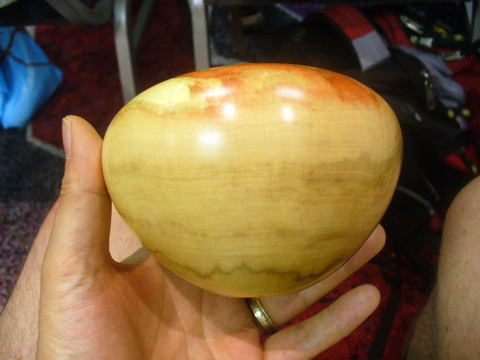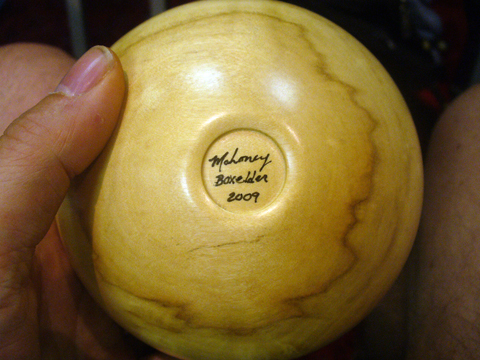 Once the small urn was complete Mike demonstrated his technique for threading using a wafer thin boxwood insert. This technique ensures that threads can be turned for containers of any type of wood as well as minimizing the possibility of ruining a piece at this stage.
This was a very informative and entertaining session and the most attended one I went to.
After great deliberation I decided to skip the 3rd Rotation today and went to the Exhibits and the Trade Show (more on both of these later). Although I had been popping in and out of them between the sessions I wanted to spend more time there and with the heavy schedule I knew it was now or never. 😉
The next Rotation I went to was 'Coloring And Painting Techniques' with Andi Wolfe.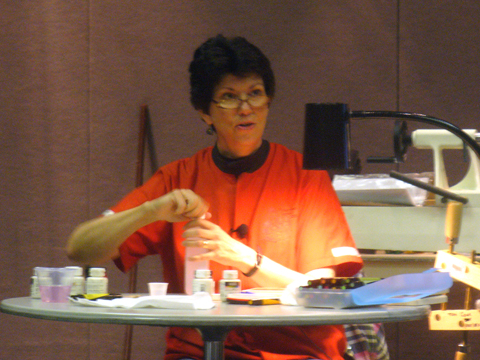 Andi began her presentation with a slideshow on design and technique as well and then continued on to show us two of her techniques; transparent coloring and acrylic paint.
Andi is a botanist by vocation and her work is greatly inspired by the natural world, as you can see here: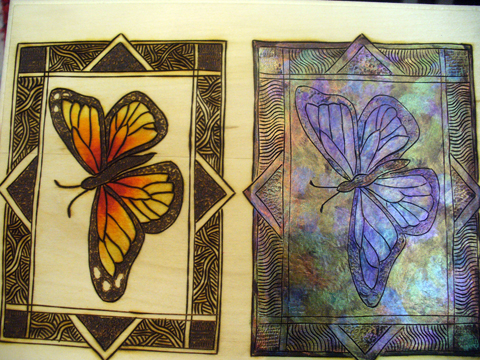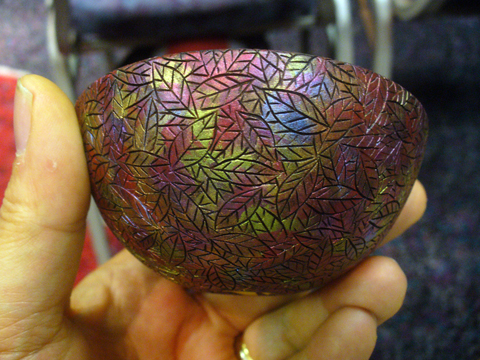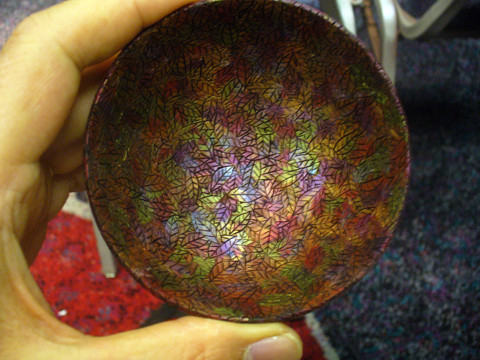 It was quite fascinating seeing first hand how the layering of colors built upon each other, how the fade and blended edges created the 'butterfly' style and how the lighter and darker layers gave the 'oil slick' effect to the final results. Truly fascinating.
This was another great day, as you can imagine. For some, the day continued on with the Banquet and Auction but I opted to spend a quiet evening, trying to digest all that I learned today.
Back to the shop…