ToeMayToe? ToeMahToe? Who cares, we just call them tasty! There's nothing like lots of fresh tomatoes from the garden!
All things considered, we feel that we had a pretty good year for tomatoes. Unlike last year, where we lost an estimated 80% of our crop due to Late Blight, this year we fared pretty well. We did have a bout with Septoria Leaf Spot, likely caused by all the rain that we had in July, but with diligent monitoring and the removal of the lower leaves we were able to keep the loss to a minimum. Unfortunately, we did lose our two hybrid Scotia variety plants that we tried for the first time. We feel this was because they were both planted in the middle of the rest of our tomato plants, therefore not giving them enough air flow. All fun in the learning process of growing. 🙂
The strangest thing about growing tomatoes in this area this year was that because of the weather, the late Spring and rains in July, maturity was at least a month behind. It was strange because we were harvesting our tomatoes and our dried beans at relatively the same time! 🙂
Here are some photos of the Black Cherry, Green Grape, Sunshine Yellow, Gardener's Delight, Andean, Chiapis Wild, Ten Fingers of Naples, Outdoor Girl heirloom varieties that we grew again this year and a hybrid Beefsteak variety that we also tried for the first time.
Green Grape (Cherry, Indeterminate)
Here's sample of our Green Grape tomatoes! They are around 3-4cm (1.25-1.5″) and grow in clusters that resemble grapes on a plant with vines that average 4-5 feet tall. They not only taste delicious but add an awesome look to salads!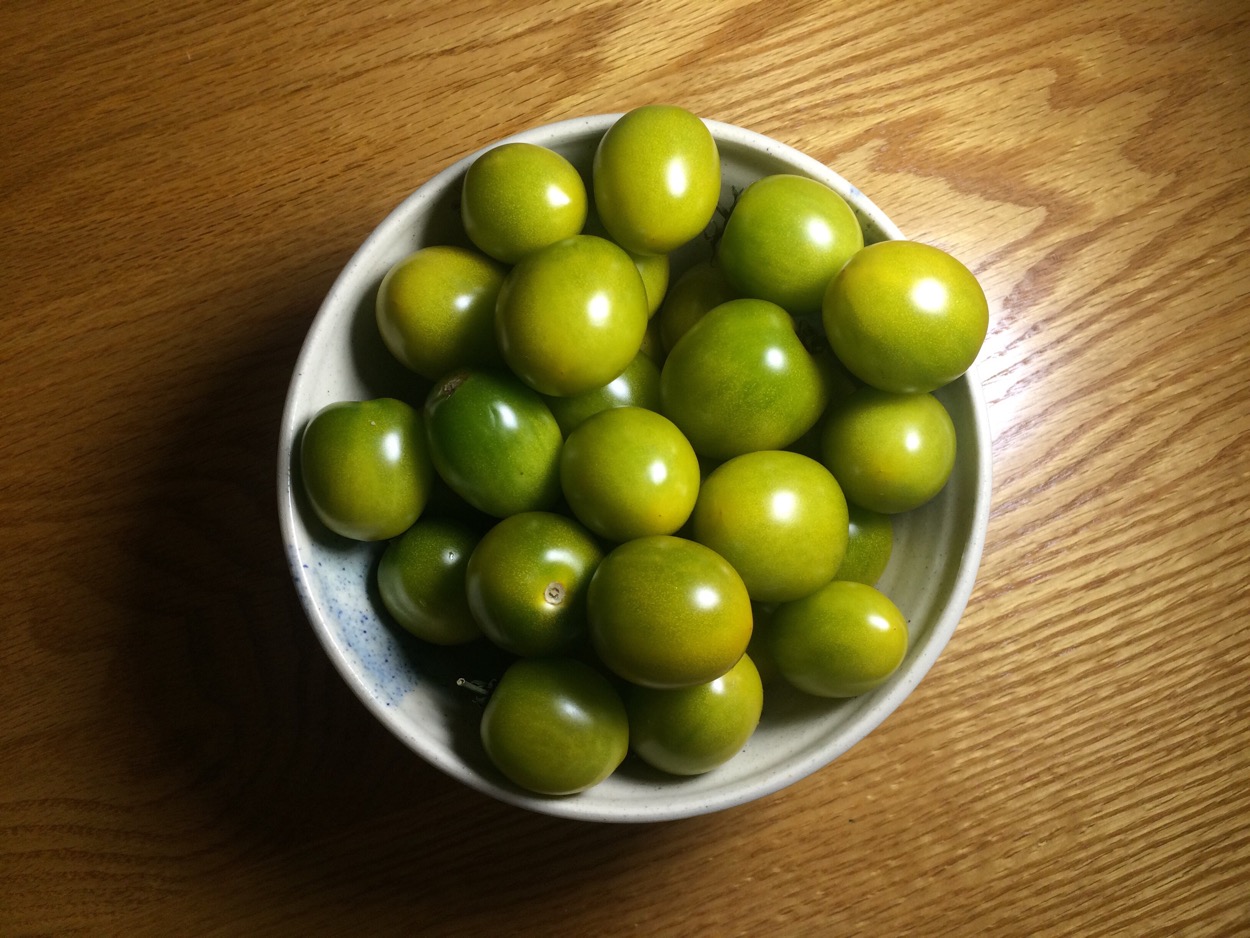 Black Cherry (Cherry, Indeterminate)
Here is a sample of the dusky Black Cherry tomato that we grew again this year. A prolific grower that has a nice 'smoky sweet' flavour!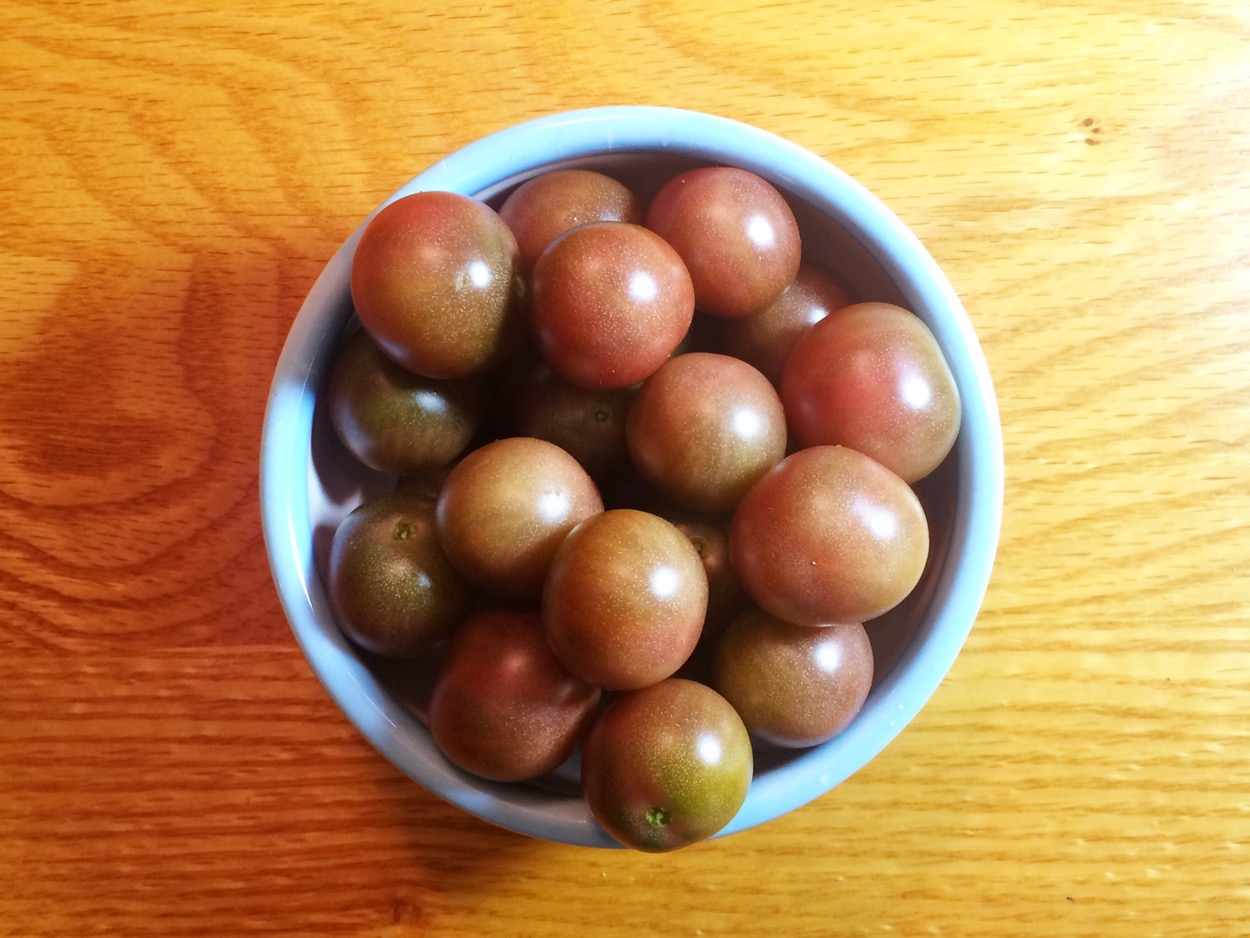 Sunshine Yellow (Cherry, Indeterminate)
Here's a sample of our Sunshine Yellows, deliciously displayed in a cute pottery fish bowl. Delicious and like the Green Grape makes a great addition of colour to a salad!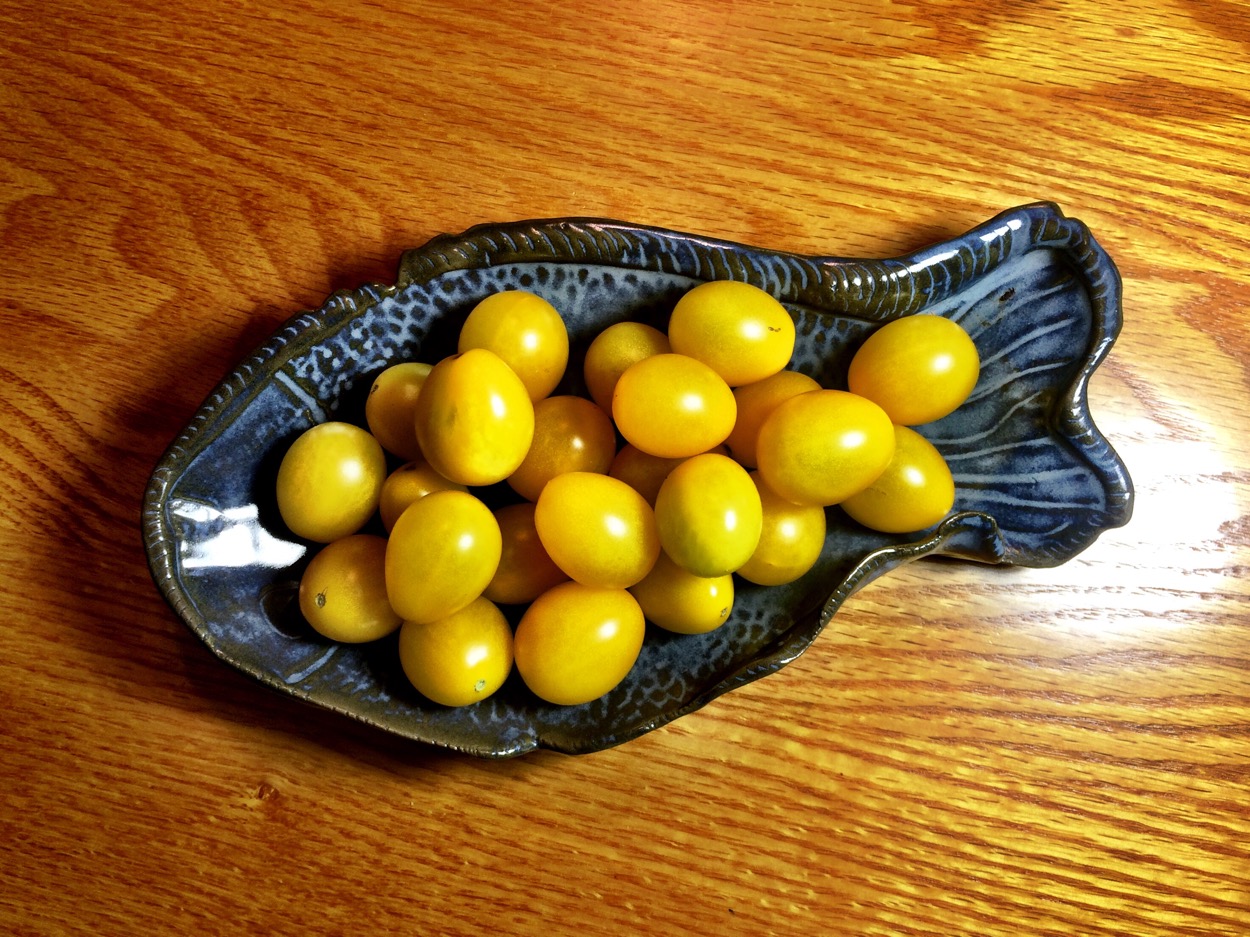 Andean
(Paste, Indeterminate)
Here's a sample of our Andean tomatoes! They are a very large and long and deep red paste tomato and grow on 3′ vines. When they are all on the vine they look like red peppers and remind us of
New Mexico
! 🙂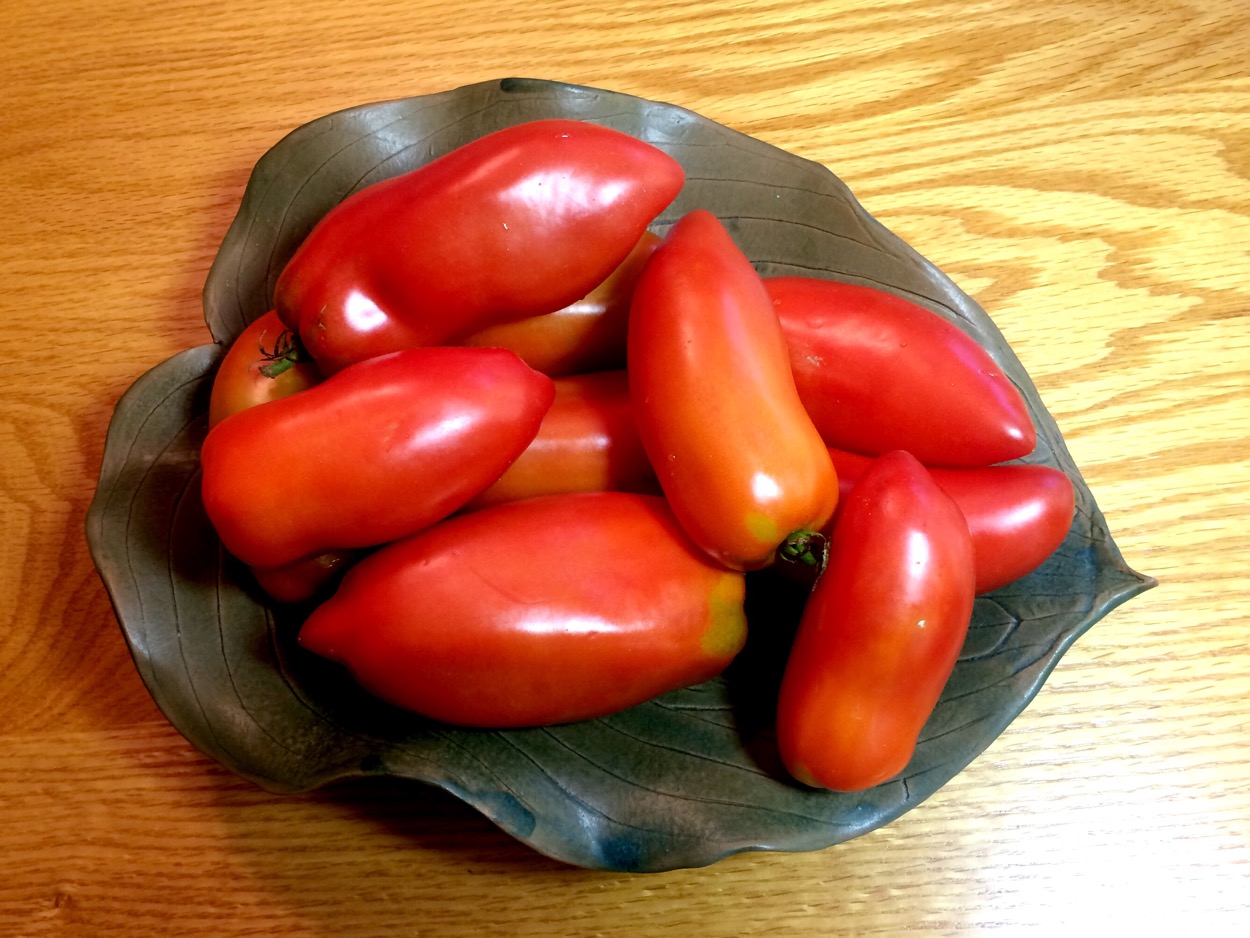 Chiapis Wild (Cherry, Indeterminate)
Here's a sample of the Chiapis Wild, one of the smallest and one of the most flavourful tomatoes we have ever grown! The indeterminate plants are only about about 2 feet tall but have sprawling vines that grow to 6 feet long! Each plant produces hundreds of these tiny, tasty fruit.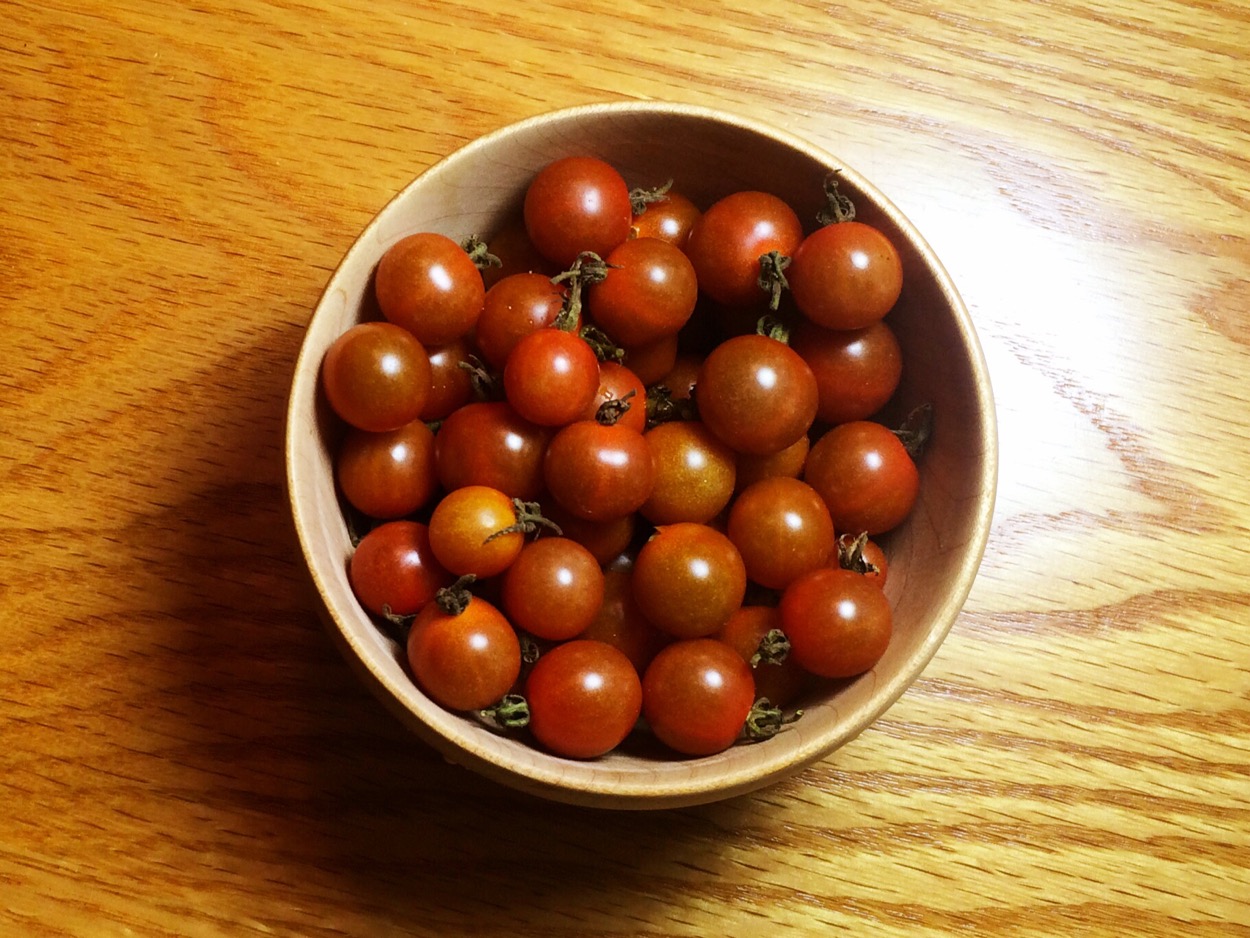 Ten Fingers of Naples (Paste, Indeterminate)
Here's a sample of our Ten Fingers of Naples, an Italian heirloom, which bears lots of cylindrical red tomatoes just perfect for sauces! They are also a very prolific grower which grow in large clusters that look like, well, fingers! 🙂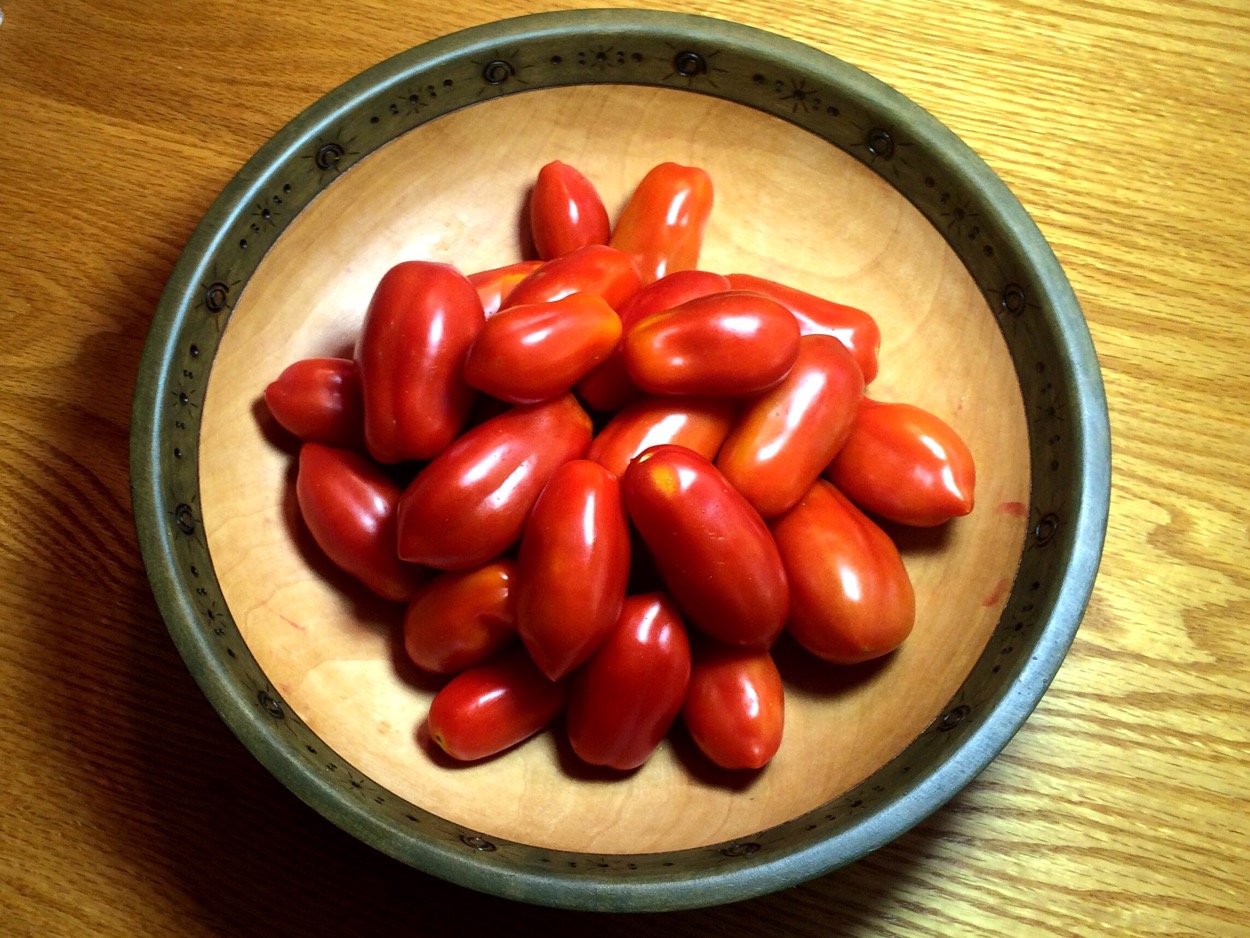 Outdoor Girl (Cherry, Indeterminate) / Gardener's Delight (Small Slicers, Indeterminate)
Our Outdoor Girl and Gardener's Delight somehow got mixed up either when we labeled them as seedlings or when we planted them. This, combined with the fact that the Outdoor Girl grew so well and large, made it hard for us to decide which was which. In the end we just gave up and ate them! They were both delicious! 🙂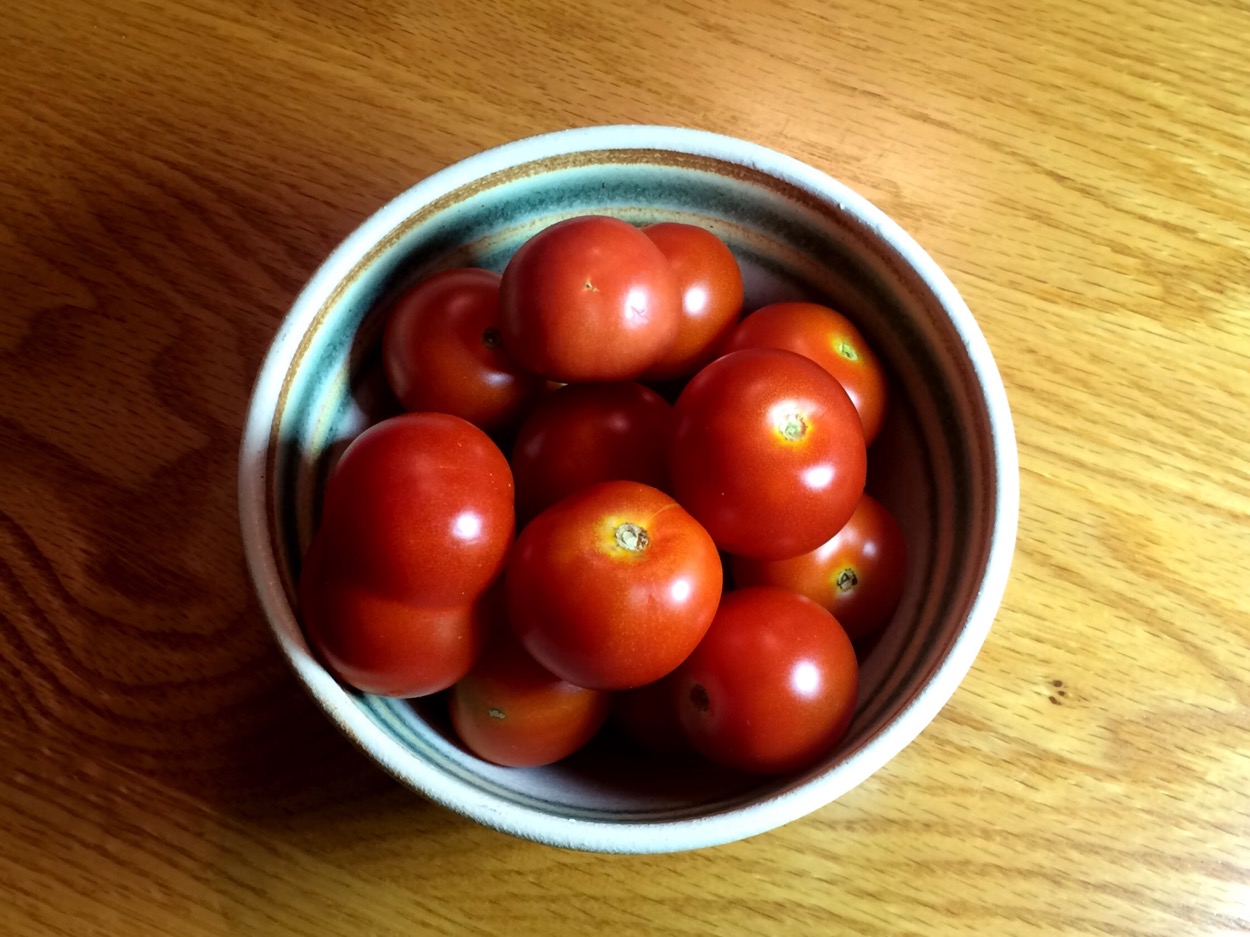 Beefsteak (Slicer, Hybrid)
This plant was given to us so we don't know much about this variety other than it grew very large and tasty tomatoes and that it was the last to mature. So much so that we were concerned that they wouldn't ripen at all! But they did and gave us some great looking and tasty tomatoes!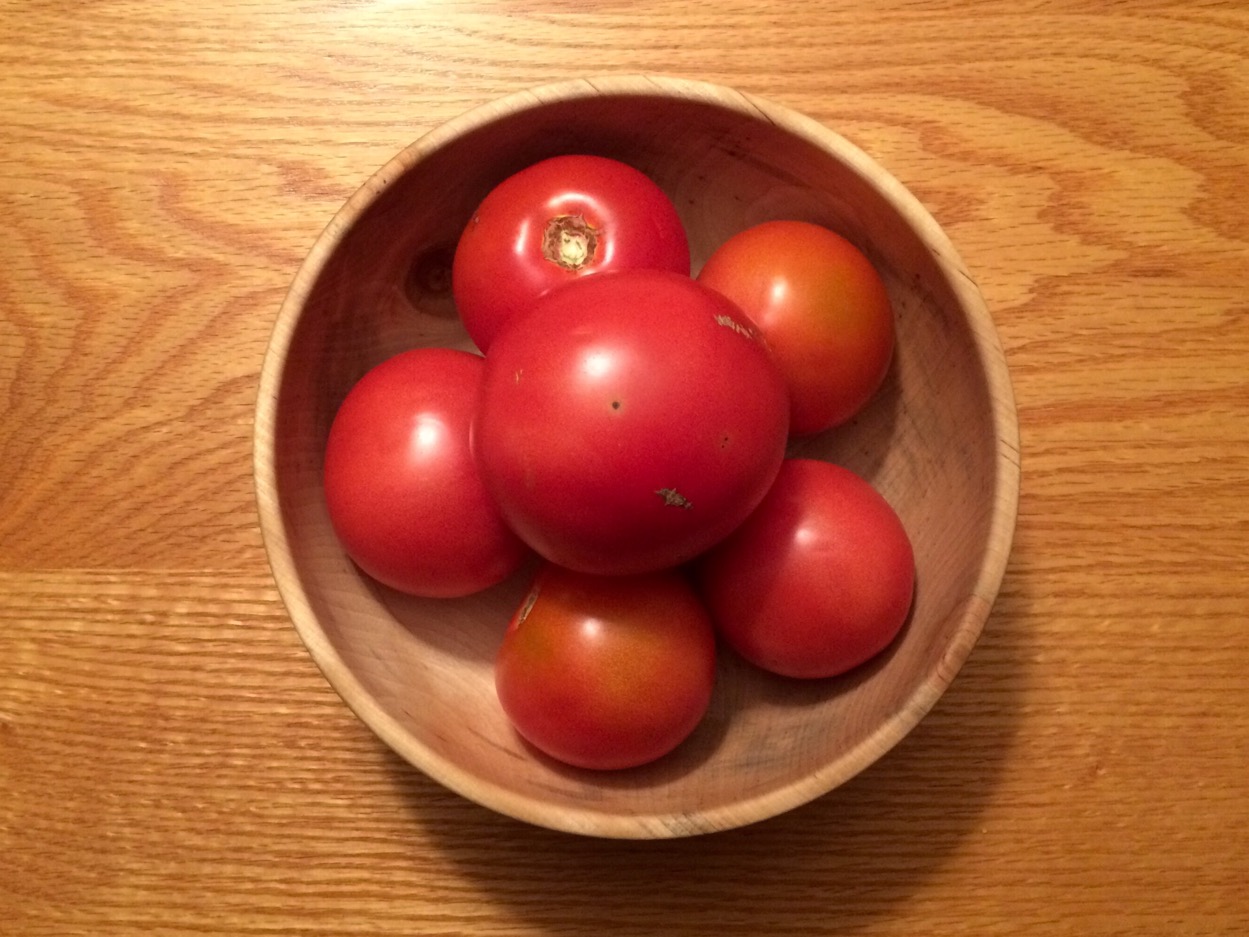 Indeed, a great tomato harvest in 2015! We have had lots of tomatoes in salads and sandwiches, on
pizzas
, in
salsa
and sauces plus have put lots down for throughout the winter. As we said earlier, there's nothing like lots of fresh tomatoes from the garden!:)
Back to the garden…