A splendid spline jig? You betcha! In addition to the
Crosscut Sleds
I also had to make a jig to cut the slots for the splines on the
Maple And Padauk Box
that I made. This is basically a cradle that holds your workpiece at a 45 degree angle to the tablesaw blade.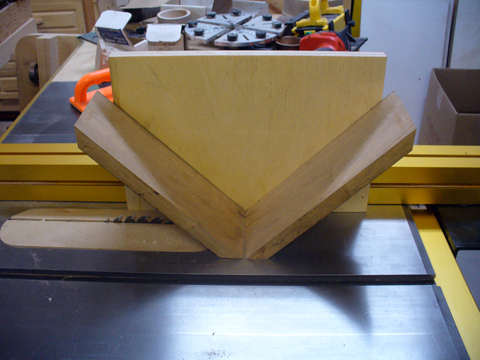 This was pretty simple and quick to build. It is just two pieces of 1″ X 4″ cut with 45 degree ends and then screwed to a piece of plywood so that two ends meet and are level with the bottom of the plywood.
To use it's just a matter of setting your tablesaw fence to the depth that you want the slot cut and then cradle your workpiece in the jig and run it through the saw while keeping the back of the jig against the fence.
You can use this jig to put splines in boxes and picture frames.
Back to the shop…