Last month I finished the Craftsman Style Sofa Table, the final piece of the four part living room set that I made from the Oak of a couple of reclaimed church pews.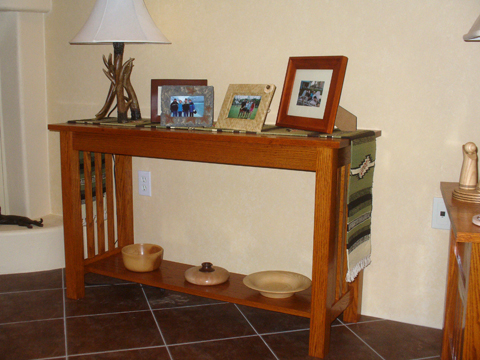 It certainly is a welcomed addition to the coffee table and the end tables that I completed in the months before.
With the experienced gain from the previous three pieces the construction went quite smooth and somewhat quickly. The funny thing about it was that I tried to do this table as fast as I could and I did, almost. From stock to a standing table it only took about 12 hours over a three day period. However, it stood in the shop for almost four months waiting to be sanded and the finish applied! So much for getting it done as fast as possible. 🙂
The finished size of the table is 18″ wide X 47″ long and 28″ tall. It is stained with Flecto Varathane Golden Mahogany and then several coats of polyurethane was applied.
Here's a few more photos: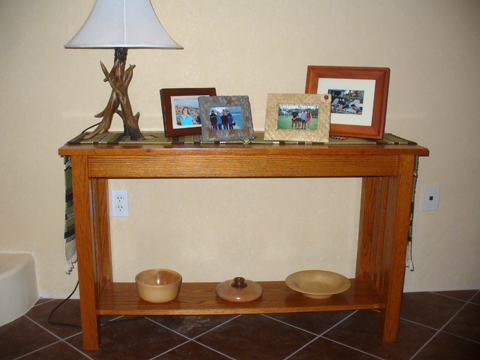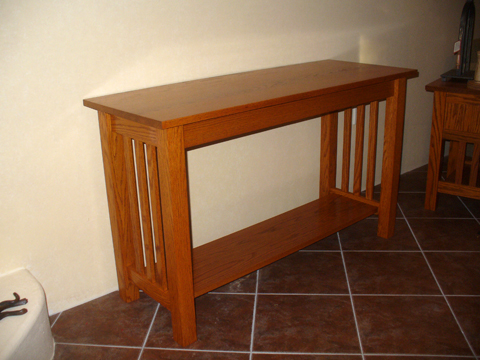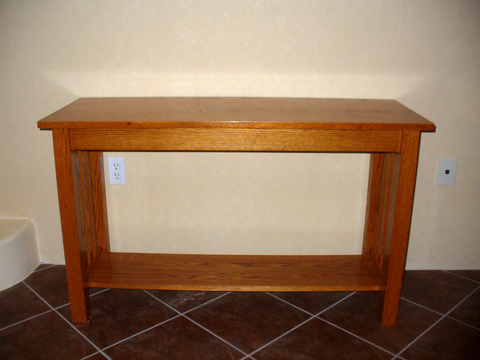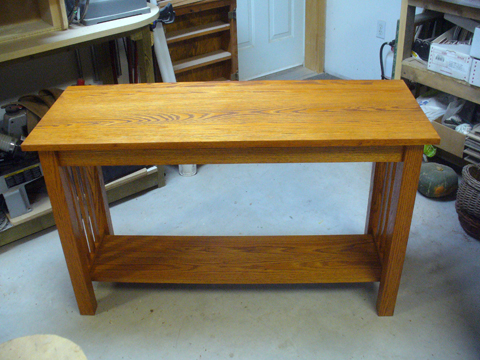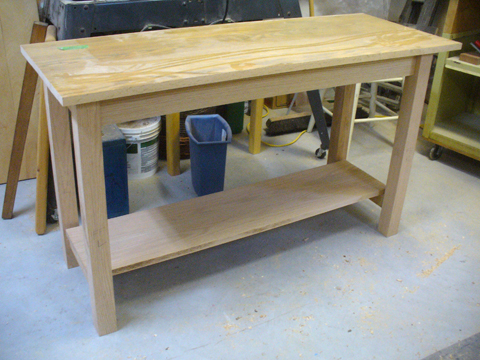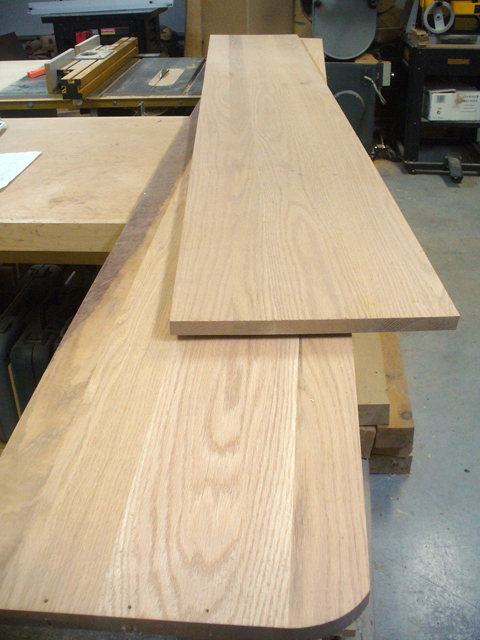 Here's a cutlist for the table:
Table Top: 18″ X 47″
Bottom Shelf: 10″ X 44″
Legs: 16 pieces at 27 1/4″ X 2 1/4″
Skirts (long): 2 pieces at 42 1/4″ X 3 1/8″
Skirts (short): 2 pieces at 13 1/4″ X 3 1/8″
Bottom Sides: 2 pieces at 13 1/4″ X 2 1/4″
Slats: 6 pieces at 19 5/8″ X 1 1/4″ X 1/2″
Buttons: 10 pieces at 2″ X 1 1/4″
Tenons are 1″ long and 1/2″ on the slats.
The construction of the table was the same as the previous 3 pieces which you can see here and here.
Although it took almost two years to complete the set the total time that I spent on all four pieces was only around 120 hours, with each piece taking significant less time as I gained more familiarity and confidence with the process.
I don't believe I mentioned this in past posts but the church that I got the pews from was the same church that my wife and I were married in (quite a few years ago). So in addition to being a very educational project it was also a labor of love. 🙂
A great project, and a nice feeling to finally complete it.
Back to the shop…